In 1978, the L.A. punk music scene was starting to bloom. Myriad bands sprang up as fast as they could buy guitars and learn three chords. One of those early bands was Middle Class, the first punk band from Orange County (then a bastion of conservatism).
Intrigued by that dynamic and unusual music scene, I became the group's first manager and moved to Hollywood in 1978, living in the Canterbury Apartments on Hollywood Blvd. alongside people like Belinda Carlisle (The Go-Gos) and other musicians and scene-makers of the day.
One band that gained an enormous following didn't need to learn chords: The Screamers, best described as an avant-garde synth-punk band that infused their music and live shows with a theatricality that most other bands lacked.
The first L.A. band to use no guitars, The Screamers consisted of lead singer Tomato duPlenty, two keyboard/synth players, and drummer K.K. Barrett.
Middle Class opened for The Screamers at the Whisky in L.A. and Mabuhay Gardens in San Francisco, and I attended many Screamers shows, drawn by their unique songs ("122 Hours of Fear," Vertigo," "The Girl in the Car with the Glasses and the Gun") and stage presence.
As the music scene evolved, bands changed, disappeared or dissolved. I eventually ended up playing drums in an 80s band called
"Desperate Living." Among my influences: K.K. Barrett.
Having lost track of some of the musicians from that era, I was surprised to find Barrett's name associated with "Nufonia Must Fall," a multi-media show that takes place Saturday, Jan. 23 at 2 p.m. as part of the Segerstrom Center's Off Center Festival.
Barrett's credits since The Screamers have been as varied and interesting as the band. After designing sets and then production design for music videos (including Beck's "New Pollution" and Smashing Pumpkins' "Tonight, Tonight,"), he transitioned into films and worked on such noted cinematic masterpieces as "Lost in Translation" and "Being John Malkovich." He was nominated for an Academy Award for Production Design for "Her" in 2013.
For "Nufonia Must Fall," K.K. has added directing to his growing list of credits.
According to the show's description, it features Montreal-based scratch DJ and music producer Kid Koala's multi-disciplinary adaptation of his graphic novel called "Nufonia Must Fall," the story of a headphones-sporting robot on the verge of obsolescence and infatuated with a winsome office drone. Koala collaborated with Barrett on bringing the book to life on stage with puppets, video, small sets, and live music (performed by a string quartet and turntables).
So how does someone go from The Screamers to "Nufonia?"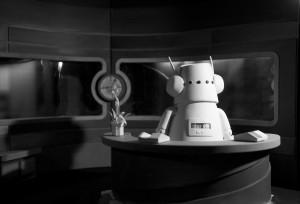 "At end of The Screamers, I volunteered to design sets for music videos, which seemed natural—I was not intimated by it," Barrett told me during a recent phone interview. "This was just before MTV, and bands needed people with low overhead. Then I started coming up with designs for music videos, and began alternating between videos and more serious films. I never thought it would be a career, it was just something I did at the time."
Design was not entirely foreign to Barrett, who attended Oklahoma State University to obtain an art degree. The Screamers sidetracked him after moving to Los Angeles in 1977, but his music background has proven useful in his other artistic pursuits.
"This seemed like a natural experience," said Barrett of "Nufonia." "I'm used to working with musicians, and working on stage, and wanted to do something different. I wanted to direct rather than just design the sets. It was easy for me to oversee it and adapt the story and direct the camera work. It's something fresh and different. You're watching a live show, so it's never the same."
Barrett said that the show has gotten to where he no longer needs to be there for every performance (although for the Costa Mesa engagement he came down to oversee the rehearsal). "I was a participant in the development, brainstorming, working it out, noticing things from the outside and re-steering it, but now it's fine to go on," he said.
And what do audiences think of "Nufonia Must Fall," a show that practically defies description?
"They love it," he enthused. "You look out and see it's younger, older, multi-generations of people."
Barrett noted that "Nufonia Must Fall" is like watching a three-ring circus.
"You look up at the screen, down at the stage, glance over and watch the musicians. There is a lot going on. The hard part was wondering if this is original enough, will it entertain me, and entertain someone else. My only frustration is how to describe it."
Tickets to the indescribable "Nufonia Must Fall" are $25 to $39. Call (714) 556-2787 or visit SCFTA.org.