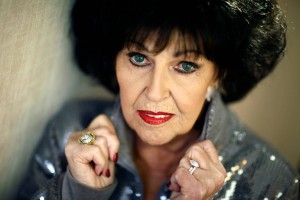 When one hears the word "Rockabilly," images of Elvis Presley and Gene Vincent come to mind, but what about Wanda?
Whether you call her The Queen of Rock, The Queen of Rockabilly, or just her plain old name, Wanda Jackson is a living legend and the absolute matriarch of the male-dominated rockabilly genre.
In anticipation of her appearance at The Coach House in San Juan Capistrano on Jan. 31, the Fujiyama Mama agreed to talk about her decade-spanning career, trailblazing influence, a new project, and of course, Elvis.
Growing up with a musician for a father, a life in music was practically a given for Wanda, whose father bought her first guitar and took her to see such country acts as Spade Cooley, Tex Williams and Bob Wills. Jackson was hooked.
"When I was about six years old I would see the girl singers in these bands," she told me during a recent phone interview. "I would stand right at the front of the stage, and stare up all night long. It's the only thing I ever wanted to do, and I didn't make any backup plans, so it was like, 'Ok, kid, you've gotta do this, or you're in the soup line.' I didn't even think about it that way, I just knew that this was what I was gonna do."
Trying to make her dream a reality as a teenage girl in the testosterone-fueled music industry of the 1950s wasn't easy. Despite winning local competitions, and making a name for herself sing-ing with Hank Thompson's Brazos Valley Boys, Jackson was famously turned down by Capitol Records producer Ken Nelson, with the now laughable words, "Girls don't sell records."
"You have to remember the mindset of that generation," she said. "It was quite daring of me to not want to get married and start having babies. I knew I didn't want that. Basically, it was just the way it was. That's part of why my daddy went with me, to help me. He collected the money, be-cause I would forget to get paid. I would come home, and I had forgotten because I had so much fun! Isn't that something?!"
After graduating high school, Jackson set out on her first real tour with another youngster who was just making his way: Elvis Presley. Presley and Jackson would briefly date, but it was his influence on her career that was crucial, and lasting.
"I had a crush on him before long, we got along fine and enjoyed being together, and my daddy liked him, so he would let me go out after a show, have a coke or a burger. Somewhere along the way he started talking to me about doing this new kind of music. I would say, 'Elvis, I love your songs and the way you do them, but I can't do it. I'm a girl.' See, that was the mindset. That type of music was for guys."
But Presley was persistent, and kept daring Jackson.
"Then he double-dog-dared me," she laughed. "Then you've gotta do it, you know?"
Finding material was tough, so Jackson took matters into her own hands.
"None of it was for girls, no one was writing it for girls, so my daddy said 'Why don't you just start writing your own? They sound kind of simple.' And I said, 'Well, I think you're right! Maybe I could write one.'"
Jackson's own material combined with covers of "Hot Dog, That Made Him Mad," "Fujiyama Mama," and her biggest hit, 1960's "Let's Have a Party," struck gold with listeners who were al-ready in love with Gene Vincent, Eddie Cochran, and the newly-crowned King.
Dressed in fringed dresses, high heels, and red lipstick, Jackson herself became the undisputed Queen of Rockabilly.
Once rockabilly faded from popularity, Jackson remained active touring and recording country music. Her recent resurgence in popularity, due to high-profile collaborations with Jack White for 2011's "The Party Ain't Over " and Justin Townes Earle for 2012's "Unfinished Business" has put Jackson back in the spotlight where she loves to be. Lucky for us, another collaboration is in the works.
"Joan Jett is going to produce for me on Blackheart Records,"  she said. "I'm seriously looking for songs and I've already got about six or seven originals to do. I'm hoping she'll do a duet with me if we can find a cute song."
Looking back at then vs. now, it seems things have only gotten sweeter for Jackson.
"I'm glad now that I stuck with it as long as I did. I still don't want to quit. I want to keep trying. I guess I'm a die-hard or something. Most of us are. We just hate to give up the life that we love. I'm not wealthy by any means, but I can fly everywhere I go, I stay in nice hotels. Poor daddy and I used to stay in old run-down motels. We just didn't make enough money for a nice room."
"I get home with the money now," she added with a laugh.