By Christopher Trela & Catherine Del Casale | NB Indy
Segerstrom Center is the place to be this week. The Broadway musical "If/Then" starring Idina Menzel ("Wicked," "Frozen") runs through this Sunday, while the Off-Center Festival has presented a variety of unusual performances, starting with live music on the outdoor plaza and continuing with one-woman shows, theatrical/film presentations and more live music.
Naturally, Leathrby's Café Rouge at Segerstrom Hall figures into the entertainment equation. It's the perfect spot for a lovely dinner before a show, and Café Rouge transforms into the Off Center Lounge at 9 p.m. January 22 – 23 and 28 – 30 with a special low-cost menu and the opportunity to mix and mingle with the artists and fellow theatergoers.
If/Then
"If/Then" is a fascinating musical from the creators of the Pulitzer Prize and Tony Award-winning "Next to Normal" that simultaneously follows one woman's two possible life paths, painting a deeply moving portrait of the lives we lead, as well as the lives we might have led.
It stars Idina Menzel ("Wicked," "Rent," "Frozen," "Glee"), Anthony Rapp ("Rent"), and James Snyder ("Cry-Baby," "Rock of Ages"). Talk about a fabulous cast. This is Menzel's final appearance on the "If/Then" tour.
We were intrigued by the concept of the show, and equally intrigued by Leatherby's Chef Ross Pangilinan's theme menu.
With dishes named for the songs and themes in "If/then," his three-course, $47 menu starts with a choice of the "What
the…" soup of the day or the "Some Other Me" salad.
Entrees include the "Best Worst Mistake" of house-made tagliatelle, smoky Bolognese sauce, a fried egg, nd parmesan, or "You Don't Need to Love Me" wild salmon with dill butter crust and spinach and mushrooms.
Dessert is a choice of "Hey Kid" chocolate terrine, crunchy crumble, sesame caramel, sea salt, passion fruit sorbet and Chantilly, or "Liz/Beth" house made ice cream or sorbet (two flavors).
"an amazing menu for an amazing show," stated Catherine. "The soup, rightly named 'What the…,' was a mixture of blended vegetables and some apple. You couldn't pick out which vegetables if you tried because they came together in such a way that made a unique flavor."
The tagliatelle was hearty and filling, while the desserts were a perfect representation of what Chef Ross does best: a clever combination of flavors and textures that make his dishes such a joy to eat.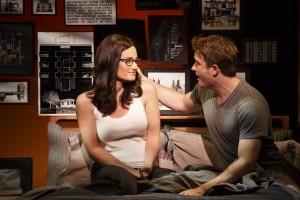 "On a side note, Leatherby's has started making their bread in house, so make sure to have a few bites while still saving room for your meal," suggested Catherine.
"If/Then" was a musical unlike anything we had seen.
"I loved the way they were able to portray two separate possible stories at the same time without leaving me confused," said Catherine. "I was invested in both story lines and waited to see the outcomes. I found myself switching between rooting for one story and then the other. It really made me think about how the choices I make every day both big and small can affect the course my life takes. It was a riveting and thought-provoking show."
"I agree, totally unpredictable and highly engaging—just like life," added Christopher. "And what a cast—Idina Menzel was mesmerizing in the dual role of Liz and Beth, but the entire cast made this musical come together in a way that told the story with the appropriate amount of drama and humor without going overboard."
ADA/AVA
The Off-Center Festival has become for presenting the unexpected and unusual, and that's what ADA/AVA is, but it's also a fascinating hour-length work that comes to life both onstage and on a screen via vintage overhead projectors, puppets, live actors, live feed cameras, multi-channel sound design and a live music ensemble.
Presented by Manual Cinema in the Samueli Theater, ADA/AVA tells the story of septuagenarian Ada, who feels confined to a solitary life following the death of her twin, Ava. She goes to a carnival and, after entering the house of mirrors, confronts her sister's death and her own mortality.
"If you haven't seen anything like Manual Theater before, check them out" said Catherine. "They use projectors and
cutouts to project the scenes onto a screen, and then live actors become the characters on that screen, which is then projected onto a larger screen by a camera (the finished product). You are actually watching all the components that go into making the final product including the final product simultaneously. There are even sound effect artists, musicians and a singer on stage."
"It's like watching a movie using only silhouettes, but you get to see the various elements coming together on stage," added Christopher. "I was totally intrigued and engaged the entire time—they managed to capture the emotions of the story in such a simple way that you actually cared for these characters. And, I appreciated the fact that the entire audiences was invited on stage after the show to handle the puppets and ask the actors and crew questions about the show."
We went to Leatherby's Off-Center Lounge after the performance to try Chef Ross' small bites menu ($7 each) and talk to the cast.
"I love Chef Ross' small bites, especially the Korean Style Chicken Wings with kimchi cucumbers," said Catherine.
"I really liked the short rib French fries, and the tuna tostada," countered Christopher, "and you can't beat $5 house wine."
This is a great place to go after 9 p.m. if you're attending the Off-Center Festival.
For tickets to "If/Then" or an upcoming Off-Center Festival performance, visit SCFTA.org.
For more information on Leatherby's Café Rouge, visit PatineGroup.com.