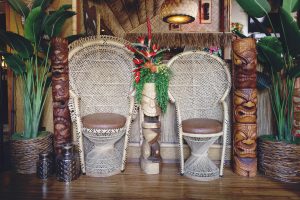 Between Pageant of the Masters, Laguna Playhouse, myriad arts festivals and Laguna Art Museum, there's plenty to see and do this month.
We've already experienced Pageant of the Masters, which we agreed is one of the best we've seen (and we go every year).
"I loved how this year's Pageant incorporated on-stage (and off-stage) acting that went along with the paintings in the scene," said Catherine. "The whole story really flowed together well, creating something engaging and easy to follow for the audience. I loved following the main character on his Grand Tour and being able to recognize places I had been myself. And it was interesting to see people walk into and out of the paintings so you could see how it all worked—and also to see if you guessed correctly which people were real and which were just painted on the backdrop."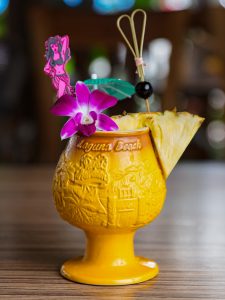 We also caught a superb performance of "Hairspray" at Laguna Playhouse, which closes this weekend. On Aug. 16, the Playhouse opens "A Night with Janis Joplin,"   a Tony-nominated Broadway musical featuring Joplin's greatest hits.
Whenever we're in Laguna Beach we always dine out before seeing a show. We prefer restaurants that are within walking distance (although even those in South Laguna are only a few minutes' drive), or easily accessible via the town's free summer trolley.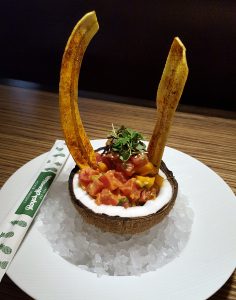 Our new favorite is actually an old favorite that recently returned to life after being closed for several years: The Royal Hawaiian on Coast Highway, across the street from Laguna Art Museum and an easy walk to the Laguna Playhouse and the arts festivals.
The Royal Hawaiian opened in 1947, which means the restaurants is celebrating its 70th birthday this year, but don't let its age fool you—it has been lovingly restored by its new owner Mo Honarkar of Laguna Beach and his daughter Hasty, who lives in Corona del Mar.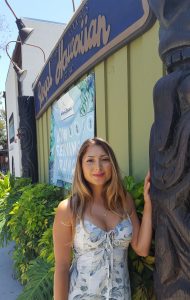 The family has incorporated some of the old décor and accoutrements, and brought in new items that highlight the restaurant's Tiki theme, which carries over to the menu—and yes, the restaurant's famous Lapu Lapu cocktail is back, along with a slew of new ones.
The menu is a feast for the senses. The dishes not only taste terrific, they look beautiful—details that restaurant consultant Marc Ghoukassian, who runs Bayside and Bistango restaurants, brought to Royal Hawaiian.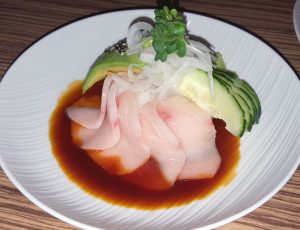 We tried several items, including the ahi poke with plaintain chips ($17.75), rib & shrimp combo ($31.75) with awesome coconut shrimp (Christopher said he could eat a bowl of those), avocado toast ($14.75), pan seared salmon with grilled pineapple ($27.25), blue lump crab cake ($18). We managed to save room for pineapple upside down cake.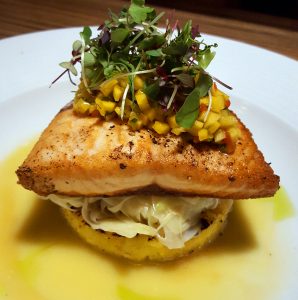 "The poke is awesome, just the right amount of spice thanks to the ginger and thai spices," said Christopher. "The salmon might have bene my favorite dish—the combination of the tender fish, pineapple, fennel, mango relish and lemon vinaigrette was perfect."
And yes, we had the Lapu Lapu, which is a must-have whether it's your first visit or you're a Royal Hawaiian regular.
The Royal Hawaiian is open for lunch and dinner, and brunch on the weekends. The bar/lounge is open late, and the restaurant has an amazing happy from 2:30 to 5:30 p.m. daily. In addition to discounted prices on select items, the happy hour boasts a 4 for 28 deal: four items for $28. Might be the best deal in town!
For more information, visit RoyalHawaiianlb.com.