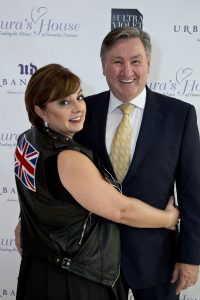 By Christopher Trela & Catherine Del Casale | NB Indy
 British fashion, style and music was in full force during the Laura's House "British Invasion" gala held at the Island Hotel on Saturday, Sept. 24.
More than 300 guests enjoyed British cocktails, classic rock and roll music, a photo op with British props, and a silent auction before entering the colorful ballroom, where a live band – complete with a Mick Jagger impersonator – entertained the crowd prior to dinner.
Emcee Brian Underhill, decked out in 1960s attire, welcomed gala attendees by stating "Do you want a boring speech, or do you want to admire my outfit?"
Laura's House CEO and Executive Director Margaret Bayston went over Laura's House's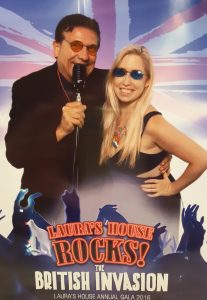 accomplishments over the past year. Laura's House's mission is to change the social beliefs, attitudes and the behaviors that perpetuate domestic violence while creating a safe space to empower individuals and families affected by abuse.
"We have had a fabulous year," noted Bayston, who recognized her staff and volunteers for their dedication to Laura's House. "Educators are going out in the community, teaching what a healthy relationship looks like. We made 125 presentations in schools, reaching almost 8,000 students. The Shelter is a safe haven program serving both women and men, but what does the profile of a client look like? We have a mom and nine children, a mom and her 35-year-old Down Syndrome child, and a woman who had a child at the shelter."
"Laura's House is tremendously proud to have served more than 50,000 victims of domestic violence and their families over the past 22 years," she added.
Guests then enjoyed a dinner featuring salad, ribeye medallion with au gratin potatoes, butter tossed peas and Yorkshire pudding, and a sticky toffee pudding dessert.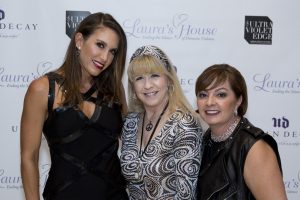 After dinner, Pam Jacobson of The Healing Sanctuary was presented with a Crystal Heart Award, and Wende Zomnir, founder of Urban Decay in Newport Beach, was presented with a Corporate Crystal Heart Award.
"I'm blown away, this is an amazing honor," said Zomnir. "I am grateful for my team. I started Urban Decay 20 years ago. We always stood for empowerment of women, from the products we create to causes we support. It's always been an important part of our brand, and a personal mission of mine. Laura's House was one of the first organizations we donated to."
The most dramatic moment came when Karen Stine, the grants and contract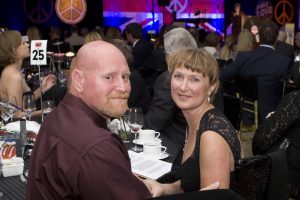 administrator for Laura's House, told a story of one domestic abuse survivor who experienced sexual abuse by her father while she was growing up, which made her feel like she was "damaged goods." She married the man of her dreams at 18, but that dream became a nightmare when she endured manipulation, violence and abuse for eight years. Her beatings grew worse, until one day her co-workers convinced her to leave her husband and go into hiding.
"In his anger the husband quit his job, packed up everything, moved back to the midwest near her family, but she did not return. She filed for divorce, as of today has been living free of domestic violence for 23 years. The reason I share this story is that the survivor in the story is the woman who is standing in front of you this evening."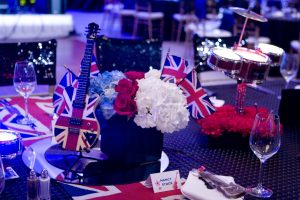 Upon hearing that, the audience gave Stine a lengthy standing ovation. They also applauded when Stine said "For the first time in my life, I am in a relationship with a man that I share no secrets from, and he loves me for who I am. He proposed this past march."
"I was blown away by Karen's story on how she survived eight years of abuse," said Catherine. "Seeing someone who found the strength to change her life and now dedicates herself to others is amazing. Her 18 years of service helping others through Laura's House shows the true meaning of giving."
Following Stine's speech was a live auction and a "Rebuild a Life" donation segment, and then dancing to Sensation Showband.
The gala raised more than $650,000 for Laura's House to continue providing its domestic abuse programs.
For more information, visit laurashouse.org.