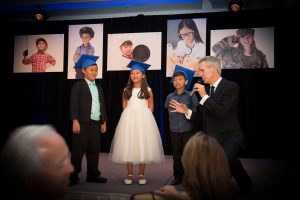 By Christopher Trela & Catherine Del Casale | NB Indy
 As writers, we're always concerned with the issue of literacy and making sure children re provided with the opportunity to learn to read.
That's why we were happy to attend The Literacy Project's annual "What Dreams are Made Of" gala at the Island Hotel.
The Literacy Project offers a comprehensive instructional reading program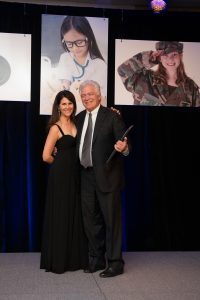 that improves both academic and attitudinal levels of students performing far below English proficiency standards. It's conducted over 30 one-hour sessions, five days a week, during a six-week program cycle.  The program, which teaches the fundamental principles of phonics and literacy, is provided at no cost to both the school and at-risk students in the second grade.
The gala began with a reception featuring cocktails and a silent auction, followed by a dinner of compressed watermelon salad,red wine braised short ribs on custard potatoes, and s'mores pudding cake.
During dinner, three recent TLP graduates from Anaheim and their role models (adults who represent the career they dream to have in the future) took the stage. The children shared their career aspirations with the help of their role models: Jamie Gwen, celebrity chef from Newport Beach; Ron Hartman, renowned structural engineer; and Ryan Peters, a detective sergeant and SWAT team leader from the Newport Beach Police Department.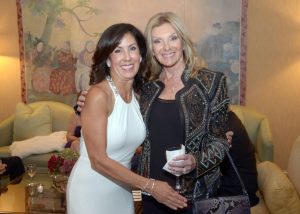 "Seeing the joy and happiness on both the children and their mentors' faces is probably one of the most rewarding parts of the evening," noted Catherine. "Hearing the children not only read something they wrote but sharing their dreams and aspirations in front of hundreds of people is inspiring."
Los Angeles Angels Chairman, Dennis Kuhl attended the event and was recognized with the "Dream Maker" award for his years of volunteerism.
"They are making a difference," said Kuhl. "You see these kids up here and how they now read and what their goals and ambitions are, and it touches your heartstrings."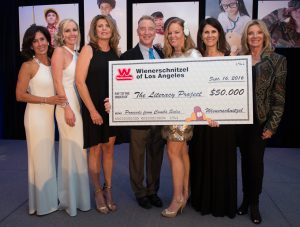 Cindy Galardi Culpepper, CEO of Wienerschnitzel, along with Marjorie and Ken Hironimus, Wienerschnitzel franchisees, presented TLP with a $50,000 check.
"Literacy is a vital tool for not just success, but survival, and we are privileged to play a role in this movement," said Culpepper.
Also at the event, The Literacy Project founder Sue Grant handed off her Executive Director role to Doe Girling, although Grant will remain board chair. 
Chairs of the gala were Lisa Torres and Monette Zotovich.
The gala raised more than $90,000 for The Literacy Project. For more information, visit LiteracyProjectFoundation.org.