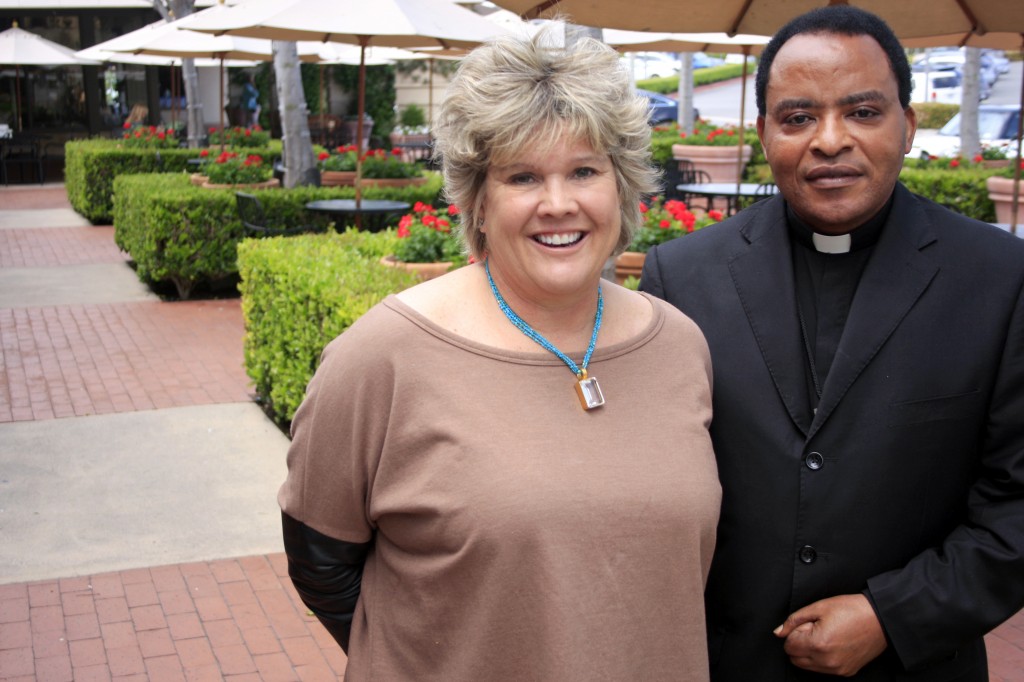 A series of lectures will explore African culture and life on Thursdays in May at locations around Newport Beach.
The African Salon Series is also aimed at helping spread the word about Cradle to Career: Kenya (C2C), a locally based organization that supports Kenyan orphans and vulnerable children from toddler age to young adults.
Cradle to Career is a combination of two Newport Beach-based non-profits, African Child Foundation and Agano with Kenya. Both organizations have served the needs of children rescued by Father Henry Simaro in the Athi River area in Kenya since 2005. They joined forces about on year ago.
Coming together has been a smooth transition, said C2C executive director, Jene Meece, who also founded Agano.
The lecture series is a new approach to awareness for the organization.
"My main goal is to introduce more people to Cradle to Career," Meece said, "One way we want to expand who we are is through people who might be interested in the culture, arts, and literature of Africa."
She emphasized that the lecture series is meant to raise awareness, not funds.
The speakers are really interesting, she added.
Edith Omwami, Ph. D., a sponsored Kenyan child and is now a professor at University of California, Los Angeles, will lecture on May 9; Polly Roberts, Ph.D., curator for African arts at Los Angeles County Museum of Art and UCLA professor, will speak about women in African arts on May 16; Nancy Langton, Ph. D., professor at the University of British Columbia, about teaching in Africa's largest slum on May 23; and Leon Tomasyan, a retired engineer, on his childhood growing up in colonial Kenya on May 30.
Omwami is a great example of how others can help kids from Kenya achieve great success, Meece said. She is a really dynamic speaker, she added.
Langton teaches in Kenya every summer and has spoken to the college girls recently about dreaming big.
"She had a really impact on the girls," Meece said.
Roberts is world-renowned, Meece said, and recently helped in the purchase of an African "Gwan" sculpture for $1 million for LACMA.
Tomasyan has a fascinating story, Meece said. His father was an Armenian orphan who was in Jerusalem and Ethiopia before settling with his wife and 2-month-old son in Kenya.
"They're all great speakers," added Meece, who said she is excited to hear all of their lectures.
Meece is also trying to use social media to spread the message and help the organization reach further.
She would also like to find more family foundations and corporate grants.
"There's lots of work to be done," Simaro said, "because now we have more kids than we had anticipated."
With more enrollments, more sponsors are needed to sustain the program, Simaro explained.
"The little ones keep coming," he added.
There is growth in the area that they work around in Kenya, Meece said. As Nairobi grew, Kibera, the slum in the city, grew as well, Simaro noted.
As industries grow in the city, the companies need cheap labor, so people leave their rural villages and move to the slums for work, Simaro explained.
The original goal was to rescue them and provide the necessities, Simaro said, through the African Child Foundation But as the kids grew, so did the mission, and soon Agano with Kenya was started to help the girls go to college.
Now, the ultimate goal from the U.S. perspective, Meece explained, is to have the entire program Kenyan-run.
They also hope to eventually sponsor boys through high school and college and add fifth grade classes by next year.
There will always be the need, Simaro said.
"Reaching out to as many needy children as possible," Simaro said. "We cannot say no to them."
All the lectures will be held at homes around Newport Beach, except May 16 at Sage Hill School. Each event begins at 5:30 p.m. and are free to attend. Reservations are required and can be made through the C2C website. Wine and hors d'oeuvres will be served.
For details, contact Jene Meece at [email protected], (949) 533-9569 or visit C2CKenya.org.