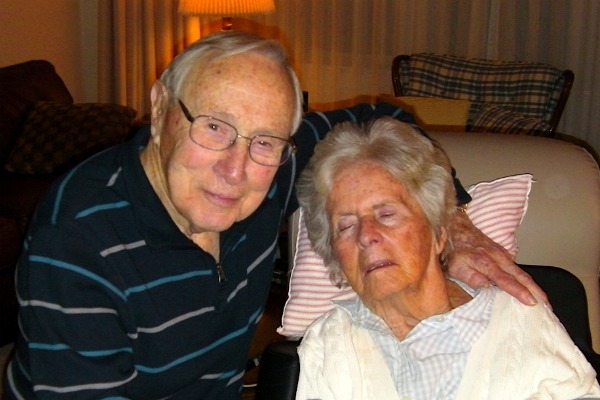 "Love seeks one thing only; the good of the one loved. It leaves all the other secondary effects to take care of themselves. Love, therefore, is its own reward." Thomas Merton
He shoots pool.
He reads poetry and plays the piano. He is the author of a number of well-known Biblical commentaries. He especially enjoys talking about the love of his life.
He is 90 years old.
His name is Dr. Robert Mounce, and he and his beloved wife, Jean, have been married for 60 years. Mounce was asked by Shelby Mack, a senior in journalism at Western Kentucky University, if she could videotape him for a term project in film.
Shelby found Mounce when she visited his retirement home, and spent time talking and taping her discussions with the Mounces. Shelby asked him if love gets better with age.
Mounce was honored to answer that question and shares some of his thoughts on love as he tenderly cares for Jean, who is now confined to a wheelchair. Shelby captured his words and love in action, which includes brief snapshots of caring for her through her extended illness.
Their daughter, Corona del Mar resident Teri Gundlach, describes her parents' marriage as loving and committed.
Teri's nephew Steve put the brief interview on YouTube in December, and it had 2,700 views in the first two days. Since than it has been viewed over 8,000 times. You can watch it here.
"Marriage has a way of getting better, and in a sense, the best life is a life that is invested in someone else, it's not a life that is invested in yourself," Mounce said on the video. "That's what love is, placing the welfare of another ahead of your own."
Two years ago Mounce moved his sweetheart from their apartment into the health center because he needed additional help to care for her as her health began failing.
"I'm with her most of the time during the day," Mounce continued. "We read and we go for rides in the car. She sometimes says, 'I want to go home,' and I have to I tell her home is where we are together."
Teri and her father have heard responses to the video from friends, but also from strangers all around the world.
"It was so touching to me, but I was amazed at the impact it had on other people, many who were brought to tears," Teri said. "It really spoke to people."
One person who wrote to Mounce about the video's impact was Joni Eareckson Tada, an internationally known Christian author of 17 books, radio host, renowned mouth artist, talented vocalist and advocate for disabled persons worldwide. Joni became a quadriplegic in 1967 due to a diving accident, and is confined a wheelchair.
"My husband, Ken, and I watched the video, " Joni wrote in an email to Mounce. "There was so much about it that strengthened our hearts: not only the images (for I always resonate when I see other people in wheelchairs), but your words provided a wonderful increase of faith and joy! …
"And of course, how her disability is a 'gift' that God has given you to draw you closer to His side. These are sweet and precious insights that speak powerfully to my husband and me, coming up on 45 years of quadriplegia in a wheelchair. So may God's favor rest today on you and Jean, Mounce. … God is still speaking mightily through your family."
"I've never gotten a letter from an evangelical celebrity before," Mounce said in response to Joni's email. "Wouldn't it be strange if this two-minute video turned out to be the most effective 'sermon' I've ever 'preached'? I've received responses from all over: India, Singapore, and England."
Teri has followed her parents' example. She and her husband, Terry, have been married 42 years. Teri sees the effects of increased stress on marriages and she and friends Susan Bramel and Lucie Moore have faithfully taught a marriage class in a Newport neighborhood for three years.
"Like my parents, my husband and I know the difference it makes to have God as the center of our marriage," Teri said. "I would love to see our marriage and others last as long as my parents'. What a rich legacy."
Shelby got an "A" on her video, Mounce got an "A' for his lifelong class and lesson on love; maybe we all need a refresher course too.
Cindy can be reached at [email protected].