Retailers depend on the Christmas season to boost their bottom line. Given a choice, restaurateurs would rather bypass Christmas in favor of the more lucrative Valentine's Day.
Yes, flowers and chocolate can set the stage for a romantic evening, but nothing says I Love You like a cozy dinner for two at a blissful bistro.
Newport Beach must have lots of lovers, because numerous local restaurants have created special Valentine's Day menus to entice couples looking for the perfect spot – and the perfect cuisine – to make their Valentine's Day a memorable occasion.
Here's a list of what a few of our favorite Newport Beach restaurants are serving this Valentine's Day:
BALBOA BAY CLUB & RESORT
Want to create a true evening to remember? The First Cabin Restaurant is offering a five course prix fixe dinner on February 14 from 5 to 10 p.m. for only $80 per person. Selections include a Symphony of Seafood on Ice, Pink Champagne Sorbet with Rose Petals, Duet of Petit Filet and Half Maine Lobster, Petit Rack of Lamb, and more. Dinner is accompanied by live piano music courtesy of Jim Roberts.
For those who want to skip the Valentine's Day crush and celebrate a bit early, First Cabin is offering a three course a la carte dinner menu Friday through Sunday, with a choice of two items for each course. The regular menu will also be available. For restaurant reservations call (949) 630-4145, or visit www.balboabayclub.com.
FIVE CROWNS
Five Crowns Executive Chef Ryan O'Melveny Wilson's Valentine's Day offering is guaranteed to set the mood for romance with a three-course prix fixe menu featuring a selection of classic items presented with a contemporary touch. For the first course, choose either Lobster Bisque with sherry foam and a long pepper tuile or Heirloom Beet Salad with blood orange, cocoa nibs and burrata. Entrée selections include Skuna Bay Salmon with wild nettle risotto and pomegranate coulis or an 8-oz. cut of Roasted Prime Ribs of Beef with traditional accompaniments. For dessert, there's decadent Dark Chocolate Cheesecake with a pistachio crust in tangerine coulis. The special menu, priced at $99 per couple, is offered February 11 – February 14. Reservations are required. Call (949) 760-0331 or visit www.thefivecrowns.com.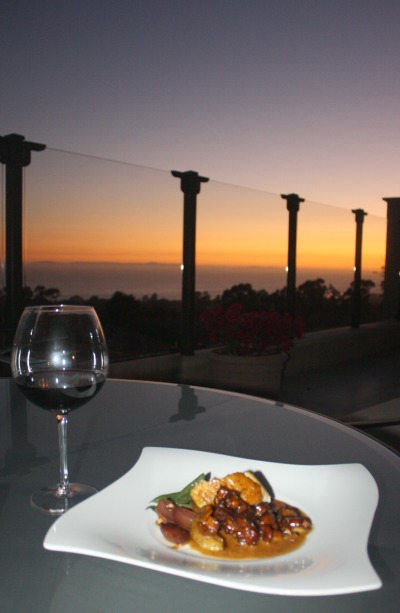 PELICAN HILL RESORT
For a truly intimate and sensual dining experience, Pelican Hill's popular Dinner of the Senses at Coliseum Pool & Grill stimulates each of the five senses of sight, touch, taste, scent and sound. The five-course menu for two, served in a private Coliseum Cabana, allows each course to be eaten by hand without the use of utensils, tapping the desire to nourish one another and share cherished moments together. Customized music, flowers and décor are available upon request. Advance reservations strongly recommended. Dinner of the Senses is available February 10 – 14. Cost is $150 per person, or $200 per person with wine pairing, plus tax and gratuity.
In the resort's signature Andrea Restaurant (rated one of the "Top 50 Most Romantic Restaurants in the U.S." by the Open Table Diners' Choice Awards), Chef di Cucina, Luca Cesarini, has created a spectacular Tuscan-inspired Lovers Menu for $95 per person, or $145 per person with wine pairing.
For more information or to make reservations, visit www.PelicanHill.com. And when you visit Pelican Hill, make sure to pick up a copy of their "Top 10 Most Romantic Places to Kiss at Pelican Hill" list.
TRUE FOOD KITCHEN
For a healthy and happy Valentine's Day dinner, head to True Food Kitchen in Fashion Island, where they've concocted a tasty three-course menu for only $25 per person. Start with a choice of appetizer (including the famed Tuscan Kale Salad), followed by a choice of entrée (Roasted Chicken, Steak Tacos, Red Chili Shrimp, Pan Seared Seabass, and more). The meal ends with a dessert assortment. Visit www.truefoodkitchen.com.
BACK BAY BISTRO
Enjoy a three-course dinner for $65 ($85 with wine pairing) with a view of the back bay plus live entertainment. Selections include Lobster Bisque, Crab Stuffed Filet, Seared Sea of Love Scallops, and decadent desserts for two. And ladies receive a complimentary rose (a helpful addition for the date who forgot to bring flowers). Reservations: www.backbaybistronewportbeach.com
TRADITION BY PASCAL
Valentine's Day is all about tradition, but this year Pascal's famed Tradition Restaurant has a bittersweet treat to offer. February 14 is the final day of operation for Tradition, and Pascal has created a spectacular four-course menu for only $95 per person ($145 with wine pairing). First course offerings include Foie Gras, Champagne Poached Oysters or Shrimp and Lobster Feuilleté, followed by choice of Warm Goat Cheese Salad or Warm Duck Tenderloin Salad. Main entrees include Duck Trio, Pan Fried Organic Chicken Breast with Foie Gras Sauce, and Seared Pepper & Fennel-Crusted Ahi Tuna. Reservations: www.PascalNPB.com.
MORE
Other Newport Beach restaurants serving special Valentine's Day dinners: Bayside, Beachcomber Café, Brasserie Pascal, Canaletto, Daily Grill, Flemings, Great Maple, Port, The Ritz, Roy's, and Villa Nova.