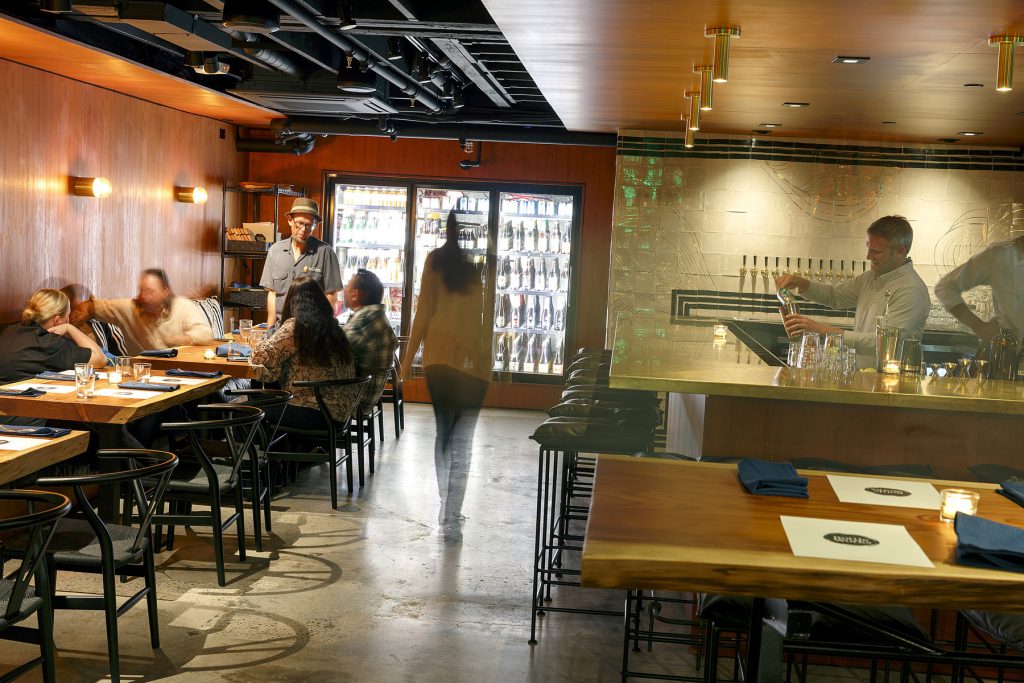 It's always exciting when a new restaurant opens in Newport Beach. It's doubly exciting when the debut is at Lido Marina Village, which has come roaring back to life with a marvelously curated mix of boutiques and restaurants (including Nobu and Zinque).
It's triply exciting when the restaurant is as good as Lido Bottle Works, which officially opened last weekend.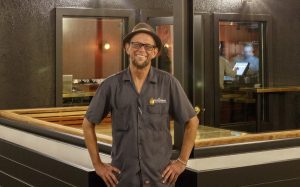 Lido Bottle Works partners Bill, Eric and Kyle Paine (father and sons), and have worked together in Lido Marina Village for seven years. Partner Brett Karas, a Newport Beach resident, has longtime experience in the hospitality and dining field, while partner Kirk O'Brien, a Newport Beach resident, has a background in finance and home brewing'
As Kyle Paine explains, "We want to be that approachable public house with elevated and locally-sourced food."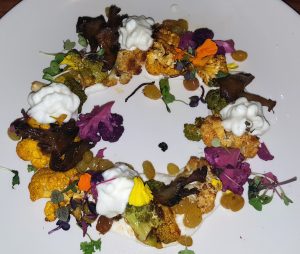 They've achieved that goal thanks to Chef Joel Harrington, who began his career at age 15, working as a fry cook at a family-owned restaurant in his home state of Vermont. He later worked at an eclectic Asian restaurant where he found a love for sweet and spicy flavors. After attending CIA culinary school in 1998, Harrington worked at several high-profile restaurants and resorts around the country before landing in Orange County. He lives on Balboa Peninsula and bikes to the restaurant—after visiting the Dory Fishing Fleet Market or the Lido Bottle Works garden in Costa Mesa.
We were invited to a media tasting at Lido Bottle Works prior to their opening. Our expectations were high because we had perused the menus and read glowing things about the chef, and yet our dining experience exceeded our expectations.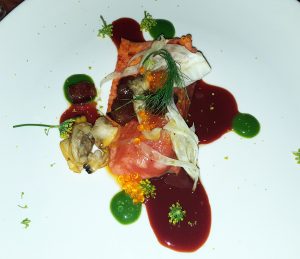 We were awed with the amount of creativity that went into each dish we tried (13 in all, including two desserts), the surprisingly thoughtful and interesting beer and wine list, and the upbeat yet cozy ambiance with a view of Newport Harbor. 
The tasting started off with a glass of Cederville 2015 Viognier from El Dorado County—a wine you won't find served anywhere else in Southern California. Catherine said the wine had great minerality and citrus notes along with a finish that left hints of nectarines and peaches on her taste buds. Christopher simply stated that it was one of the best Viogniers he has ever tasted.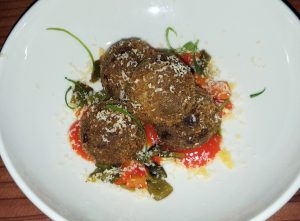 The wine was perfectly paired with a Tuna Tartare with house made Yuzu ponzu and a cool chili pop rocks bottom that literally makes the dish "pop" in your mouth.
Another favorite was the Burrata, a beer driven dish with spiraled golden beets, pumpernickel and almond. It paired wonderfully with the Majordomo, a super saison (or pale ale) with citrus notes, as did the cauliflower cooked several ways with maitake mushrooms, roasted pickled raisins, vanilla and local flowers.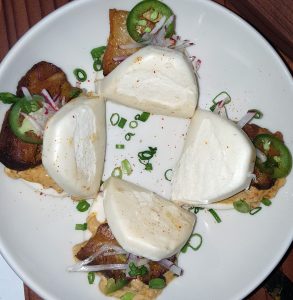 "The salmon belly with bacon, clam and dill gel had a combination of sweet and salty, and the addition of maple bacon made this one of my top picks," said Catherine.
The local catch of the day was halibut, which Chef Harrington said he got from the dory fleet at noon that day.
Two of our favorite dishes were the goat cheese fritters, which had a blend of goat cheese with black pepper and jam, served with ancho caveat and red pepper aioli, and the short rib croquettes with red pepper jus and gouda snow (frozen gouda cheese shaved on top).
"Every item was something recognizable but unique and fresh," said Catherine. "I loved trying some of my favorite food items with new twists and flavors."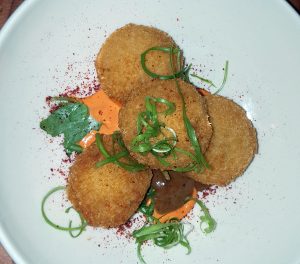 For those with a sweet tooth, Catherine recommends the Pineapple Upside Down cake, which has house-made smoked cherry ice cream plopped on top.
Other unusual aspects of Lido Bottle works: All of the wood table tops were sourced from a friend in the Pacific Northwest who reclaimed a single, naturally-downed redwood tree which was air dried and then kiln dried and finished; The Dirigold flatware was produced in the 1960s and 70s in the U.S. and is a solid gold-hued alloy that was collected and used by families for special occasions. LBW sourced approximately 15 sets of Dirigold flatware, most of them coming directly from the original families and heirs.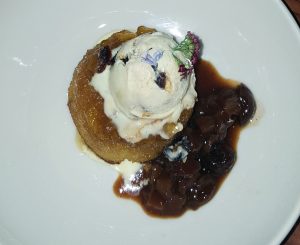 The bar program includes 15 craft draft beers, 40 craft beer bottles, and 25 wines—most of which you won't find on other restaurant wine lists.
At the end of our exceptional culinary evening, we asked Chef Harrington to describe his menu.
"Local global. We celebrate different styles that are locally focused but have a global influence. We're focused on the culture of the Balboa Peninsula. The food celebrates my mentors and the styles of cuisine I have grown up with, and the cultures of Orange County—lots of Asian, Italian, some Peruvian. We're celebrating Newport and the waters that are here."
And we're celebrating that Lido Bottle Works has arrived in Lido Marina Village.
Prices range from $8 for the goat cheese fritters (highly recommended) to $22 for the salmon belly. A few dishes, such as the catch of the day, lamb duo or prime ribeye, are higher.
Visit LidoBottleWorks.com for more information and menus. The restaurant is open for lunch, dinner, and late nite dining.