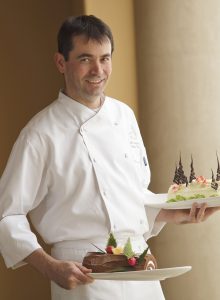 Summer is here and the weather is warm along the coast–time to cool off with authentic Italian gelato from The Resort at Pelican Hill.
Pelican Hill's Caffé always has 10 flavors of gelato and sorbet on hand, with other special flavors served at their restaurants for dessert and as intermezzos.
Being fans of gelato, we were thrilled to be invited behind the scenes and watch Pelican Hill Pastry Chef Jeff Lehuede make gelato.
In addition to being a charming Frenchman with a good sense of humor, we learned that Lehuede has more than 20 years of experience in creating confections at the world's top resorts, restaurants and hotels.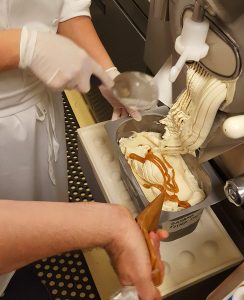 Prior to joining Pelican Hill, he worked as Pastry Chef at The Ritz-Carlton, Laguna Niguel, as well as Mandarin Oriental Hotels in Malaysia, Hong Kong, and Indonesia. He spent his apprenticeship in France, receiving his Master Certificate in Pastry as a teenager and as a young man, he surrounded himself with top chefs who passed along their vision to him, starting his career as pastry chef for the Michelin-rated restaurant, Le Pre Catalan, in Paris.
A native of France, he is known for creating impressive, artistic sculptures of chocolate. Chef Lehuede's passion for pastries started in his early years at home, where he recalls watching his mom bake and was enthralled by her numerous cookbooks.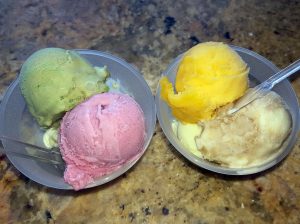 "It's really a strict science with some added flair for flavor," stated Catherine after we observed the gelato-making process. "I won't give all the secrets away, but it involves ingredients such as inverted sugar to help the gelato stay moist, and powdered milk and glucose powder to help prevent ice crystals. The water freezes before everything else so the more dry the ingredients, the better. A constant spin to help break down the molecules of water is also key."
"The flavors are made by adding to a vanilla base that is made using 40 vanilla beans," added Catherine. "Different flavors are made in different ways, with some being added while the gelato is still warm while others have two components and including finishing touches to the cooler gelato. The flavor fixes overnight, and you have an amazing new gelato by morning."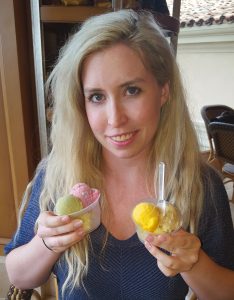 Lehuede uses only the best products available, including organic milk and organic eggs, because as he noted, "we're looking for the ultimate product, the ultimate results."
After sampling eight gelatos and two sorbets that were available that day in the Caffe (cookies and cream, biscotti, key lime pie, strawberry, French vanilla, pistachio, chocolate, tiramisu, and passion fruit and raspberry sorbets), we agreed that it was the ultimate gelato. 
Pelican Hill can custom craft gelato for special events and occasions. Some of their past "crazy flavors" include mango sriracha, grapefruit sorbet with avocado drizzle, chocolate bacon, and lemon grass and black pepper gelato.
For more information, visit PelicanHill.com.