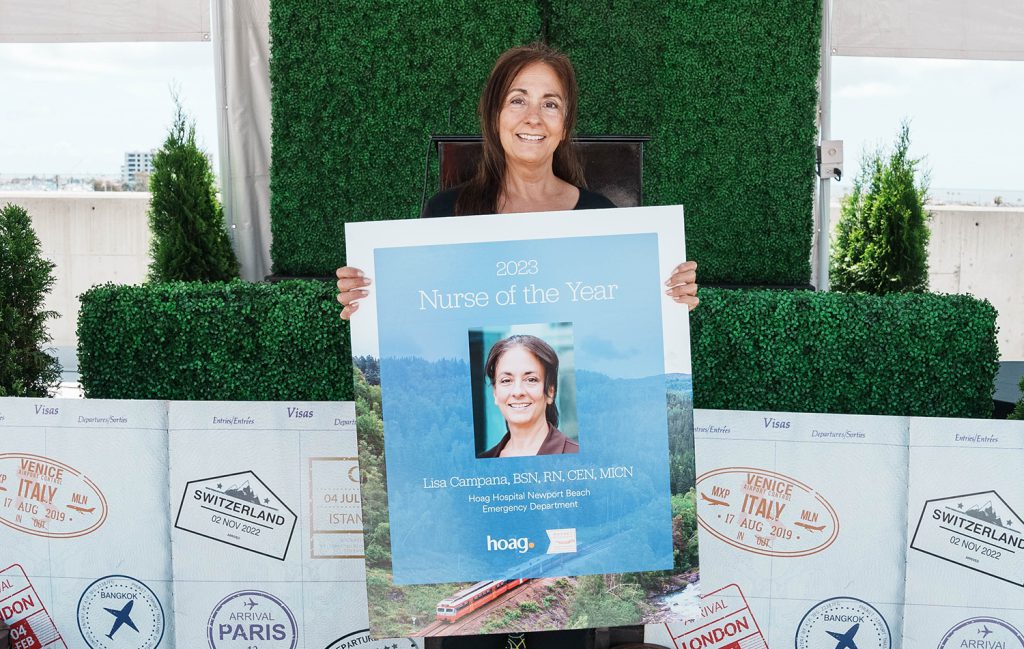 This is National Nurses Week, the perfect occasion to thank all of the nurses who have been on the front lines during the pandemic and who continue to provide compassionate care.
This is also the perfect time for Hoag Hospital to announce its Nurse of the Year for 2023.
This year, the honor goes to Lisa Campana, BSN, RN, CEN, MICN.
According to information provided by Hoag Hospital, Lisa was selected as Nurse of the Year for going above and beyond in her role as Charge Nurse in Hoag Hospital Newport Beach's Emergency Department.
She was nominated for her compassionate care, clinical excellence and patient-centered approach, and was recognized by her colleagues for her leadership, nurturing demeanor, and dedication to evidence-based practices.
Lisa's compassion toward her patients and their families ensures that their experience in the ED is a positive one.
"Lisa exemplifies the essence of a Hoag nurse – kind, compassionate, caring and excellent at her job. She along with her colleagues are always striving to provide the community with the best possible care when they come through Hoag's ED," said Christopher Childress, BSN, RN, CEN, nursing director, Hoag Hospital Newport Beach Emergency Department.
Lisa started her nursing career in Hoag's Emergency Department back in 2009. Since the beginning, she has been a dedicated patient advocate committed to positive outcomes. She is also heavily involved in the Emergency Nurses Association where she advocates for ED nurses and shares valuable best practices with the ED.
According to Hoag, Lisa has gone on multiple Medical Missionary trips throughout South America and the Philippines, bringing a smile and Hoag Pride wherever she goes.
"Lisa Campana is an incredible representation of what it means to be named Nurse of the Year," said Rick Martin, Ed.D, MSN, RN, vice president of patient care services and chief nursing officer of Hoag. "Our entire team of RNs at Hoag are truly special and continue to deliver extraordinary care with compassion on a daily basis, which makes all the difference for our patients and the community."
With philanthropic support, Hoag nurses are earning scholarships in record numbers. Donor investment in nursing education, including Newport Beach residents Julia and George Argyros, who helped establish the Julia Argyros Center for Nursing Excellence at Hoag which helps the hospital fulfill its commitment to develop, attract and retain the best and brightest nurses seeking the highest level of education, ensuring Hoag's promise to deliver exceptional patient care.
Hoag is a nonprofit, regional health care delivery system in Orange County delivering world-class, comprehensive, personalized care. Hoag consists of 1,800 top physicians, 15 urgent care facilities, 10 health & wellness centers, and two award-winning hospitals. For more information, visit hoag.org.