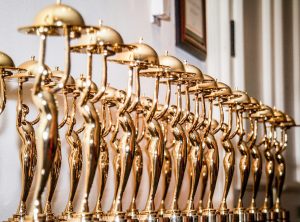 And the Golden Foodie Award goes to…
It was an evening to honor and celebrate the best of Orange County restaurants, chefs and mixologists, and the Golden Foodie Awards did not disappoint—18 statuettes were handed out Sunday night in a variety of categories from Best New Restaurant to Best Wine List to Chef of the Year.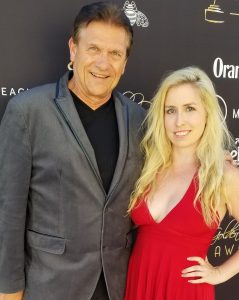 Held at the Newport Beach Marriot Resort & Spa in Fashion Island, the sold-out event began at 5 p.m. with a food and cocktail reception in the Marriott's Rose Garden where dozens of OC's finest culinary talents mingled and enjoyed wine, cocktails and tastes from a variety of restaurants including Filomena's, Pascal & Baja Shellfish Farms, Mozambique, Sol Agave, Pizzeria Ortica, Mix Mix Kitchen & Bar, Waterman's, Hook & Spear, Red O, Legado Bar + Kitchen, House of Blues, Skyloft, Urbana, Puesto, Taco Rosa and Melissa's Produce.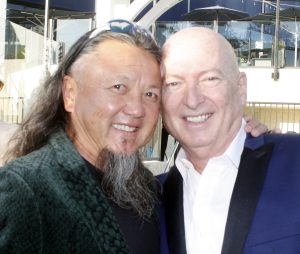 Guests were ushered into the ballroom at 6:30 p.m. and made their way to elegantly-decorated tables filled champagne by Nicolas Feuillatte, moscato grapes and mixed nuts by Melissa's Produce, bread and cheese by Sadie Rose Baking Co., hand painted sugar and chocolate cookies with "Words of Wisdom" by Ashley Guzman-Rose, red velvet cakes by Julie Thomas from Sweet Surrender Specialty Desserts & Pastries, B. Toffee from Betsy Thagard, and chocolate saucisson from Elyssa Fournier from Mixed Bakery.
Food Network celebrity chef Simon Majumdar hosted the event, which included several funny videos of chefs poking fun at their industry.
Celebrity guests, top chefs and food industry icons including Wing Lam of Wahoo's Fish Tacos, Stan Frazier of Sgt. Pepperoni's Pizza (and winner of "Chef Race"), master sommelier Michael Jordan, and Angel's Chairman Dennis Kuhl, presented awards in 18 categories of culinary excellence.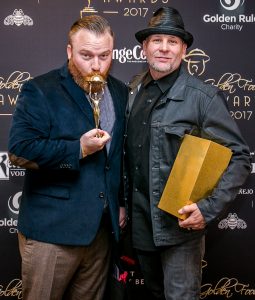 All winners took home extravagant prizes including the Golden Foodie Statue and gift bags from Chefs Toys with fun kitchen gadgets.
Notable local winners: Farmhouse at Roger's Gardens nabbed the Best Cocktails in Orange County award, and we have to agree—we've tried numerous concoctions created by Farmhouse R+D Bartender Anthony Laborin, who often accompanies Farmhouse owner and chef Rich Mead to the Santa Monica Farmer's Market to source ingredients for his cocktails.
Best Lunch Spot in Orange County was won by Sgt. Pepperoni's Pizza, a restaurant we've championed since the day they opened. Co-owner Stan Frazier is a longtime Newport Beach resident and former drummer for Sugar Ray who reopened Sgt. Pepperoni's four years ago, while chef Trevor Kotchek hails from New York and has created a fun and tasty menu.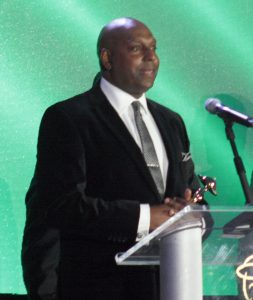 "I just make pizza," Kotchek told the audience. "It's good pizza. You should come and get some."
The Winery Restaurant & Wine Bar was a repeat winner for Best Wine Program, and we have to agree. Sommelier and managing partner William Lewis knows his wines, and stocks a wide variety of varietals from familiar to cult to hidden gems. He can match wine to any cuisine.
"This does not get old," Lewis told the crowd upon accepting the award. "People come in and ask for fun things, they bring fun wines for us to taste—we are very blessed."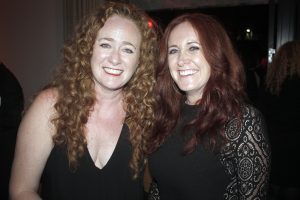 Corona del Mar resident Elyssa Fournier was named Pastry Chef of the Year, and for good reason—her Mixed Bakery is making some truly delicious desserts. Christopher sampled her meringue cookies at the Pacific Food & Wine Classic several weeks ago and was so impressed he kept returning for more samples.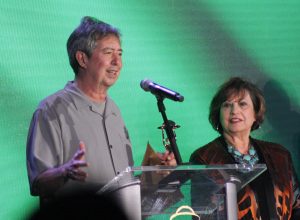 The Chef or the Year category was a tough one: Chef Rich Mead of Farmhouse, Chef Ross Pangilinan of Mix Mix Kitchen Bar, and Chef Michael Rossi of The Ranch Restaurant. The winner was Chef Mead, a local culinary legend for such restaurants as Sage and Sage on the Coast. He opened Farmhouse last fall and has been busy from day one. His "field to fork" concept extends to virtually every dish on his creative menus.
Other notable awards: Mix Mix won for Best New Restaurant, which got our vote. We've been fans of Chef Ross Pangilinan for the past five years starting with his stint at Leatherby's Café Rouge at Segerstrom Center. We followed him to Mix Mix, which he opened last fall, and have been thrilled with his global cuisine that combines traditional Filipino dishes with a modern California twist.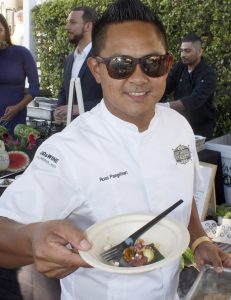 Outstanding Community Service award went to Bruno Serrato of Anaheim White House, which suffered a fire earlier this year and has been closed while Serrato rebuilds his classic Italian eatery. Serrato cooks pasta for thousands of underprivileged kids every night, and despite the fire found other kitchens to use so he could continue to feed his kids. Serrato has received numerous accolades for his efforts, and has been expanding his program so it can be adapted in other cities.
Best Service Award went to Selanne Steak Tavern in Laguna Beach, while the final award of the night, the newly-created Lifetime Achievement Award, went to legendary Chef Alan Greeley, who after nearly four decades in business recently closed his fabled Golden Truffle restaurant so he could retire to Florida.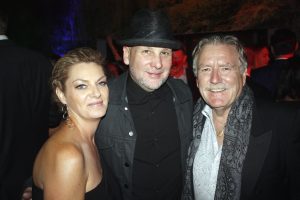 Once the awards ceremony ended, guests made their way into the Garden of Eden Lounge After Party, where they enjoyed music by DJ Miss Ninja, cocktails by Patron, a Maker's Mark Lounge, an outdoor Secret Garden lounge with Grilled Cocktails by DCS and Ketel One Vodka, and other delights.
"Each year this event gets better and better, we are so honored to celebrate our talented and hard-working restaurant community," said Pamela Waitt, creator and producer of the Golden Foodie Awards and President of the OC Restaurant Association Inc.
For more information, visit goldenfoodieawards.com.
 Sidebar: Nominees & Winners of the 2017 Golden Foodies (* denotes the winner):
 2017 Bartender of the Year:
*Jose Zepeda – Hopscotch
Paul Joseph Piane – Orange Hill Restaurant
Tanner Johnson – Watertable
2017 Best Cocktails in Orange County:
*Farmhouse at Roger's Gardens
Vine Restaurant & Bar
Hopscotch
2017 Best Bar Program:
*The Ranch Restaurant
The Blind Rabbit
Vine Restaurant & Bar
2017 Best Lunch Spot in Orange County:
The Deck
*Sgt. Pepperonis
Farmhouse at Rogers Gardens
2017 Best Brunch in Orange County:
Bosscat
*Old Vine Cafe
Taco Rosa
2017 Best New Restaurant:
Taco Brat
*Mix Mix
Recess Room
2017 Rising Star Chef of the Year:
Chef Joel Harrington – Lido Bottle Works
Chef JT Walker – Pacific Hideaway
*Chef Manny Velasco – SOL Agave
2017 Favorite Food Influencer in Orange County: 
Connie Bang-Co Aboubakare – OC Comestibles
*Neil Saavedra – The Fork Report
Sondra Barker – Pretty Fit Foodie
2017 Best Wine Program:
*The Winery Restaurant & Wine Bar
Napa Rose
The Ranch Restaurant
2017 Best Beer Program:
*TAPS
Hopscotch
Skyloft
2017 Outstanding Community Service:
*Bruno Serrato – Anaheim White House
Dave Hanna – Hanna's Prime Steak
Pascal Olhats – Pascal's
2017  Restaurateur of the Year
*Alicia Whitney – SeaSalt & SeaLegs, Huntington Beach
Teresa Razo – Villa Roma, Laguna Hills
Blake Mellgren – Craft House, Dana Point
2017 Best Dessert Menu in Orange County
*Ralph Brennan's Jazz Kitchen
Mixed Bakery
Anqi
2017 Best Entree in Orange County
*Cowboy Ribeye – The Ranch Restaurant
Bosscat Burger – Bosscat Kitchen+Libations
Korean Fried Chicken – Krave Asian Fusion Restaurant
2017 Best Service Award
The Winery Restaurant & Wine Bar
*Selanne Steak Tavern
Villa Roma
David Rossi
*Elyssa Fournier
Jorge Sotelo
2017 Chef of the Year
*Chef Rich Mead
Chef Ross Pangilinan
Chef Michael Rossi
Lifetime Achievement Award: Chef Alan Greeley of The Golden Truffle