Newport Beach is no stranger to celebrities. Professional athletes, reality TV stars, and the über wealthy have all called our humble town home. This week, however, a new celebrity is in our midst.
Finn LeSieur, second-grader and Newport Beach resident, has become a national prize-winning author, with his story, "How Jordan the Giraffe Learned to Love," which he submitted to the PBS Go Kids! Writing Contest.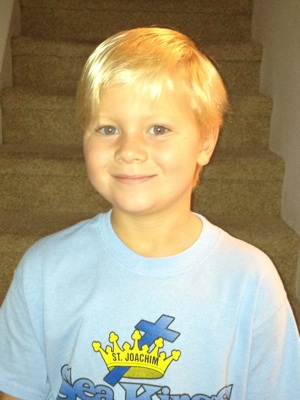 A bright young boy who credits his first-grade teacher, Mrs. Gullo with getting him excited about creative writing, Finn entered his story in the contest, never expecting to actually win.
Imagine his surprise when he not only won, but took first place, receiving top marks in the PBS SoCal division, beating out more than 400 other entries. After his victory here in the Southland, the story travelled on to compete at the national level. Enter victory No. 2, as Finn, along with his buddy Jordan the Giraffe, placed third in his age division, this time besting thousands of stories from 63 participating PBS stations!
The PBS Go Kids! Writing Contest is designed to promote the advancement of children's reading skills through hands-on, active learning. It is just one of the ways that PBS works with kids to help build literacy skills, and engage students in the learning process.
Alyssa Torrez, coordinator of education and outreach for PBS SoCal, had this to say about Finn's winning story: "Finn's work stood out to the PBS SoCal judges for its creative storyline and impressive artwork. It's a perfect example of what kids can do when they are given the chance to create and learn at the same time."
Finn would concur. When I asked him what he learned from this experience, he told me, "I learned that writing stories and creating can be a lot of fun. I was proud of my story even before I knew I won. The prize just made it extra special!"
The story that created all the fuss revolves around Jordan, a giraffe living in the mountains of Italy. Jordan and his brother Hugo love to eat Italian food, especially spaghetti, but every time that Jordan eats his favorite food, he suffers unfortunate consequences, such as turning green and purple and glowing.
As you can imagine, this made things difficult for Jordan. All the other giraffes would laugh and stare at him, and he felt very different and alone.  Just as he was about to swear off spaghetti forever and move to Texas, he met Genevieve, another giraffe who shared the same reactions to food.
Suddenly, Jordan knew he wasn't alone, and he was able to stay in Italy, enjoying his pasta, and feeling much better about himself.
Finn says he was inspired to write this story because he loves giraffes, and wanted to tell a story that was both funny and had a good lesson. When I asked him what that lesson was, he said, "that we are never alone and even when we have problems there is always someone out there who understands how we feel."
Although he has already become a nationally acclaimed author, Finn isn't ready to sit back and rest on his laurels. On the contrary, he has set his sights on achieving bigger and better things. The goals he has set for himself include competing in the Olympics in water polo, and growing up to become an inventor of "amazing things."
I'd say he is well on his way to achieving greatness, and I will not be surprised at all to find his name listed as the creator of something new and amazing in the years to come.
For more information on the PBS Go Kids! Programs, and to read this and other winning stories, please visit www.pbskids.org/writerscontest/