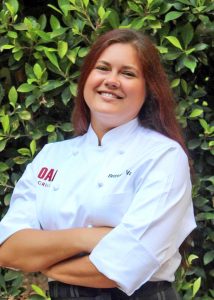 It's not often that a chef roams a dining room to greet guests and talk about the cuisine, but then again it's not often you have a chef like Brittany Valles in the kitchen.
Valles was named executive chef at Oak Grill and Aqua Lounge in the Fashion Island Hotel barely a month ago, but has already introduced a unique dining concept: a prix fixe "Meet the Chef" dinner on Sunday and Monday nights from 5 to 10 p.m.
Guests can choose one of three appetizers, one of three entrees, and one of two desserts, all for $65 per person. Chef Valles comes to each table to talk about her cuisine and answer culinary questions—including how she makes her food taste so sensational.
One answer is her background. For the last seven years, Valles served as chef de cuisine at now-closed ink.well by Michael Voltaggio, the sixth season winner of Bravo's Top Chef. Voltaggio is Valles cooking and personal mentor, along with her early teacher Chef Cole Dickenson, who recognized her potential when she worked with him at Wolfgang Puck Catering at the beginning of her culinary career.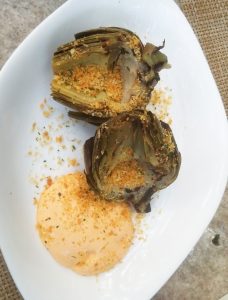 Valles gained a prestigious nomination for Star Chefs' Rising Star Chef in 2017 and was the "Sandwich Queen" in an episode on munchies on Chef's Night Out, along with Chef Michael Voltaggio.
Now, Valles is at the helm of the Oak Grill kitchen, where she oversees the seasonal menus served at breakfast, lunch and dinner, including menus for holidays and special events. At Aqua Lounge, she is responsible for creating the shareable bites menu.
Her Meet the Chef menu is deceptively simple. There is a lot of creativity within her unpretentious dishes, which my friend Della and I found out when we attended the Meet the Chef dinner last Sunday.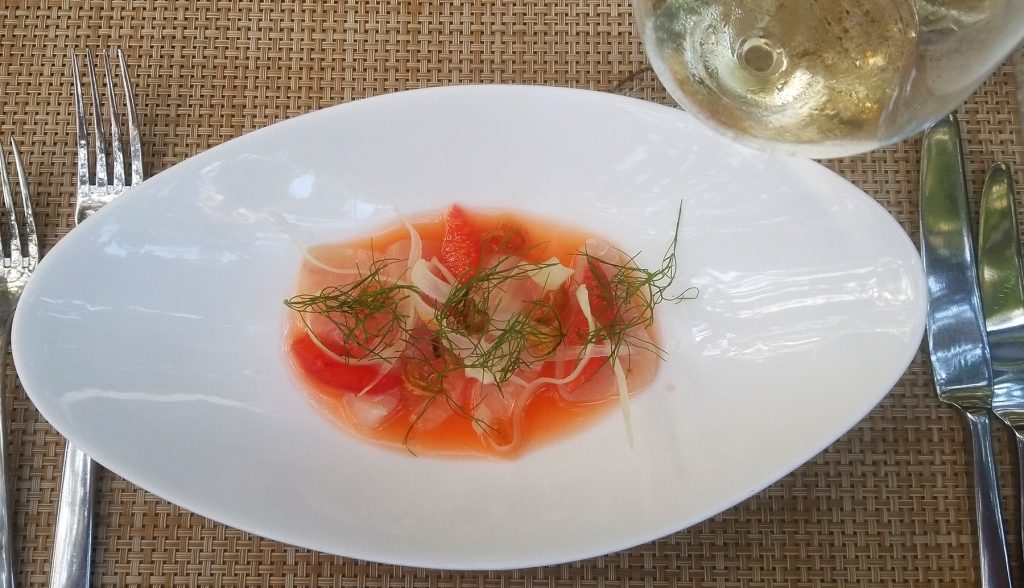 We started with the grilled artichoke with parmesan-lemon panko and sundried tomato aioli, and Hamachi with blood orange ponzu, fennel, capers and crispy shallot. The seasoned panko and tomato aioli were nice touches, and the blood orange was a good complement to the Hamachi, which was beautifully plated.
We did not order the spinach salad with mole spiced squash and pomegranates, although a fellow diner said it was delicious.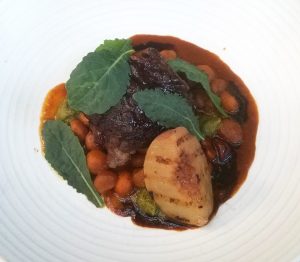 For our second courses, we ordered the BBQ spiced short ribs with grilled green onion chimichurri, barbecued baked macadamia nuts, grilled peaches and baby kale, and the pan-seared branzino with capers, tomatoes, cauliflower couscous, olive croutons and dill.
The short rib was so tender I barely needed a fork, but my surprise came when I picked up a fork full of beans and remembered they were actually macadamia nuts! They were tender yet stull had a crunch to them, which was a nice balance between the short rip texture and taste.
I asked Valles how she came up with macadamia nuts for this dish.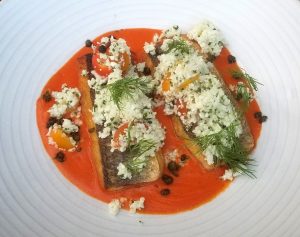 "Everything has been done in cooking, so it's finding new ways to reinvent things," she replied. "I have done macadamia nuts in a pozole instead of hominy, so I decided to use them in this application instead of baked beans. I cook them the same way, for four hours, and they get tender."
Della raved about her fish dish, and the fact that the couscous was actually cauliflower.
"Coming from L.A., a lot of people have food allergies, so I tried to create a dish that could be appealing without being altered," explained Valles. "Cauliflower is a great alternative to no gluten. I grate the cauliflower with a cheese grater. I do not cook it at all, just keep it at room temperature."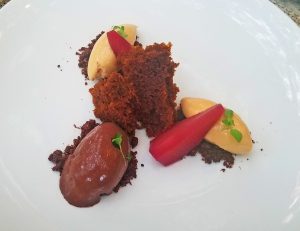 The other entrée option we did not try (but plan to on our next visit) is coconut rice with charred avocado, togarashi, Thai basil and crispy rice, which is vegan and vegetarian.
"I take an avocado, cut it in half, char the flat side, peel it, and it sits in the bed of rice," said Valles. "It gives some substance to a dish. A lot of time a vegetarian dish is just grains. Avocados are good for you, so I use that as a replacement for meat."
For dessert, we had the ginger cake served with red wine poached pears, caramelized white chocolate ganache and dark chocolate ice cream, and buttermilk panna cotta with strawberries, pine nut pavlova and lemon basil ice cream. As with the other dishes, these were fun twists on traditional desserts.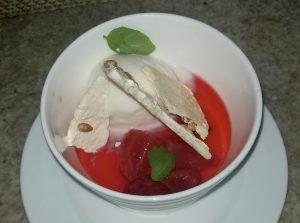 Although she just completed her first month at Oak Grill, Valles said that she has been embraced as the chef and that her new menu has been approved and is due to launch this fall.
"Cooking is a fun challenge," Valles confided. "You can give guests things they didn't know they wanted, like the macadamia nuts. It's not that crazy but a little different and avant garde. It's creating that buzz. I like to add fun twists that are very approachable and don't scare people off."
Her current Meet the Chef menu continues through the end of September, then a new one launches for October.
Visit OakGrillNB.com.