By Christopher Trela and Catherine Del Casale | NB Indy
The term "catering" at one time had a less-than-glamorous connotation, but that has changed in recent years thanks to a handful of companies and chefs who have taken catering to a new level.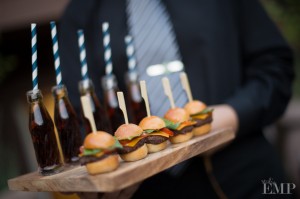 24 Carrots
24 Carrots is the caterer of choice for the Newport Beach Civic Center, OASIS Senior Center, Orange County Museum of Art and the Port Theater. They also work with Laguna Art Museum, Mission San Juan Capistrano, Rancho Las Lomas, and other venues from San Diego to Santa Ynez. And, they operate the new bistro inside the main library as well as bistros in several Newport Beach office complexes.
We've experienced 24 Carrot's creative cuisine at numerous functions we've attended, and have always come away impressed.
40 Carrots recently celebrated its 10th anniversary, so we talked to co-owner Jon Brown about how far catering has come, and what makes his company so successful.
"There is a huge fascination with reality TV, with shows like "Top Chef" and others that all make awesome food, so people are demanding that from caterers," explained Brown. "It has pushed us as caterers to put food out there that you'd find at a high end restaurant. People don't want the rubber chicken anymore."
Brown recently hired a new executive chef, Ashley Santo Domingo, who was on "Top Chef" and has a forward-thinking concept for food.
"People eat with their eyes first, so it has to be delicious looking and tasting. She puts that kind of food out there. She's almost a celebrity chef—she's at that level of cooking, and it's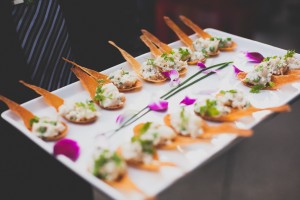 where we're taking our company," said Brown.
"We're always looking for the next opportunity to grow the business, but we're trying to be really smart about it," he added. "We are more expensive than a lot of catering companies. You Lexus and Toyota, or Target and Nordstrom, they cater to different clientele. We want to go after the high end, people that appreciate the celebrity chef experience. And, we want clients to look good in front of their guests."
Brown said most customers are asking for custom menus, which presents a unique challenge.
"I have people come in and say I want a Vietnamese barbecue menu, or Mediterranean American fusion menu, or they've dined somewhere that makes Korean short rib, can you go eat it and make it for my wedding. They even give me recipes, and we'll make it, they come in and try it, and say don't tell my mom but this is better than hers. We try to exceed their expectations."
Brown said his attention to detail and commitment to excellence applies to the staff he hires.
"We are very particular how we hire staff. It's all in the attitude. We look for staff that wants to work together. We have a team that cares for each other, from the sales team to the kitchen."
Brown paused, then added, "I feel very blessed."
24 Carrots recently launched a series of pop-up dinners. Their next one has a Biergarten theme and takes place on June 26 at Franciscan Gardens in San Juan Capistrano. A lavish six-course dinner will be prepared by Chef Ashley and Pastry Chef Robert LeSage. This event will showcase an array of German-inspired dishes paired with beers direct from Ballast Point Brewery in San Diego.
Seating is limited. Cost is $100 per person, with 10 percent of ticket sales going to Share Our Shelves.
For details, visit www.24carrots.com/popup.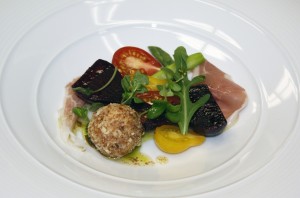 Vanity Catering
Michelin-starred Chef Conrad Gallagher has worked in a variety of acclaimed restaurants and hotels in New York including Restaurant Daniel, Le Cirque and the Plaza Hotel, as well as Alain Ducasse's three-star Michelin restaurant Louis XV at Hotel de Paris in Monte Carlo, Monaco.
Now, Chef Conrad has launched Vanity Catering & Events, which specializes in "extraordinary cuisine flawlessly executed to provide a world-class dining experience."
We first encountered Chef Conrad at a special tasting he held at The Hood Kitchen in Costa Mesa, where we got to watch, and then taste, his culinary creations.
We ran into him again at the Table for Ten culinary event held in April at the Disney Resort, where he had created yet another dazzling menu.
His press material states that "Vanity Catering & Events specializes in menus of impeccable artistry featuring the finest ingredients, all masterfully crafted."
We couldn't agree more.
So naturally, we were curious why he decided to abandon the restaurant route for the catering world.
"There are lots of great restaurants—it's a very competitive market. You can have the best food and service in the world, and yet barely break even," he told us. "Catering is something I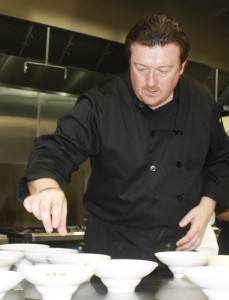 have dipped my foot into over the years. There are a lot of Michelin starred chefs but not many doing catering. "There is a niche in the marketplace for a company that will specialize in great food, and great wines. We plan and execute these things with military precision."
Chef Conrad said he has a complex catering job in Laguna Beach this month and has been meeting every day to discuss details of the event.
"We leave nothing to chance, we plan so meticulously."
Chef Conrad has also started a series of pop-up dinners, and he's doing private dinner parties where he brings the restaurant experience into people's homes.
For more information, visit www.vanitycateringandevents.com, and www.facebook.com/vanitycateringandevents (where you can view photos of Chef Conrad's creatikons).