By Christopher Trela and Catherine Del Casale | NB Indy
Mother's Day is next weekend—the perfect time to treat mom to a Mother's Day brunch. A number of local restaurants are creating special Mother's Day menus, including one of our new favorites, Provenance, in Eastbluff.
Provenance owner and chef Cathy Pavlos grew up in Southern California. Her grandfather was a commercial farmer in Huntington Beach, so she grew up cooking and eating her grandfather's produce along with fresh fruits from family orchards in Whittier. Her family also butchered meats on their farm.
"I learned to cook when I was four years old, at the side of my Italian grandmother, who was known to be the best cook around," said Chef Cathy.
When diners enter Provenance, one of the first things they encounter is a hostess station. What's unusual is that it's created from Chef Cathy's grandmother's 1948 stove that she kept in her kitchen until the day she died—the same stove Chef Cathy learned to cook on when she was a small child.
Chef Cathy has created a $40 prix fixe Mother's Day menu that starts with a choice of crab and asparagus bisque, pate, charcuterie, or artisan cheese plate, and then a choice of entrees such as eggs benedict, porkchops adobo style, New Zealand wild sole, French omelet, filet mignon medallions and roasted chicken breast. Desserts include flourless chocolate cake, cast iron apple pie with salted caramel, and lemon curd and blueberry curd tartlet. The brunch includes a mimosa or bloody Mary.
For more information, visit provenanceoc.com.
SOL Cookbook
Chef Deborah Schneider of SOL Mexican Cocina has not created a Mother's Day menu, but she does have a handful of cookbooks available on her restaurant's website that make great Mother's Day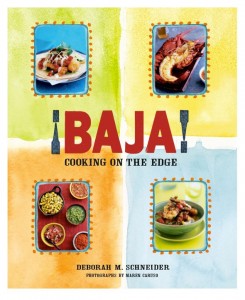 gifts, including one that was recently re-released called "Baja! Cooking on the Edge."
During its original release in 2006, it was noted as one of the "Best Cookbooks of the Year" by Food & Wine magazine.
In this book (the first of five cookbooks that Chef Deb has written), readers are taken on culinary trip through Baja California.
"This is a culmination of years spent exploring, cooking and camping throughout the Baja region – sometimes with Chefs and sometimes with surfer friends," commented Chef Deb.
"If you're interested in learning how to cook dishes like seared shrimp with tangerine, cilantro and pastilla chile through quick and easy techniques, this is the book for you, or your mom," stated Catherine. "But if you are more of a taster than a chef, just come to Sol Cocina and try some of the Baja inspired items on the spring menu."
Chef Deb specializes in south-of-the-border cuisine, which is unusual for someone who was raised in Canada.
"I grew up in a tiny rural town in southern Ontario," Chef Deb told us. "My mother grew up on a farm and is a great simple cook. I still make gravy in the pan just like she does, and her stuffing is the best!" stated Chef Deb. "Mom's cooking style can best be described as 'great fresh ingredients and don't do too much to it.' My favorite meal at home is still the Sunday roast beef dinner with local veggies."
Visit the SOL website at solcocina.com. And visit Chef Deb's personal website at chefdeborahschneider.com to view a video of her making her signature tacos vampiros.
Schramsberg Wine Dinner
Scott's Restaurant & Bar in Costa Mesa has a special Mother's Day brunch that includes free-flowing champagne for only $50, but another event they're holding next week caught our attention.
Hugh Davies, CEO & winemaker at Schramsberg Winery in Napa Valley (one of our favorite sparkling wine producers), will be in town for a five-course winemaker dinner on Thursday, May 8 at 7 p.m. Executive Chef Michael Doctulero has matched six chosen wines, including Schramsberg's flagship Blanc de Blancs and the classic Schramsberg Brut Rose, with what he calls "spring harvest cuisine." The five-course menu will include shigoku oysters with cucumber granita, Glacier Bay salmon with steamed Asian blini, Dungeness crab with leek risotto and Smithfield ham, kurobuta pork with vincotto and kabocha squash ravioli, and more. This special winemaker dinner is $200 per person or $350 per couple, but if you've ever had Schramsberg wines, you know it's more than worth the price. To purchase tickets, visit scottswinedinner.eventbrite.com and enter the code 50OFF for $50 off the couples dinner.
For more info on Scott's, and more details on the wine dinner, visit ScottsRestaurantandBar.com.