By Christopher Trela and Catherine Del Casale | NB Indy
In the restaurant industry, hidden gems often don't stay hidden for long. Some, in fact, really aren't hidden, but they are off the beaten path for many diners. We've been to two such places recently, and based on our experiences can vouch for them being gastronomic gems.
Back Bay Bistro
This often-overlooked dining spot is tucked away in the Newport Dunes Waterfront Resort property, but it's a dining destination worth seeking out. This 200-seat restaurant has a lovely view of the back bay and a charming patio with heaters.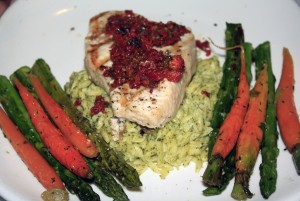 We've enjoyed Back Bay Bistro's weekend brunch and happy hour specials, but finally made it to dinner when we were invited to sample Executive Chef Kurt Schaeffer's new fall menu items which offer a fresh spin on classic dishes.
Among the new entrées: fresh grilled swordfish topped with sundried tomato tapenade and served with lemon orzo, grilled asparagus and baby carrots; blackened sea bass topped with a chipotle honey glaze and served over grilled herb polenta and sautéed spinach; 12 oz. New York, 7 oz. filet mignon and 16 oz. bone-in rib eye steaks; and appetizers including crispy Pacific pan-fried oysters and wild mushroom sauté.
"The wild mushroom sauté was one of the better appetizers I've enjoyed recently," said Catherine. "I like the combination of Portobello, shitake and button mushrooms sautéed in brandy, rosemary and butter, and the six mini pieces of garlic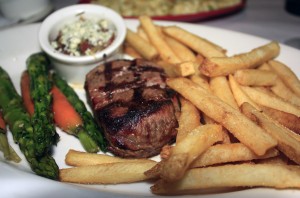 crouton toast topped with melted Gorgonzola cheese. It was the perfect size for sharing."
"And the mushrooms were not drenched in sauce like some sautéed mushroom dishes," I added.
Catherine selected the seven-ounce filet mignon with the Gorgonzola bacon onion mix sauce, fresh grilled asparagus and baby carrots, and pommes frites for her entree, while I went with the swordfish.
"Wow!" I exclaimed after only one bite. "Best swordfish I've had in a long time. Really tender, moist, flavorful, and the orzo pasta is a great accouterment."
"The filet is so tender I can almost pull it apart with my fork, and it's juicy and full of flavor," responded Catherine. "The Gorgonzola bacon onion mix has just the right combination of flavors to not overwhelm the filet but compliment it perfectly."
For more information, visit BackBayBistroNewportBeach.com, or call (949) 729-1144.
Pie Not
17th St. in Costa Mesa has become a dining mecca that's drawing numerous Newporters looking for unusual food fare. Set back from the street adjacent to the iconic Mi Casa restaurant is a new hotspot: Pie-Not.
Pie-Not is an Australian eatery specializing in meat and veggie pies. It opened several months ago under the guidance of co-owners Jai Snowdon, originally from the Gold Coast of Australia, and Ryan Lopiccolo, of Newport Beach.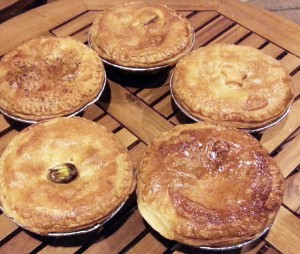 The duo reportedly spent two years perfecting the Pie-Not concept before opening their doors, including months of research, planning, testing methods, and tastings.
They found chef Samantha Boxer, originally from Melbourne, Australia, who has created a 26-item menu.
The shop specializes in what we're told are classic Aussie meat pies (priced $5 to $7) made of premium meat fillings in a pastry shell topped with a puff pastry lid. There are six standard and six premium varieties, as well as sausage rolls, quiche-style pies, and more.
"I love that each pie filling and crust is made a little thinker than normal pies so that you can hold the pie in your hands without the filling oozing," noted Catherine as she bit into a pie.
We sampled several pies, and found them all packed with flavor, and surprisingly filling. Our favorites included Bloomin' Hot" with ground tri-colored peppercorn braised premium chunky beef, the Mary's with roasted garlic, rosemary, lamb, diced onion and bacon, and the Drunken Cow with red wine and roasted garlic braised premium chunky beef.
Catherine loved their homemade desserts, including the Slice of Heaven: rich homemade caramel filling layered on a sweet shortbread crust and finished with a thick milk chocolate topper and sea salt. "Sweet and salty at the same time with smooth, rough and crunchy textures mixed into one."
For more information visit pienot.com or call (949) 650-PIES.