By Christopher Trela and Catherine Del Casale | NB Indy
Some call it breakfast, some call it brunch; we call it a great way to start the day.
Breakfast is one of those often overlooked meals that we tend to rush through on weekdays. However, weekends are a different matter. It's hard to beat a leisurely brunch at a nice restaurant, or a hearty breakfast with friends.
Morning dining spots are plentiful in Newport Beach, and most people have their favorite weekend breakfast or brunch haunts. We've been seeking out some of the more creative and classic places, and found two very different morning menus at restaurants that are only a few feet apart from each other.
 Fleming's Wine Country Brunch
Renowned for their sensational steaks and impressive wine list, Fleming's in Fashion Island recently launched a Wine Country Brunch available every Sunday from 10 a.m. to 2 p.m.
Naturally, we were curious to see what a restaurant not normally open in the morning would have on its brunch menu. We were invited to a media tasting to sample the menu and discover a different side of Fleming's.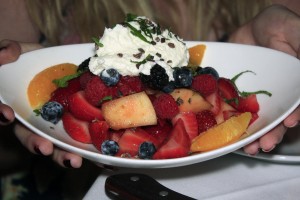 Fleming's in the morning looks somewhat like the evening version, only a little brighter to fit the a.m. ambiance. The a la carte menu offers an impressive array of brunch items, from traditional fare such as oatmeal, omelets and pancakes, to steaks and barbecued salmon.
The dishes, however traditional sounding, are taken to another dimension.
Catherine started with their Sonoma sparkler ($8.95), a twist on a normal mimosa with passion fruit instead of orange juice, while I had the "Fish and Chips" bloody Mary ($8.95), which came with a large shrimp and housemade potato chips.
"After this, no other mimosa will compare," said Catherine after a few sips.
"And this is one of the most creative and tasty blood Mary's I've had," I replied.
The pleasant surprises kept coming. Their fruit plate ($7.50) featured fresh raspberries, blackberries, strawberries, and oranges topped with Moscato of Asti and mint leaves.
"The whipped topping with the fresh berries and touch of mint create a unique flavor experience for what is usually just a normal side," said Catherine.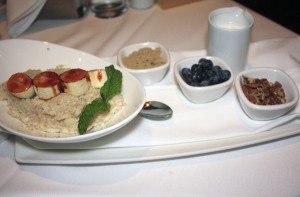 Being an oatmeal fan, I ordered their steel cut Irish oatmeal ($9.95), which came with banana brulee, walnuts, blueberries, brown sugar and warm milk.
"Wow," was all I could say after a few bites. "Absolutely the best oatmeal I've ever had. Ever."
"Phenomenal," agreed Catherine. "The bruleed bananas make the dish exceed anything I've had."
We also tried the baked brioche French toast ($14.95), a sinfully good dish that could have doubled as dessert. Next came the lemon ricotta pancakes ($14.95), served with wildflower honey and blueberry maple syrup, and the blue crab omelet ($17.95) made with gruyere cheese, spinach and mushrooms, and then topped with crab meat.
Catherine loves grits, so she ordered a side of the chevre cheese grits ($4.50), which she said were simmered to perfection.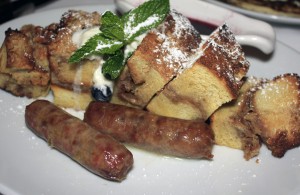 We also tried the rosemary brown sugar bacon ($7.50), double-layered bacon rubbed in a spicy rosemary and brown sugar blend and then baked crisp.
"By far the best bacon I've ever had," stated Catherine with a smile. "I think Fleming's is my new favorite spot for brunch."
"I agree–now pass me more of that oatmeal," I said.
For more information, visit FlemingsSteakHouse.com or call (949) 720-9633.
 True Food Breakfast
Adjacent to Fleming's is True Food Kitchen, known for healthy cuisine that doesn't taste like health food. Their weekend breakfast menu follows that same concept. It lists only 10 items, so it's relatively easy to make a selection.
It had been a year since I'd dined at True Food, and this was Catherine's first time.
"I enjoyed their quinoa Johnny cakes ($9), which were light but not flat like healthy pancakes you may find at other restaurants," said Catherine. "They were filled with blueberries and topped with authentic Greek yogurt, which I spread evenly on top and then drizzled with syrup."
She also tried the goji berry granola ($7), which she said had "great flavors and textures added to their already fantastic Greek yogurt. The bananas, blueberries, walnuts and puffed brown rice worked well together, making it a filling and healthy meal while still keeping it sweet."
"If you're looking for a place where you can get a delicious breakfast but still feel good about yourself afterwards, this is it!" she declared.
For more information, visit foxrc.com/restaurants/true-food-kitchen, or call (949) 644-2400.