By Christopher Trela and Catherine Del Casale | NB Indy
Christmastime is also foodie time in Newport Beach. Many restaurants serve special Christmas Eve and Christmas Day dinners (see sidebar), while others offer special seasonal dishes – and experiences – available only during the holidays.
Muldoon's Dickens Christmas Celebration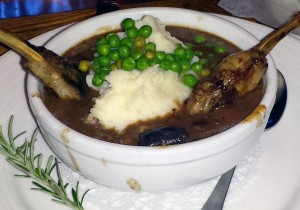 Charles Dickens' "A Christmas Carol" is one of those classic Christmas tales that's been a long-standing tradition at South Coast Repertory, where for nearly three decades they've been staging a superb adaptation of "A Christmas Carol" starring Hal Landon as Scrooge.
Another long-standing tradition is Muldoon's Irish Dickens Christmas Celebration, featuring authentic cuisine and drinks from Dickens' time plus costumed servers and holiday décor.
We decided to have a Dickens Sunday last weekend. We caught a performance of "A Christmas Carol" (we nabbed the last two tickets) and then went to Muldoon's for dinner.
Chris has seen "A Christmas Carol" every year for nearly 20 years, and has enjoyed Muldoon's holiday menu. Catherine is new to both, so we let her describe her experience:
"South Coast Repertory's rendition of 'A Christmas Carol' is the beginning of a new holiday tradition for me. I've seen the show before at other theaters, but SCR's is by far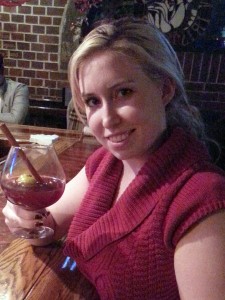 the best. I loved how they were able to add in so much humor during the show. I was so engaged that when it was over I couldn't believe that two hours had passed. I will also make sure to wear a red scarf next year, which I learned is another tradition of the show."
"To complete the experience, we went to Muldoon's Irish Pub and taste tested some items on their Dickens' menu. Chris tried the "Bog Nog" cocktail, while I enjoyed cup of Wassail, which is a holiday mulled wine that tastes like apple cider with cinnamon, and at the bartender's suggestion I added a shot of Captain Morgan rum. Chris and I shared the black bush stew, which really hit the spot with the cool winter weather and the Christmas spirit I was in after the show. The stew had a hearty helping of meat, potatoes, peas and carrots, and even had two lamb chops and a shot of black bush whiskey to finish it off."
Tickets to "A Christmas Carol" are scarce, but call the box office at (714) 708-5555 or visit SCR.org in case some become available.
Muldoon's serves its Dickens menu through Christmas Eve. Call (949) 640-4110, or visit MuldoonsPub.com.
True Food Kitchen
Nothing says Christmas like…squash pie?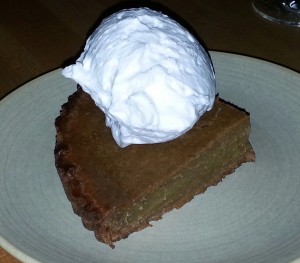 True Food Kitchen in Fashion Island has squash pie on the menu this month as an alternative to traditional pumpkin pie (which is also a type of squash).
This squash pie is made with natural butternut squash, brandy, coconut milk, and several spices.
We'd heard about the squash pie, so we stopped by True Food to try a piece and see what the buzz was about.
After one bite, my reaction was "wow!" I repeated that statement again and again as I savored the creamy dessert.
Catherine's take on the squash pie: "I found my new favorite holiday pie. I'm usually more of an apple pie girl, but the flavors in this pie were amazing. By using butternut squash, which is already sweet, they eliminated the need for butter and a lot of sugar. This is a great option for vegan or dairy-free eaters, as it is not made using any dairy products. I enjoyed the pie with a hearty topping of coconut whipped cream, which went well with the cinnamon and spice flavor of the pie."
The squash pie is available for a limited time at True Food, so get it while you can. Call (949) 644-2400 or visit foxrc.com.
Savory Spice Shop
Need a gift for the foodie on your list? Try Savory Spice Shop in Corona del Mar. They have "Recipe To-Go" sets and "Homemade with Savory" mason jars that are great stocking stuffers or gifts.
The pre-assembled "Recipe To-Go" kits provide every spice needed for Savory's signature recipes such as cocktail crackers, ginger spice cookies, reindeer chow party mix, and vanilla & curried spiced caramel corn.
The "Homemade with Savory" mason jars come assembled with seasonings and spices needed to create gourmet sauces and dressings. The spices needed for each recipe are packaged in a keepsake mason jar for storage. Recipes include Carolina citrus vinaigrette, chai spiced nuts, mulled wine black onyx chocolate sauce, barbecue sauce, cranberry chutney, and more.
You can also buy customizable spice sets, with hundreds of spices, spice blends, salts and seasonings available to create personalized gift sets. They start at $19 each.
We tried a variety of Savory Spice Shop spices and rubs last summer, and really loved the flavors they imparted on grilled meats.
For more information, call (949) 717-7776 or visit savoryspiceshop.com.