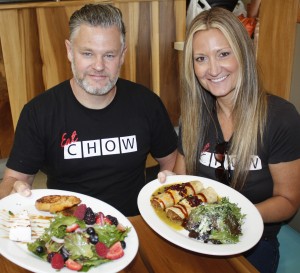 By Christopher Trela & Catherine Del Casale
Eat Chow
Have you been 'Chowified?" We have, and we love it.
Of course, we're talking about Eat Chow, which has locations in Newport Beach and Costa Mesa. Soon, you'll be able to get "chowified" in downtown Santa Ana when Eat Chow opens a third location later this year at Bush and Fourth Street.
"Chowified is a term we use when we're developing a dish," said Eat Chow COO and Partner Amy Curran. "We start off with a basic concept and then chowify it by adding more depth, more layers of flavor, and turn it into something unexpected."
That's exactly what she and Executive Chef and Partner Brian McReynolds have done with their new summer menu, which we recently sampled at the Newport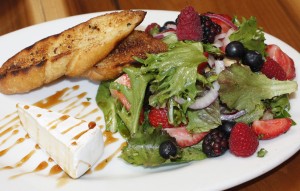 location.
The menu includes Memphis-style BBQ chicken ($14), berry brie salad with blackberries, blueberries, strawberries and triple cream brie ($12), lemon marscapone French toast ($11), Chowified cubed steak sandwich ($13), barbequed duck enchiladas ($16), miso glazed scallops with avocado lime puree ($14), and an "a.m." burger featuring a beef patty topped with a fried egg, cheese, Hollandaise sauce and applewood smoked bacon ($12).
"Breakfast is huge for us—people around here love breakfast," Curran told us while we sampled the brie berry salad and the duck enchiladas (and a generous bucket of truffle fries). "People love the a.m. burger, and we have a popular item called a breakfast salad—that's an example of how we chowify something."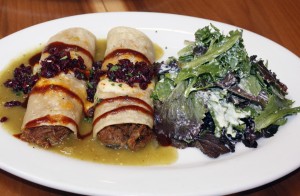 So what's their favorite menu item?
"The ahi burger," said McReynolds. "We sear it, add wasabi slaw, and serve it on a brioche bun. We get a lot of compliments on it."
"And I have to compliment you on the duck enchiladas—this is terrific," I said. "And the berry brie salad. And these truffle fries are not new, but they're so addicting that we'll need to come back soon and get chowified all over again."
For more information, visit EatChowNow.com.
Il Barone Bottega
We love Il Barone Ristorante on Martingale Way in Newport Beach (near the airport), and have been anticipating the opening of Il Barone Bottega next door. It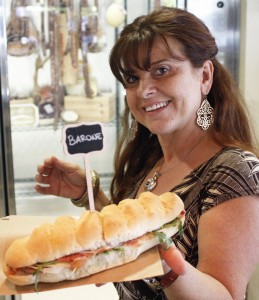 finally opened earlier this month, so naturally we had to have a look, and a taste.
The Bottega is open mainly for lunch, and offers everything from paninis to pastries to gelato, plus Italian groceries.
We tried the Il Barone panini, which has crudo di parma, provolone, arugula, and olive oil. We also sampled several flavors of gelato (Christopher found the caramel particularly yummy).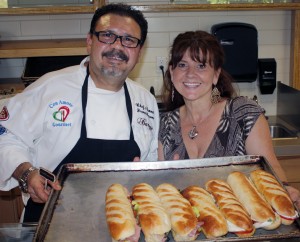 Owners Franco and Donatella Barone told us the Bottega has been very busy, but given their culinary track record, that's not surprising. They also opened a pizza place in Balboa Village a few weeks ago, run by their sons, that has also been very popular with locals and visitors.
Add to that an equally busy Il Barone restaurant (open for lunch and dinner), and you've got one busy, and successful, family!
Visit ilbaroneristorante.com for more information.
Pascal
We were sad when Chef Pascal Olhats closed his Brasserie and Epicerie, although he's still serving his distinct French cuisine at his Café Jardin in Sherman Library & Gardens in Corona del Mar.
Chef Pascal promised to open another restaurant soon, and he's made good on that promise with his new endeavor, simply called Pascal.
It's located in San Juan Capistrano, but via the toll road it took us only 15 minutes to arrive at his charming new restaurant on Rancho Viejo Road, which looks similar to his Epicerie but is more spacious. He's serving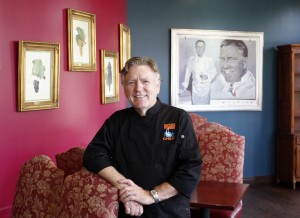 breakfast, lunch and dinner from 7:30 a.m. to 7 p.m. Monday through Friday, and 8 a.m. to 3 p.m. on Saturdays, but in the next few weeks he'll be opening his adjacent 20 seat dining room, where he'll be serving a nightly prix fixe dinner similar to his old Tradition.
"Rabbit, coq au vin, sea bass, bouillabaisse, all the staples," Pascal told us. "We can do wine dinners, we are already scheduling some private ones. We'll be on Open Table for reservations."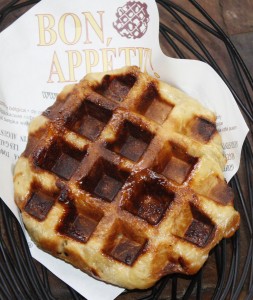 Diners who frequented The Ritz Restaurant will recognize the chairs and artwork that Pascal purchased for his restaurant. Pascal also rescued lamps and other décor from his Brasserie.
He's also added big screen TVs, a wine by the glass dispenser, a 100-year-old butcher table from France, an outdoor patio, and other amenities.
We sampled his Belgium waffle (maybe the best we've ever had), and a vegetable Panini that had the perfect crispness outside and soft goodness inside.
No website yet, but you can follow Pascal on Facebook for frequent updates at facebook.com/TraditionbyPascal.
The Bungalow
The Bungalow Restaurant in Corona del Mar has been serving sensational dinners for 17 years, and now they've added sensational lunches Monday through Friday starting at 11:30 a.m. and served on the restaurant's remodeled patio.
"Our regular guests have been asking for lunch at The Bungalow for years," said Jim Walker, co-owner of The Bungalow.
The new lunch menu includes classics such as The Bungalow cobb salad, the beef dip, The Bungalow burger, and fish tacos, as well as new items such as grilled lime chicken salad, the salmon lettuce wrap with fresh pan-seared salmon, a Mediterranean chicken salad, and other dishes.
For more information, call (949) 673-6585 or visit thebungalowrestaurant.com.