By Christopher Trela and Catherine Del Casale | NB Indy 
We're always excited when new restaurants open in Newport Beach. We've been patiently waiting for two in particular to open, which they just did: Provenance and The Winery. Each one offers unique concepts and culinary delights.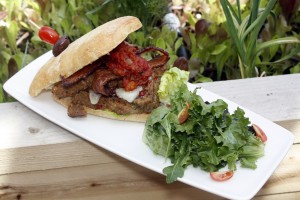 Provenance
Chef Cathy Pavlos created a culinary institution with her Irvine bistro, Lucca, but has taken that success and cranked it up a couple of notches with Provenance, which recently opened in Eastbluff Village Center.
Based on elements of California's wine country cuisine, Provenance will incorporate ingredients grown in the restaurant's own 1,300-square-foot organic raised-bed garden that is open to guests to observe from their patio seating.
"We are excited to bring this new restaurant concept that focuses on seasonal, local and responsible fare to Newport Beach," Pavlos said. "This new concept brings me back to my roots. As a lifelong Orange County resident, I learned the value of providing high-quality produce from my grandfather, who was a commercial farmer in Huntington Beach."
Pavlos' menu focuses on sandwiches and lighter fare at lunch, with larger plates added at dinner. The menu will change based on the garden's offerings. Sauces, dressings and other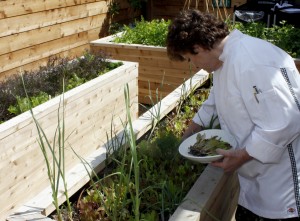 items are made in-house with a focus on canning, preserving, curing, pickling and smoking.
We attended a media tasting and sampled more than a dozen of Chef Pavlos' delicious creations, plus several concoctions from the bar.
"Although the food has many different cultural influences, it's not fusion," noted Catherine during the media tasting. "As Chef Cathy says, it's 'building layers.' The base flavor could have its roots in France but be created with a structure that has Mexican influences."
We tried several sandwiches, made with its own signature bread baked exclusively for Provenance.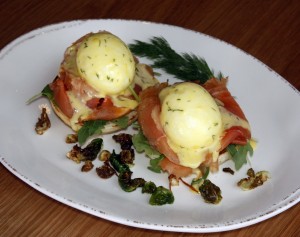 "My favorite sandwich was the turkey meatloaf ($15), which used local humanly raised turkey for the meatloaf and came layered with California cheddar and housemade smoked bacon," said Catherine. "I appreciated knowing where my food came from and seeing the majority of it growing around me."
"I recommend ordering the honey-balsamic roasted baby carnival carrots ($7), which are rubbed with a spice blend and topped with feta cheese and fresh dill," added Catherine. "The carrots have a nice texture, they aren't too soft or firm, and the rub adds just a little spicy kick to the dish."
We both loved the smoked Idaho trout ($27.50), which Catherine dubbed "the best and most flavorful trout I've had. It had a great smoky flavor and was served with hearts of palm, artichoke hearts, over roasted tomatoes, capers, smoked olives, and lemon cream."
Christopher is a breakfast fan, so he was happy to dig into samples from the Sunday Farm Breakfast menu, including the housemade whiskey and brown sugar-cured wild salmon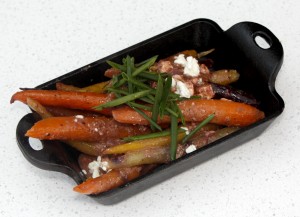 gravadiax with housemade English muffin and poached farm eggs ($16).
Overall, we were impressed with the creativity of the dishes and the quality of the ingredients.
Provenance is open Monday through Friday for lunch, daily for dinner, and Sunday 10 a.m. to 3 p.m. for brunch.
Call (949) 718-0477 or visiting ProvenanceOC.com.
The Winery
The Winery Restaurant in Tustin has carved a name for itself in the OC culinary world as having exceptional food, a classy and upbeat ambiance, and excellent service.
As a member of the Southern California Restaurant Writers Association, Christopher has voted to give The Winery such awards as Restaurant of the Year, Sommelier of the Year, and Chef of the Year.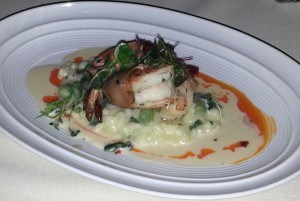 We hoped those accolades would carry over to The Winery's second location on Coast Highway where the Villa Nova restaurant once stood.
After enjoying a preview dinner last weekend prior to the restaurant's official opening this week, we can happily state that The Winery Newport is shaping up to be a culinary landmark.
We were dazzled by the classy architecture and the wall of glass that afforded sweeping views of Newport Harbor, the exceptional cuisine, and the staff, who made us feel welcome from the moment we walked through the door.
We sampled several dishes, including the prosciutto wrapped Hawaiian shrimp.
"The large pieces of shrimp were juicy, and the addition of the prosciutto really took the salty and sweet tastes of the dish to another level," said Catherine.
For entrees, Christopher had the angus beef shortrib with prosciutto wrapped asparagus, while Catherine had the eight ounce Brandt Family reserve filet mignon. Both were perfect.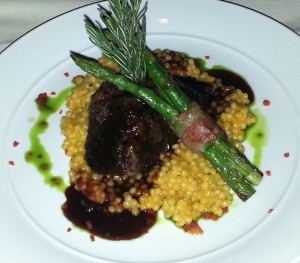 We'll be returning several more times to try additional dishes and will be reporting back soon.
Visit thewineryrestaurant.net.