By Christopher Trela and Catherine Del Casale | NB Indy 
We're always looking for fun places to dine before catching a show at Segerstrom Center, South Coast Repertory or Laguna Playhouse. Choices abound—some are within walking distance of those venues, others a short drive. We recently attended a concert in the Renee and Henry Segerstrom Concert Hall, and a play at Laguna Playhouse, and found two restaurants that are perfect pre-show dining spots.
Scott's Restaurant & Bar
It's been several years since I've dined at Scott's Restaurant, and Catherine has never been, so we said "yes!" when we were invited to sample several of their signature dishes prior to seeing Broadway superstar Bernadette Peters in concert at Segerstrom Concert Hall.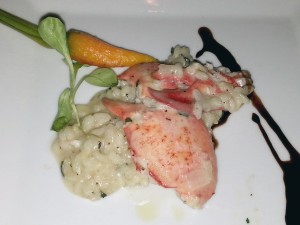 Scott's has been around for nearly a quarter century, and is renowned for its award-winning sustainable seafood dishes and prime-aged steaks. It's also a short walk to the concert hall, and Scott's makes sure pre-show diners arrive in time for their show.
We tried several cocktails, including one called The Bliss, a vodka based concoction with fruity and flora flavors of elderflower, lime, and white cranberry. The addition of a little fizzy champagne kept the drink light and airy.
For dinner we had a succession of sampling-sized seafood dishes which we both loved.
The lobster claw risotto had a smooth, creamy texture to it and featured a nicely sized lobster claw with tender meat. I'm a lobster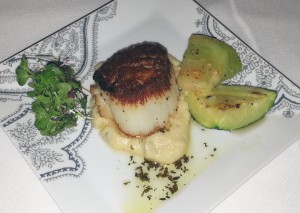 fan, so the dish quickly disappeared from my plate.
Catherine thought her grilled Mahi Mahi stood out from other mahi mahi she's had: "It has a sweet flavor and wild berry-red wine reduction. The dish was paired with a kabocha squash puree that was delicious. The entire dish could have been a dessert with all of its sweet flavor components."
Next came scallops with a chimichurri sauce made with fresh herbs, olive oil and polenta.
"It was well cooked–creamy without being overdone," said Catherine. "The combination of flavors and textures went really well together."
Realizing we had 15 minutes until show time, we left our car at Scott's (a perk for dining there is the easy parking) and strolled over to the concert hall with plenty of time to spare.
After the show, we walked back to Scott's for dessert: blood orange sorbet with fruit. Catherine noted that "it was light, sweet and tangy all in one bite. A perfect conclusion to a very satisfying meal."
For more information, visit ScottsRestaurantAndBar.com
Maro Wood Grill
We've been on a quest to sample the dishes that were honored at the recent Golden Foodie Awards, and after hearing that Maro Wood Grill won for best dessert (banana bread pudding), we decided to pay them a visit prior to a show at Laguna Playhouse and see what was so special. We quickly discovered that the bread pudding was not the only thing special about Maro.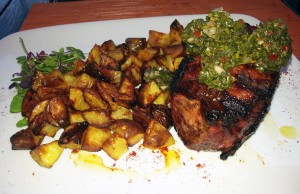 Located several miles south of Laguna's Main Beach, Maro opened two years ago. It's an intimate restaurant with a handful of tables on a small patio and several more inside.
As the name suggest, everything is wood fired. The restaurants sources grass fed beef and local organic produce. We quickly discovered that the cuisine is inspired by Argentinian flavors, which is only natural since owner Mariano Molteni – a charming man whose passion and enthusiasm for his restaurant is contagious – is from South America.
The menu changes daily, but some things remain constant, such as the bread pudding.
To start, we ordered the mushroom empanada ($3.50) with organic mushrooms, Spanish onions, mozzarella cheese and a side of house made garlic aioli.
"The empanada was a great start to the Argentinian meal," said Catherine. "I suggest keeping the garlic aioli to use with the rest of your meal."
I ordered the mesquite grilled mahi-mahi ($29), while Catherine selected the 10-ounce mesquite baseball steak ($35).
"This is perfectly cooked–the meat is juicy and tender with just a hint of spice," noted Catherine. Her entrée was paired with crisp roasted potatoes, organic tomatoes, mixed greens and a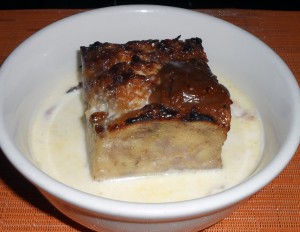 house made Chimichurri sauce. Catherine enjoyed dipping her potatoes in the aioli.
We were so full we barely had room for dessert, but the bread pudding ($8) was calling our name.
The ingredients include artisan brioche, organic bananas, organic milk, organic cream, organic eggs, Argentinean dulce de leche, and bourbon-vanilla cream sauce.
"This is a must-have when visiting Maro Wood Grill," declared Catherine. "It's sweet without being overwhelming."
"So are you, but that's another story," I joked as I took a bite.
We learned that Mariano is looking for a location in Newport Beach to open a second restaurant. We hope he finds one soon, but until he does, we'll be coming to Laguna more often.
And by the way, it took us less than 10 minutes to drive from Maro to the parking lot across from Laguna Playhouse, so Maro is indeed a great spot for pre-show dining.
For more information, visit MaroWoodGrill.com.