By Christopher Trela and Catherine Del Casale | NB Indy 
Two New York chefs have come to town to help open a pair of new restaurants—well, one is new, the other under new owners who have renovated the restaurant, and the menu.
Sgt. Pepperoni's Pizza
The iconic Sgt. Pepperoni's Pizza on S.E. Bristol at Birch in Newport Beach reopened last month under the direction of four new owners, including Newport Beach residents Stan Frazier (former drummer with Sugar Ray and a partner in A Restaurant, plus winner of TVs "Chef Race"), Andy Hong (partner in the management company that manages a handful of noted bands), Jeff Roberts (former SVP of worldwide retail for Volcom), and Rob Dodman, former CFO of Winchell's who lives nearby in Costa Mesa.
The restaurant has a remodeled interior and all-new menu, and a new chef: They imported Chef Trevor Kotchek from New York to head the kitchen.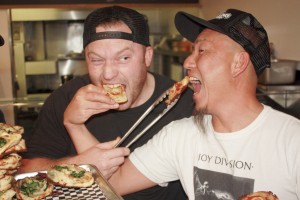 "My family had a restaurant, I grew up in restaurants, worked in them since I was 13. I have no formal training, but it's better training than culinary school," Kotchek told us when we went to sample the menu a week after they opened. "There's a textbook way of doing things, and then there's the free thinking, creative way."
Creativity is on display via his menu, which is simple yet fun. Catherine is an admitted pizza-holic, and loved the food so much we went back several times to try more items.
Her reaction:
"Two words: Pepperoni Pinwheels ($3). I like to think of myself as a connoisseur of pizza since I eat it in one form or another on a daily basis, but the pinwheels are amazing! I could order a box full each day. They combine all the great elements of a pepperoni pizza in a cinnamon bun style."
"Those are a New York staple in a lot of pizzerias," Kotchek told us. "You won't see those in too many other places out here."
"I like the spinach and broccoli pinwheel," I said. "And the pesto chicken sandwich ($9)—wow! It's warm, loaded with spinach, bacon,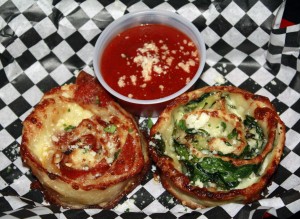 tomato, mozzarella. I could eat this every day."
"People see the sandwich menu and wonder what's so special about it, but when you get it, it's a wow—everything is baked in pizza dough," explained Kotchek.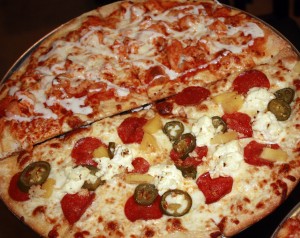 "The pizza is great too," noted Catherine. "The crust is crunchy and thin without being weighed down by toppings or grease. I really enjoyed the white pizza ($16), which had a combination of mozzarella, ricotta, romano, and parmasean cheeses, and garlic."
"It's a New York ricotta, it's sweeter than normal, most people do not put it on pizza," said Kotchek.
We tried the garlic knots (6 for $5), the Great Balls of Fire (3 for $5) appetizer (pizza dough with bacon, tomato and cream cheese), several sandwiches ($8 – $9), and several different pizzas ($14 – $24 depending on size and toppings). We truly savored each item, and came away impressed with what they were doing, not only from a food standpoint, but that they were embracing the community and creating a fun family environment.
For more information, visit Facebook.com/originalsgtpepperonis
Sliding Door
Kevin Cahalan and Natalie Sarle grew up on Long Island, and went on a date to go roller skating when they were both in 9th grade. After the date, they went their separate ways. They reconnected online 30 years later and went on another date, then another. This time they clicked. Not only are they engaged, but they moved to Orange County and opened a restaurant, The Sliding Door, in Balboa Village across the street from the Balboa Village Theatre.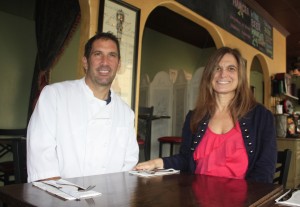 Opened just over a month, The Sliding Door takes its name from the concept of when a door slides open, if you don't go through it, it's a missed opportunity. It's been a recurring theme in their relationship as well as their business plans.
"We made it through the sliding door, even though she's the one who did not want a second date," joked Cahalan, who attended Culinary Institute of America before working in restaurants in Long Island, San Jose, and San Francisco.
"Looking back, and at some of the things I do in the kitchen, you pick something up everywhere and never know when you are going to use it."
He's using that assorted culinary knowledge at The Sliding Door.
"It's contemporary, things that people want to eat that are made from scratch that taste good," explained Cahalan. "Things that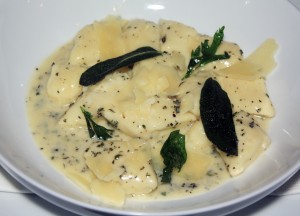 remind people of what they wanted their mother to cook if she had a CIA degree. No coconut foam. Mom does chicken."
Among the menu items: fresh ricotta gnocchi ($19), cabernet braised short ribs ($25), brick grilled chicken, ($19), and lobster mac & cheese ($12).
We've been trice and tried several items, and were pleased with the taste and presentation of each dish.
Catherine is a bread connoisseur, and noted that their bread is "crispy on the outside and soft on the inside, and was great when pair with their creamy honey and herb butter. I loved the combination of sweet and salty."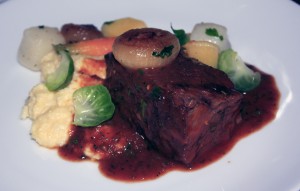 "Their fresh ricotta gnocchi with the Parmesan herb butter fondue is a must-have if you're a gnocchi fan like me," she added. "It's served at the perfect temperature and has the texture of large soft pillows."
I enjoyed the short ribs, which came with creamy parmesan polenta and roasted root vegetables with herb cider reduction.
"Don't leave without having one of their freshly made desserts," advised Catherine. "I enjoyed their Nutella Crème Brûlée, a nice twist on a classic dessert."
The Sliding Door is a new hidden culinary gem, but thanks to great food and fun staff, it won't be hidden for long.
The restaurant is open for lunch and dinner Tuesday through Sunday, and also breakfast on the weekends. For more information, visit The SlidingDoorCafe.com.