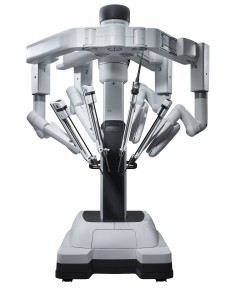 The arm rotates and swivels with extreme dexterity to position itself just above the body. Another arm lowers gently into the abdomen while two other arms attached to a heavy metal body wait for orders. The headless machine with its spidery arms is about to perform surgery.
It seems like science fiction, and in many ways it is. But rest assured there won't be any AI (artificial intelligence) revolt coming from these metal parts. The robotic devise called the da Vinci robot is not automated and solely acts as an extension of a surgeon's hands and eyes.
Jeffrey Yoshida, MD, is the program director at the urologic oncology center at Hoag Family Cancer Institute and has logged over 5,000 hours with the da Vinci robot just in prostate surgeries alone.
In the beginning, when Dr. Yoshida started using the robot-like machine, many patients didn't quite understand how it worked.
He smiles as he recalls, "when I first started doing this back in 2003, patients would come in and ask me where I go when the surgery is being performed. Do I go golfing, surf the internet or go take a nap?"
The robot is fully controlled by the surgeon the entire time a patient is undergoing surgery through a separate nearby console.
"If I was performing an operation and decided to take a break for a second, the robot automatically pauses. There are a lot of checks and balances in its construction," says Dr. Yoshida.
Where many institutes only have one da Vinci robot, Hoag Hospital Newport Beach already has four Si models in its repertoire and was one of the first in Orange County to utilize the technology. Just last month they acquired two more of the new Xi models, with a third to be added later.
The multiple machines on the premises give the advantage of having back-ups during surgery if technical issues arise. But the main reason is that the high volume of patients within the hospital has created the demand for more robots.
But why use the da Vinci at all?
Dr.Yoshida explained that it enhances the ability to operate in tight spaces during surgery which is important when it takes place in the pelvic region such as the prostate or uterus. "This area is limited by the pelvic bones along with the lack of light and ability to get down into the deep spaces."
The futuristic-like machine has a magnified 3D high-definition vision system along with special wrist instruments that allow for greater mobility that work just like hands.
Traditional instruments for minimally invasive surgery are very cumbersome compared to the robotic arms of the da Vinci. The robot creates small incisions in the abdomen (one to two centimeters in size) which makes for less blood loss.
Other advantages: it handles the tissue a lot more delicately and is completed in less time with fewer complications.
Prostate cancer is not something to ignore, and what many men don't understand is that it is lethal. Statistics show that one in seven men will be diagnosed with prostate cancer in their lifetime, which will cause 220,000 new cases and 30,000 deaths this year.
Despite the ability of a machine to work miracles removing prostate tumors, the best defense Dr. Yoshida recommends towards this disease is to get screened with PSA (prostate-specific antigen) testing on a regular basis.
The da Vinci robot has really revolutionized the way prostate cancer is treated. But understanding that prostate cancer is a spectrum of diseases with different grades brings the case for early screening front and center.
Screenings can reveal a localized aggressive form of prostate cancer in its early stages before it metastases or travels to another part of the body. In the 1970s the survival rate of localized prostate cancer was 69 percent, but today, due to prostate cancer screening, the survival rate is now 100 percent.
Contact Dr. Yoshida at 949-999-8979 for more information.