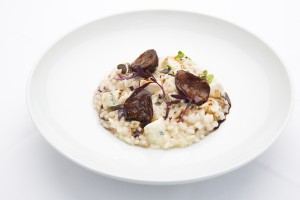 By Christopher Trela & Catherine Del Casale | NB Indy
Mother's Day is coming up May 10—where are you taking mom for Mother's Day Brunch? It's not too late to make a reservation, but do it soon because Mother's Day is probably the busiest brunch dining day of the year.
Need some ideas of where to dine? As always, we have a list of Mother's Day Brunch options in Newport Beach.
Balboa Bay Resort
Enjoy a Mother's Day buffet in the decorated Grand Ballroom from 10 a.m. to 2 p.m. that features traditional breakfast favorites, live chef action stations, carving stations, seafood and raw bar, salads, breads, artisan cheeses, and a pastry station, plus complimentary champagne and mimosas, and live entertainment. $82 for adults; $40 for children 4-12.
For a more intimate Mother's Day celebration, dine in Waterline from 11 a.m. to 3 p.m. for a three course pre-fixe brunch ($60 adults; $30 children). Choose from cauliflower soup or tuna Carpaccio for a starter. Entrée selections include duck confit, filet mignon, bloody Mary halibut, or crab cake eggs Benedict. End with either red velvet cake or a fruit salad. For reservations or more information call (888) 976-0467 or visit BalboaBayResort.com.
 BAYSIDE
Bayside is offering a three course brunch for $54.75 for adults and $18.75 for children 12 and under. The extensive menu includes roasted ruby beets, island ceviche, smoke salmon, and more for first course options. The main course has many choices including Main lobster "Bayside Benedict," sautéed tiger prawns, spring lamb loin, and more. Then end with either strawberry Bavarian or dark chocolate cake. Call (949) 721-1222 or visit BaysideRestaurant.com.
BUNGALOW
The Bungalow has a three-course prix fixe menu for $36 per person that begins with choice of salad, lobster bisque or yogurt, granola & berry parfait. Entrée options include eggs benedict, prime rib, Scottish salmon, and crab frittata. Dessert is chocolate dipped strawberries. Add bottomless mimosas or bloody Marys for $8. A separate kids menu is also available. Visit TheBungalowRestaurant.com.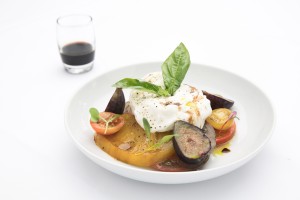 FIG & OLIVE
Fig & Olive will offer seasonally driven three-course prix fixe Mother's Day brunch ($40) and dinner ($52) menus. Brunch options include Maine lobster bisque, French omelet and Riviera salmon, while dinner options include octopus, zucchini blossom and goat cheese ravioli, fig and gorgonzola risotto, and panna cotta. A separate kids menu is available. Brunch is served from noon to 3 p.m., dinner from 5:30 to 10 p.m. Call (949) 877-3005, or visit figandolive.com.
FIVE CROWNS
Five Crowns is offering an á la carte cart Mother's Day brunch and dinner menu. Entrées highlights are pork belly hash, goat cheese and mushroom fritatta, roasted prime ribs of beef and more. For reservations call (949) 760-0331 or visit lawrysonline.com/five-crowns.
FLEMINGS
Mother's Day Brunch is served 10 a.m. – 3 p.m and includes options such as baked brioche French toast, prime rib with a trio of sauces, blue crab omelet and more. Featured cocktails include Mary en fuego, bacon and blue cheese Mary, and Sonoma sparkler. Price is $39.95 per person and $18.95 for kids. For reservations call (949) 720-9633 or visit FlemingsSteakhouse.com.
HORNBLOWER
Treat Mom to a Mother's Day Brunch cruise that includes a buffet, brunch cocktails, live entertainment, and nonstop views of the Newport Coast for $73.95 per person, $44.37 for Children ages 4-12. There are three boarding times: 9 a.m., 12 p.m. and 1:30 p.m. The champagne buffet includes a bakery station, fruit stand, salad bar, seafood platters, traditional breakfast options, carving station with smoked ham and New York strip, and a variety of freshly baked desserts. A Sunday Supper cruise is also available and boards at 5 p.m. ($86.95 per person; $52.17 for children). For more information, visit HornBlower.com
 ISLAND HOTEL
Celebrate Mom at Oak Grill beginning at 11 a.m. with a three-course prix fixe menu ($60 per person including champagne; $50 without champagne) that includes options like a pecan coffee cake starter to a sautéed shrimp entrée. Or dine a la carte from the traditional Sunday brunch menu with favorites such as the pancake souffle, chilaquiles, or cinnamon roll French toast. For reservations, call (949) 760-4920.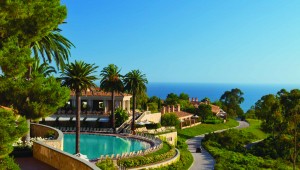 PELICAN HILL RESORT
The Resort at Pelican Hill celebrates moms with exquisite epicurean experiences. In the Mar Vista grand ballroom from 10 a.m. to 4 p.m. enjoy a lovely chef-crafted brunch. Andrea Ristorante presents a three-course prix fixe authentic Italian menu. The Ballroom brunch and Andrea brunch are both priced at $120 per adult, $60 per child ages 5-12 and complimentary for children under age 5. At Pelican Grill, Chef Luke prepares a three-course prix fixe brunch, lunch or dinner in the main dining room from 10:30 a.m. until 10 p.m. ($110 per adult, $55 per child ages 5-12). Á la carte lunch and dinner specials will be available from noon to 10 p.m. at the Coliseum Pool & Grill. Call (888) 507-6427 or visit pelicanhill.com.
 PORT RESTAURANT
Port has a terrific Mother's Day brunch for $29.95 for adults and $14.95 for kids that includes a selection of seafood, meat and vegetarian entrees, kabobs, breakfast items, and desserts. Call (949) 726-9685 or visit PortCDM.com.
PROVENANCE
Provenance will offer a special Mother's Day prix fixe Champagne Brunch from 10 a.m. to 3 p.m. Priced at $49 per guest, the four-course menu features an array of new specials and classic brunch favorites followed by a lavish dessert buffet featuring Chef Cathy Pavlos' mini Euro pastries. Kids menus and vegetarian options are available. Reservations are required and can be made by calling (949) 718-0477. Visit ProvenanceOC.com.
ROTHSCHILD
Mother's Day brunch menu at Rothschild is a three-course pre-fixe for $44.95 per person and $16.95 for children 12 and under. Highlights from the menu are chilled gazpacho and capresse alla mozzarella for starters, and Belgium waffles with fresh strawberries and lobster maremonte for entrée selections. Several dessert selections are available as well, including homemade tiramisu and raspberry linzer. For reservations call (949) 673-3750. Visit RothschildsRestaurant.com.
 THE WINERY
The Winery Restaurant and Wine Bar will host a two-course brunch with live entertainment for $39.95. Reservations recommended. Please call (949) 999-6622 or visit TheWineryRestaurant.net.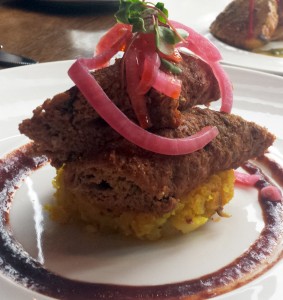 SPOTLIGHT: TAMARIND OF LONDON
Tamarind of London in Newport Coast has crafted a special three-course Mother's Day menu with a range of options. For appetizers, choose from a potato duo (grilled potato cake and spiced potato croquette), tandoori jalpari (charbroiled swordfish), or tandoori lamb. Entrees include baked rice, chicken tikka masala, and coconut prawn curry. The brunch includes smoked eggplant, black lentils, and choice of tandoori bread or rice. Dessert is chocolate molten cake with homemade caramelized milk ice cream. Cost is $45 per person.
Catherine attended a special tasting to sample the Mother's Day menu, and was impressed with the dishes.
"Tamarind has put together yet another wonderful price fixe menu. The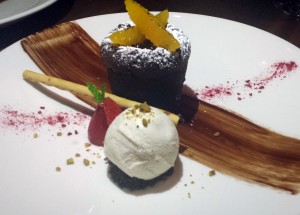 fried prawns are a must have. They deep fry the prawns in Indian noodles and batter, which not only tastes amazing but has a great presentation. Another favorite of mine was the tandoori lamb, which had skewered ground lamb kebab with marsala mashed potatoes. I don't think you can ever go wrong with anything lamb at Tamarind. A dish that I was unfamiliar with was the baked rice. A combination of signature vegetable biryani came served with rice inside a sealed pastry lid. You're server brings it to your table and cuts open the top letting the aromas steam out. The service at Tamarind is always great. I recommend asking your server for wine recommendation as they know all the spices in each dish and what wine will complement best."
Visit TamarindOfLondon.com.