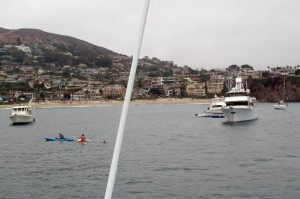 As I've mentioned in the past few columns, the summer boating season is in full swing in Newport Harbor and all over America.
A few weekends ago there was a tragic accident adjacent to our jetty. A 30-foot "go fast" powerboat broadsided a much smaller Boston Whaler outboard. Several passengers were sent to the hospital and thankfully there were no deaths.
Last weekend one of the top television news stories was the horrific small boat accident on the Hudson River. A 20-foot or so "bow rider" ski boat left a marina around 10 p.m. with six passengers including a couple who were to be married in a week.
The boat ran into a steel pile driving barge tied to a major bridge. Two passengers were knocked into the water and were found dead the next day. The others were hospitalized with major injuries and the helmsman was arrested for manslaughter and DUI. The future bride was one of the victims found the following day.
Two weekends ago after launching an 11-foot inflatable from the 56-foot mother ship, I was giving driving lessons to the 15 year old daughter of the boats' owner. As I mentioned in previous columns, when instructing young people on vessel operations I always begin with the imperative lesson that the most important part of boating is safety. The second most important part of boating is fun and enjoyment.
I find it distressing to include in my columns preventable boating accidents but am always on a mission to preach boating safety. By the way, if you or your family or friends need a helmsman for power or sail boats, or a boating instructor or boat maintenance or restorations, I can be reached at [email protected]
On a better note, last Saturday I ran four families down to Emerald Bay in North Laguna for the day. As my photo shows, it was overcast, a little windy and although Sundays are much more crowded, there were still several families and friends enjoying the best of what our area has to offer.
The larger motor yacht in the photo is now called "Breanna" which was the Dorsal built in Costa Mesa by the internationally recognized Dittmar and Donaldson shipyard. The larger similar looking vessel, "Mojo," was also a D & D yacht which was a Newport Harbor favorite bay cruiser for Richard Nixon when he was President and vacationing at his Western Whitehouse in San Clemente. One could always tell he was aboard because there would be two or three smaller vessels shadowing the yacht with Secret Servicemen on watch.
The "Mojo" was rebuilt and lengthened following the George C. Scott charter leaving Morro Bay going through the 80-foot face of a storm swell which I detailed in a previous column.
Sea Ya,
Skipper Steve