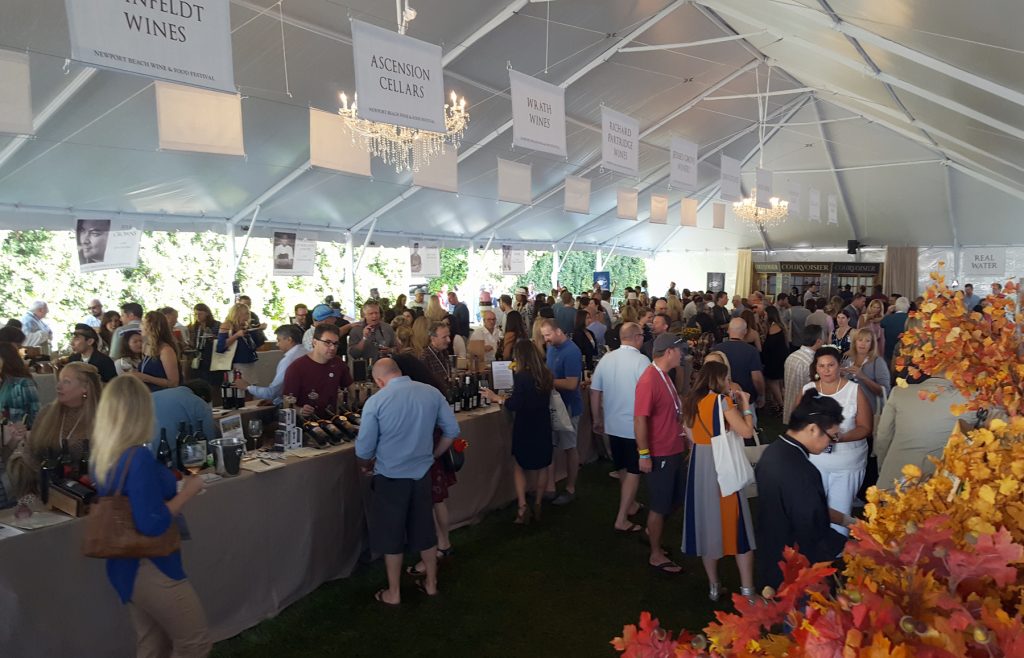 Prepare your palate for the Fifth Annual Newport Beach Wine and Food Festival, returning to the Newport Beach Civic Center and other noted locations around town Oct. 4-7.
We're still six weeks away from the Festival, but five of the special VIP experiences are already sold out: The Opening Night Dinner at Pelican Hill Resort, Riedel Master Glass Tasting & Education, Champagne and Caviar Tasting, Nobu Matsuhisa Cooking Demo & Lunch, and a Shaken Stirred & Twisted mixology seminar.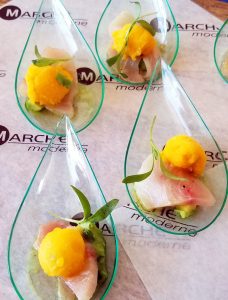 By the way, the Champagne and Caviar tasting features the return of Chef Alan Greeley, who closed his fabled Golden Truffle restaurant last year and retired to Florida. He's back to pair champagne with five mother-of-pearl spoons of caviar and special bites.
However, there are other experiences with tickets still available. One that's on my culinary radar is a Fire It Up barbecue on Oct. 5 from 2 to 6 p.m. at Balboa Bay Resort prepared by 10 celebrity chefs including Hubert Keller, Joe Flamm, Carrie Baird, Fatima Ali, Brian Huskey, Christopher Scott, Joe Sasto, Devin Alexander, and Rachel Haggstrom of Balboa Bay Resort. The event includes craft beer, wine, and spirits plus live music from the rock/reggae band Common Sense.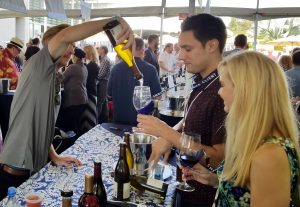 After the BBQ comes another experience: Celebrity Chef Twilight Cruise through Newport Harbor on board the Hornblower 140-foot Endless Dreams yacht. Live music, spirits, wine, desserts and lite bites are available as you mingle with most of the Newport Beach Wine and Food Festival chefs.
The main events are the Grand Tastings on Oct. 6 and 7 at the Newport Beach Civic Center. Each day features small plates from more than 40 of Orange County's top restaurants, over 250 varieties of world-class wines, beers, and spirits, celebrity chef cooking demos, live music, and more.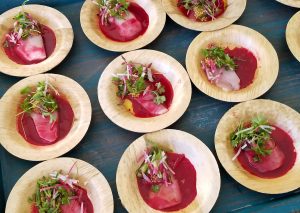 I have attended the Newport Beach Wine and Food Festival every year, and have watch it evolve into one of the top wine festivals in California, if not the West Coast. It's a classy affair (which is why Jaguar and Land Rover, as well as Pacific Sales, have signed on as sponsors), well organized, with spectacular wines and signature dishes from many of my favorite restaurants including Andrea at Pelican Hill, The Winery, Marche Moderne, Five Crowns, Nobu, Mix Mix, Olea, and many more. 
The weekend Grand Tastings include celebrity chef cooking demonstrations on the Sub Zero Wolf stage. Saturday features Food Network Ace of Cakes star Duff Goldman, Bravo star Richard Blais, Food Network star Jet Tila, and Top Chef Season 15 winner Joe Flamm and finalist Tyler Anderson. Sunday has Bravo's Top Chefs Amar Santana, Katsuji Tanabe, Christopher Scott, Joe Sasto, Carrie Baird, and Fatima Ali.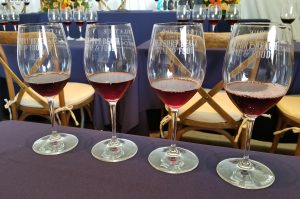 Last year, Amar and Katsuji did a cooking demo together that was so much fun I still talk about it with fellow festivalgoers. 
The mastermind behind The Newport Beach Wine and Food Festival is Stefanie Farnsworth Salem, the Festival's founder and CEO.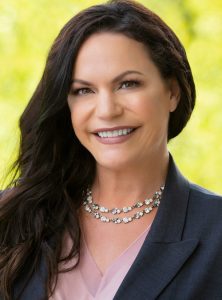 I caught up with Stefanie last week and we chatted about how the Festival has evolved, and the new elements she has added this year.
"I have always had a long-term vision for Newport to be a part of the food and wine festival circuit," Stefanie told me. "My goal was to grow it every year, and add more outside events. The Grand Tastings at the Civic Center is perfect for the chefs, they can do seared octopus, foie gras, everything they want to do. But what people also want are experiential events that you cannot get anywhere else. We have 12 different events over four days, we are bringing in 25 celebrity chefs, plus master sommeliers including Michel Jordan."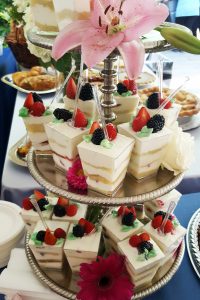 This year Stefanie is bringing in designers from the HDTV show including Kelly Ellis, who are creating vignettes in the civic center including large mattresses—yes, napping is allowed.
"I already have big plans for next year," Stefanie confided. "It's going to grow each year."
That will be impressive, because this year's Newport Beach Wine and Food Festival is already shaping up to be the most memorable and delicious festival yet!
For tickets and more information, visit newportwineandfood.com.
NB Wine and Food Festival photos by Christopher Trela.