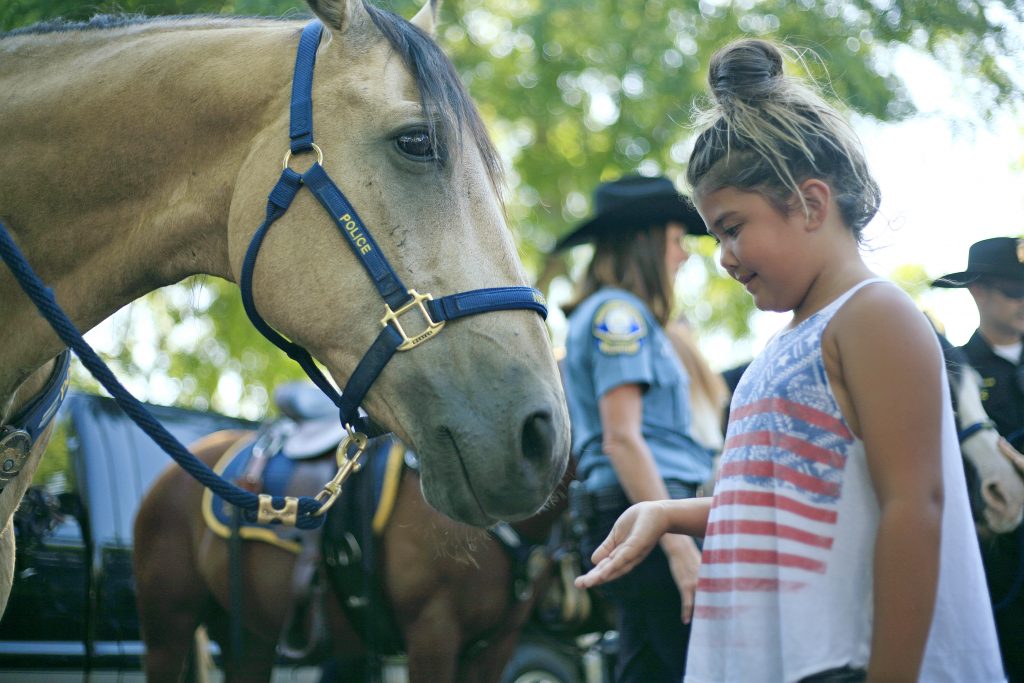 Police and residents came together this week to give crime a going away party.
Newport Beach Police Department hosted their annual event for National Night Out Wednesday at Bonita Canyon Sports Park.
Police provided information on crime and drug prevention, home security, child safety, the Citizens' Police Academy, and Volunteers In Policing.
In a lot of communities across the country, National Night Out is an event to "take back the night" and "take a stand against crime," said Newport Beach Police Department spokeswoman Jennifer Manzella.
Newport Beach, where crime is at a record low, uses the opportunity to meet residents and interact with the public in a fun, positive environment.
"We're very lucky here in Newport Beach that we get to use it more for community building and relationship building," Manzella said. "It's a wonderful opportunity to get out here and meet our community members."
It's a great way to connect with the community, added NBPD Crime Prevention Specialist Sara Verschueren, who helped organize the event.
"It's been really fun to put it on and I'm excited to see the community come out," Verschueren said. "We love our community and the support we get from them."
It's great to see families and kids attend, she said. They get to meet the department and ask questions, which usually helps residents feel more comfortable, she noted.
"It really helps build a safer community," Verschueren said.
It's also a good opportunity for residents to meet and interact with officers in a cheerful, positive setting. Most people interact with an officer when something bad has happened, like a traffic collision or a burglary, Manzella said.
"They call us when they're having the worst day, when something has gone horribly wrong," Manzella said.
Manzella she hopes everybody takes home "a smile and a fun memory," like a child seeing a SWAT vehicle, or talking to an officer and getting questions answered, or meeting one of the NBPD horses.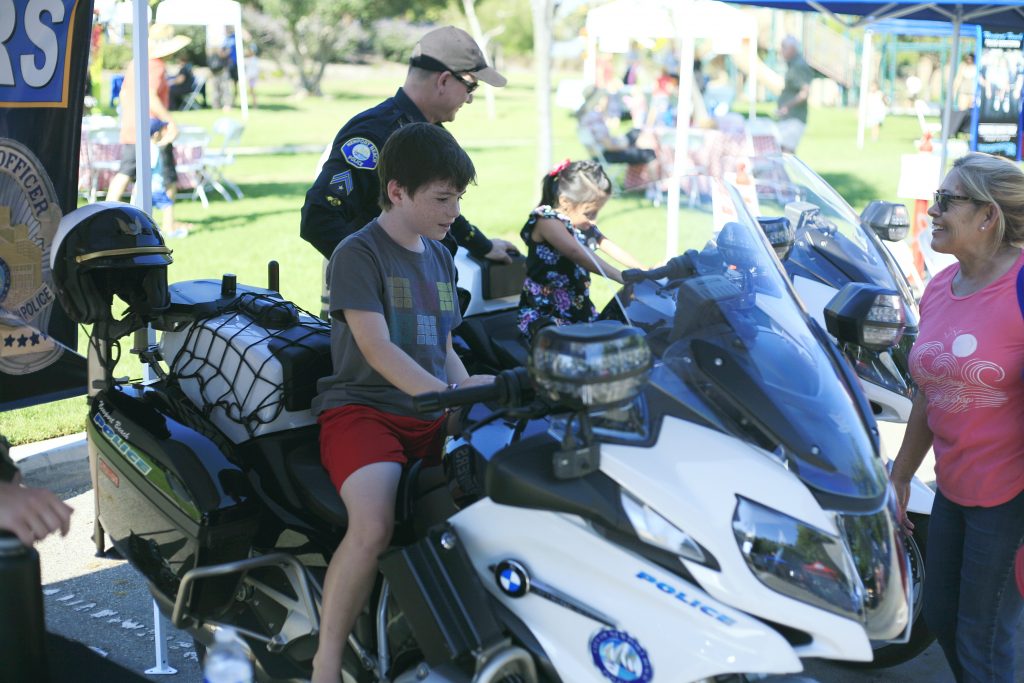 The evening included a lot of activities for kids and families, Manzella said.
The motorcycle officers and SWAT vehicle are always a big hit with kids, she noted. Also on hand were the NBPD K-9 and mounted units, the "super stars of the department," Manzella said.
The evening also included food courtesy of TK Burgers, displays from CSI, SWAT, our K-9 Officers, Animal Control, Horse Mounted Unit, and the Community Emergency Response Team.  The event featured games, crafts and face painting for the kids along with a visit from McGruff "The Crime Fighting Dog."  Parents could also pick up free Child ID Safety Kits.
"Overall, it's a really good community event for people of all ages," Manzella said.
The theme was "Give Crime & Drugs A Going Away Party!"
It costs about $7,000 to put on, most of it for the rental items, like canopies, tables, chairs, and bouncy houses, as well as the food, Verschueren confirmed.
It's funded through the department, part of the community relations budget, Manzella said. They try to things that are of little to no cost, like some of the games, as well as a number of volunteers that help out, she said.
Officials expected about 600 to 700 people to join throughout the night.
Residents from all over the city attend the event.
Spyglass Hill typically hosts a similar event. This year's is scheduled for Sept. 15, hosted by the Neighborhood Watch group.
NBPD may be looking into doing a format more like that in the future, neighborhoods hosting the event and police attending, which is how a lot of cities across America conduct their events, Manzella said.
They want to encourage residents to get involved in their own neighborhoods, Verschueren added.