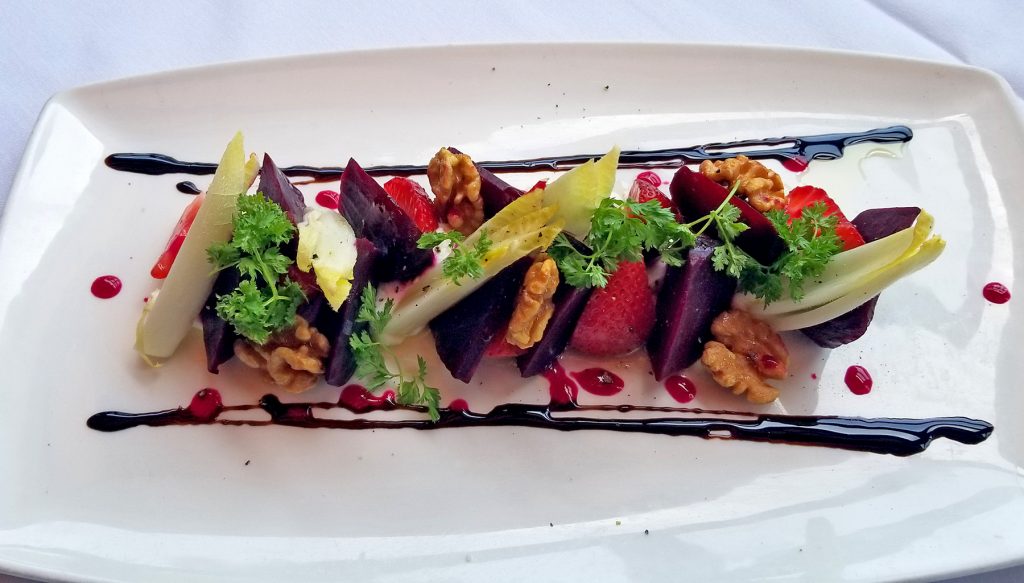 One of my favorite places to be on a Thursday night is Bayside Restaurant. Ron Kobayashi and his trio featuring Jerry Mandel on sax can be heard laying down some classic jazz licks in the lounge, where it's happy hour every day from 4:30 p.m. to close.
During the summer, I love to dine at Bayside before attending one of the Friday night Summer Concerts at the Hyatt Regency (more about that later).
I have enjoyed numerous business lunches at Bayside and always welcome the attentive service and classy yet casual ambiance.
The only thing I hd not experienced at Bayside is their Sunday brunch—until I was invited to Bayside last weekend with a handful of other food writers to sample the brunch menu.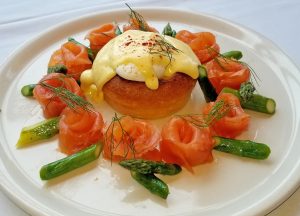 Served from 11 a.m. to 3 p.m., the brunch is a wonderful affair, with a two-course meal (including bottomless champagne or mimosas) for $29.95 or $36.50, depending on entrée.
To make sure we had representative tastes of the brunch menu (which lists six starters and 19 entrees), we sampled the house made yogurt and roasted red beets from the starter menu, and the smoked salmon benedict (with brioche, citrus hollandaise asparagus and poached egg), frittata with mushrooms, truffle cheese and pancetta, Italian sausage has with potato gnocchi, sweet peppers and fried hen egg, and beef sirloin steak with heirloom tomato and gorgonzola from the entrée list. And after all that, dessert.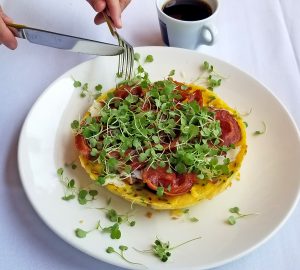 It seems like each food writer had his or her favorites. Mine was the smoked salmon benedict. The brioche was a welcome twist to the standard English muffins, and the citrus in the hollandaise was subtle yet added a nice layer of taste. In fact, we asked for extra hollandaise to slather on top of our benedict dish.
The beets with goat cheese, endives, walnuts and berries was a nice summery dish, and the frittata was beautiful and tasty. 
Among the many brunch items we did not try is a dish I frequently order for dinner: tiger prawns with the famous green risotto and sugar snap peas. It's a terrific dish.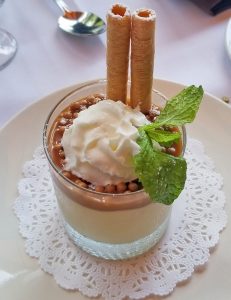 Seven desserts are listed on the dessert menu for $10 each. We tried them all, and while each one had merit, the clear winner was the Butterscotch Budino with salted caramel, crispearls, and whipped cream.
Going to the Friday night Hyatt Regency Concert Series this summer? Here's a delicious tip: dine at Bayside before the show and take the free Bayside shuttle to and from the concert.
"Many of our guests attend the concerts and have grown to love them, but traffic and limited parking sometimes strip away some of the joy of the experience," said Marc Ghoukassian, proprietor of Bayside. "We decided to extend this service as a courtesy for our guests and hopefully reach some new ones."
It's also a stark contrast to the Hyatt's $35 valet fee (which you can spend on a Bayside entrée). When you dine at Bayside just let them know you're doing the Hyatt shuttle. After dinner, hop on the shuttle and three minutes later you're at the front door of the Hyatt. After the show, re-board the shuttle for the ride back to Bayside. You can even linger at Bayside for dessert and a cocktail while listening to the Friday night jazz jam session with Ron Kobayashi and friends.
I'll be doing dinner and the Bayside shuttle on Aug. 17 for the Hiroshima jazz concert at the Hyatt.
For more information, visit BaysideRestaurant.com.