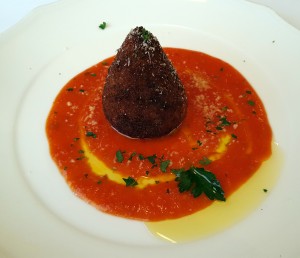 By Christopher Trela & Catherine Del Casale | NB Indy
We ran into Chef Franco Barone of Il Barone Restaurant in Newport Beach at the Table for Ten culinary event fundraiser a couple of weeks ago, and promised him we'd come to his restaurant and try some of the new menu items he's planning to serve at his new location at Pacific City in Huntington Beach.
Two days later, we found ourselves at Il Barone for lunch.
"Il Barone is always a treat," said Catherine. "The atmosphere is cozy and warm, and the staff is knowledgeable and passionate about the food."
"Plus we know the food is fantastic, and from the familiar faces dining here today, so does the clientele," said Christopher. "I see Newport Beach Winery owner Richard Moriarty at the corner table, and philanthropist Paul Musco just walked in."
Franco came out of the kitchen to say hello, and brought our first dish: arancini, which his wife, Donatella, described as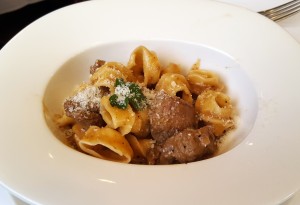 "Italian street food. We make them by hand, it's brown beef, mozzarella and peas, lightly breaded and flash fried. It's known as a poor man's meal."
"I've had the arancini rice balls in Italy, but having it in a tower gives it a whole new sense of wow," said Catherine. "The flavor of the fried outer edge, red sauce and the risotto, cheese, peas, and meat are delicious together."
Franco brought us a Sicilian-style meatloaf stuffed with cheese, which was lighter (and more flavorful) than most American-style meatloafs. We also had the homemade cappelletti, which is made one by one in Franco's kitchen. The dish includes wild boar, which Franco proclaimed is "off the charts." We agree—it was a hearty dish yet the meat was surprisingly tender.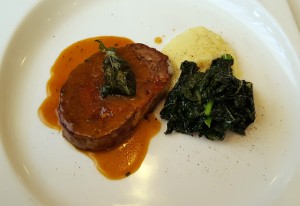 These and other items, including pizza by the slice, will be at the new Il Barone in Huntington Beach this summer, but they're also a great reminder of just how authentic and well-crafted the dishes are at Il Barone. We've dined here multiple times and have always had a superb experience (and the prices are fantastic for such excellent dishes).
For those on the run who want an authentic meal, check out the Il Barone Bottega next door to the restaurant—they offer everything from sandwiches to salami, and Sicilian specials every Friday.
For more information, visit ilbaroneristorante.com.
FRENCH WINE TASTING AT MOULIN
Last month, Moulin owner Laurent Vrignaud introduced a French wine tasting and education series at his popular French bistro, led by wine experts with charcuterie from Moulin.
It was supposed to be held every two months, but the seminar proved to be so popular that Vrignaud decided to make it a monthly experience.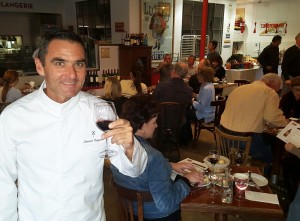 The next Moulin wine tasting event is Saturday, March 26, from 5 to 7 p.m., and will focus on wines from the Bordeaux region of France.
"People come to Moulin for more than French food, they come for a French experience, which we aim to deliver on every level," explains Vrignaud.
Cost for the wine tasting is $29. Space is limited, so call Moulin at (949) 474-0920 and see if they can squeeze you in.
UNCORKED
Last spring, SOCO in Costa Mesa launched its first wine and food event, dubbed Uncorked. The event proved so successful that Uncorked returns so SOCO on Thursday, March 31 from 6 to 9 p.m.
Uncorked features 20 restaurant stations and 35 wineries. The event is organized by LCA Wine's Nancy Milby, so you know the wine selections will be perfect for food pairings.
Participating restaurants include Taco Maria, Pueblo, ARC (Christopher raves about the burger), and more. To create the dishes, they use tenant offerings like Surfas for their cookware, and Savory Spice Shop for all their rubs and spices. Nancy Milby and Master Sommelier Peter Neptune work with the restaurants individually to pair a wine varietal based on the dish they serve.
Tickets to uncorked are $75 in advance and $95 at the door. Visit southcoastcollection.com/soco-uncorked for more details and tickets.