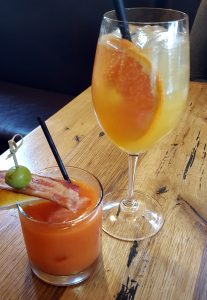 What's the latest restaurant trend? No, it's not farm to fork, or dirt to dish, or even market to mouth.
It's brunch.
More and more restaurants have added brunch to their culinary offerings as they discover that diners no longer think of limiting brunch to special occasions like Mother's Day or Easter (although those holidays are both big brunch days for restaurants).
The latest local restaurant to add a weekend brunch menu is Juliette Kitchen & Bar. Served every Saturday and Sunday from 10 a.m. to 2:30 p.m., the menu from chef Daniel Hyatt menu draws inspiration from locally sourced ingredients.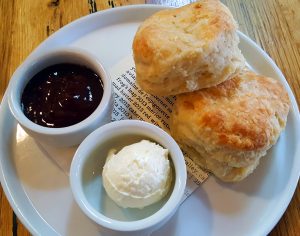 Juliette co-owner Juliette Chung has added her own house-made granola and biscuits to the menu.
We were invited by Juliette to come and sample the new brunch offerings, and after perusing the menu, were glad we did. The food menu is surprisingly extensive, as is the cocktail menu.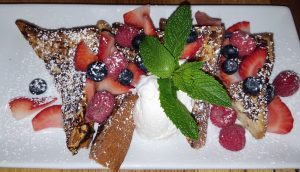 We started our brunch with a Mimosa Lisa (a blend of citrus juices, poblano, and sparkling wine) for Catherine and a Bloody Mary (pancetta vodka, tomato spice blend, bacon and olive garnish) for Christopher.
We quickly consumed the biscuits (served with butter and jam), and then proceeded to dig a serving of French Toast with berries and bananas, Eggs Benedict with gourmet ham, plus sides of duck fat potatoes and bacon.
"The fresh biscuits with honey butter and jam are a must have to start your meal," stated Catherine. "The biscuits are warm and soft, practically melting in your mouth with each bite. I loved that the French toast had enough berries that you got some with each bite, and they were so fresh. The French toast was light and fluffy with a slightly crisped edge."
"These are excellent eggs Benedict," said Christopher. "I realize it's a common dish, but these have a perfect texture and combination of flavors. And, I seem to have cleaned my plate."
We both agreed that the four strips of bacon we ordered were the most perfectly cooked strips we have ever had.
"They are a consistent light brown color from top to bottom and crisped perfectly without being overdone or chewy. I'm honestly in awe of how it was cooked," gushed Catherine.
Somehow we saved room for an order of beignets, which came with chocolate sauce to drizzle on top.
Dishes we want to come back and try: shrimp and grits, corned beef hash, chilaquiles—and more bacon!
For reservations and more information, please visit juliettenb.com.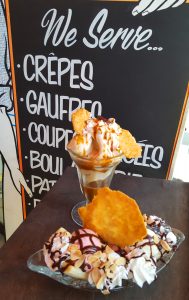 Moulin Gets Icy
We've been frequent diners at Moulin on Bristol Street (next door to Juliette) in Newport Beach since it opened several years ago, and to the Moulin in downtown Laguna Beach that opened last fall.
While the Laguna bistro is smaller than the flagship location, owner Laurent Vrignaud has added several seasonal offerings exclusive to Laguna Beach.
According to Vrignaud, who created Moulin out of his love for the Parisian cafe culture he's missed since moving to California, the new menu items are reminiscent of his childhood summers in Paris: hand-crafted ice cream desserts (elegantly served in a traditional coupe glaceé), a house-made Parisian hot dog, and fresh upgrades to the cafe's made-to-order crepe and waffle station.
"Growing up in Paris, some of the most memorable moments of childhood summers were spent getting lost in the simple indulgence of a coupe glacée," recalls Laurent. "These classic desserts are reflective of the cafe culture we embody at Moulin, providing our guests with yet another way to escape in a daydream to Paris."
We sampled several Coupe Glacée classiques at Moulin earlier this week, including a Banana Split, Poire Belle Helene (poached pear with vanilla ice cream, topped with chocolate sauce, whipped cream & almond tuiles), and Dame Blanche (vanilla ice cream topped with whipped cream, chocolate sauce & roasted sliced almonds).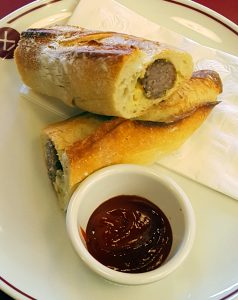 "The addition of coupes glacées is perfectly timed with the summer weather—and the summer tourist season in Laguna Beach," said Catherine. "My favorite is the Poire Belle Helene. The light sweetness of the pear and the firm texture is perfect for scooping up the ice-cream and all the toppings."
In addition to the classic coupes glacées, Moulin now offers a Parisian hot dog with house-made Toulouse sausage and Dijon mustard tucked into a warm, fresh-baked baguette.
"Wow—this is better than most American hot dogs," said Christopher after biting into a warm hot dog. "I love mustard, so the fact that they pour mustard into the hollow baguette before wedging the sausage inside is wonderful."
"I'm already in love with these hot dogs—they're easy to eat, and tasty," added Catherine.
Moulin is open from 6 a.m. to 9 p.m. daily. It's a perfect spot to grab a bite, sit on the small patio, and watch the world go by as you dine—just like they do in Paris.
For more information, visit moulinbistro.com.