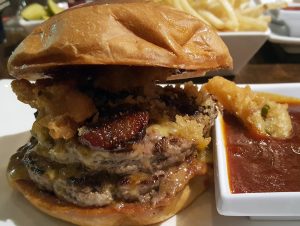 By Christopher Trela & Catherine Del Casale
It's always nice to see restaurants partnering with charitable organizations, especially those with multiple locations such as Umami Burger.
The gourmet burger chain has partnered with model and entrepreneur Cameron Dallas on a new BBQ Burger, called (naturally enough) Cameron's Dallas BBQ Burger. A portion of all sales of the burger through January 31 will be donated to Children's Hospital Los Angeles.
"Cameron is an Umami Burger regular and he had a lot of creative ideas for his own burger," said John Kolaski, President of sbe's Disruptive Restaurant Group, a subsidiary of sbe, Umami Burger's majority shareholder. "We played with how to put his own unique twist on a barbecue burger that amps up the heat and the umami flavor."
Cameron's Dallas BBQ Burger features Umami Burger's signature beef patty, with sharp cheddar cheese, miso-maple bacon, tempura serrano peppers, and savory sauce.
Cameron's Dallas Burger is available for $14 at participating Umami Burger locations nationwide, including the one at The Camp in Costa Mesa on Bristol (our go-to location).
As part of the promotion for Cameron's Dallas BBQ Burger, guests will have an opportunity to get a free order of Truffle Fries. Order the BBQ Burger, follow @umamiburger on Instagram, and post a photo of the burger with #camxumami. Show the post to your server, and get a free order of Truffle Fries.
We went to the Umami Burger in Anaheim and samples the new BBQ Burger as well as the truffle fries. Our reaction?
"A barbecue burger is always my top choice when choosing a burger, and Cameron's Dallas BBQ Burger is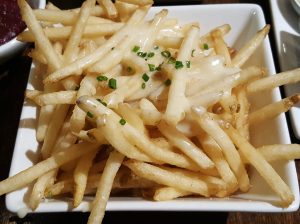 now at the top of my list," said Catherine. "The combination of flavors and textures with sweet miso maple glazed bacon, gooey cheddar cheese, BBQ sauce and the serrano peppers make this burger a must-try. And the truffle fries are some of the best I've had. I love that they come with four specialty dipping sauces. My favorite would probably be the garlic aioli, or maybe the ketchup with truffle oil—I can never get enough truffle!"
"I agree, it's a big beautiful handful of a burger, and the fries are fabulous," said Christopher. "And it's a great deal to get the free fries with the burger."
For more information on Umami Burger, visit umamiburger.com or follow @umamiburger or #umamiburger on Facebook, Twitter and Instagram. 
To learn more about the about Children's Hospital Los Angeles, go to chla.org.