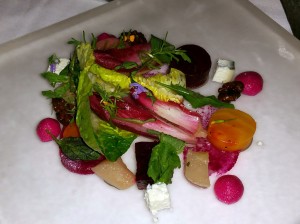 By Christopher Trela & Catherine Del Casale | NB Indy
In 1987, a small, low budget film called "Dirty Dancing" was released and became a massive box office hit. Not only was it the first film to sell more than a million video copies, the signature song "(I've Had) The Time of My Life" won both the Golden Globe and Academy Award for Best Original Song, and a Grammy Award for best duet.
Now, a Broadway touring production has landed at Segerstrom Center through Feb. 15, and audiences are guaranteed to have the time of their lives.
Our favorite thing to do is to dine at Leatherby's Café Rouge (at Segerstrom Center) and experience Chef Ross Pangilinan's themed menu that he creates for each musical (with each course named after a song in the show), and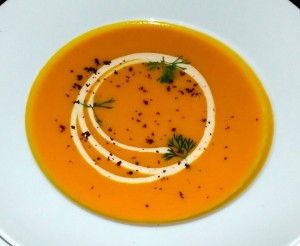 then go see the show.
For "Dirty Dancing," the menu starts with a choice of Some Kind of Wonderful (carrot soup) or Hey Baby (salad with endives, goat cheese, walnuts, poached pear, beets, herbs and flowers, and champagne dressing).
Entrée is a choice of Hungry Eyes (beef short rib, Yukon gold potato pave, mushrooms) or She's Like the Wind (steelhead salmon, parmesan risotto, roasted seasonal vegetables).
Dessert is either Will You Love Me Tomorrow (raspberry macaroon, chocolate cake, raspberry sorbet, pate de fruit) or Overload (house made ice cream with waffle cookie).
"No matter if you're a soup lover or not, you must try the soup at Leatherby's," stated Catherine. "This time Chef Ross made carrot soup, which had hints of lime and cumin. The consistency was perfect; a mix between liquid and puree. It's a must have."
"I love the deconstructed salad—it's colorful and fun, not your typical salad," said Christopher.
We enjoyed both entrees, with Christopher practically swooning over the salmon dish.
"I don't think you've ever seen me inhale a dessert as fast as I did these two," said Catherine as we strolled over to Segerstrom Hall. "I'm in love with this menu."
And the audience was in love with "Dirty Dancing," which we found to be a fairly faithful recreation of the movie (albeit without the charismatic Patrick Swayze in the lead role). "Dirty Dancing" fans applauded their favorite moments and lines, including "nobody puts baby in the corner."
"I think 'Dirty Dancing' will have lovers of the movie smiling at the memorable moments of the movie come to life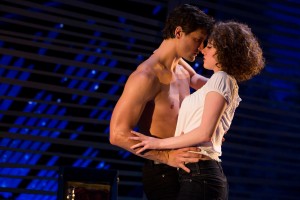 on stage," said Catherine.
"It's not an effects-heavy, spectacular musical, and the songs are sung by band members, not the leads, but I did feel like I was watching a theatrical version of the film," agreed Christopher. "It was entertaining and even nostalgic in a way."
For Leatherby's reservations, call (714) 429-7640, or visit PatinaGroup.com.
For tickets to "Dirty Dancing," call (714)m 556-2787 or visit SCFTA.org.