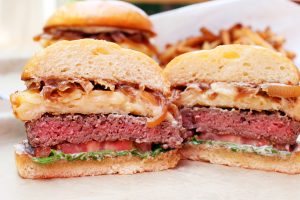 Truffle That Hopdoddy Burger
We finally made it to Burnt Crumb at Pacific City in Huntington Beach this week to try their famous spaghetti grilled cheese sandwich (served with a side of marinara sauce for dipping), and it was indeed a decadent delight.
However, we just learned of an equally decadent dish closer to home: a truffle mac n' cheese burger at Hopdoddy Burger Bar in Fashion Island.
Start with an angus beef patty, add a pile of homemade truffle mac n' cheese that's breaded and fried, plus caramelized onions and truffle aioli, wrap it in a house-baked bun, and you have an over-the-top burger guaranteed to bring a smile to any burger lover.
This truffle mac n' cheese burger is only available through June 6.
Hopdoddy is also famous for its shakes, and they've added an Orange Dreamsicle Shake to the menu—but it's only available through June 13. It's made with fresh orange juice and blood orange syrup, blended house-made spiced ice cream.
And if that's not enough, there's also a watermelon mojito that's available through June 27. This refreshing concoction blends watermelon, cool mint, hand-squeezed lime juice and rum. Yum!
For more information on Hopdoddy, visit hopdoddy.com.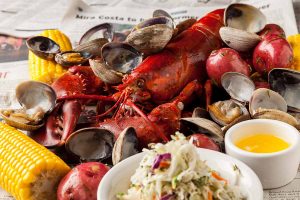 The Maine Event at Bluewater Grill
Bluewater Grill wants to jumpstart your summer wither their Maine event: a New England lobster & clambake!
Throughout June, Bluewater Grill's lobster & clambake features steamed Maine lobster, Manila clams, corn on the cob, baby red potatoes, coleslaw, drawn butter, and a lobster bib (we know from experience you'll need it). The Maine lobster and Manila clams featured in the special meals are sustainably harvested.
On June 13, Bluewater continues its monthly second Tuesday dinners with a New England lobster and clambake tasting event featuring the same complete menu paired with domestic white wines hand-selected for the occasion. The price is $36.95 and reservations are encouraged.
According to Bluewater Grill co-owner and co-founder Jimmy Ulcickas, the New England Lobster and Clambake is the best-attended event on Bluewater's Second Tuesday Tasting schedule.
"I come from Massachusetts, and several Bluewater general managers hail from the Northeast, so we've adopted some of the best New England culinary traditions ranging from our homemade chowders and authentic Lobster Rolls to our Stuffed Maine Lobster during the holidays—but our New England Lobster & Clambake continually ranks as the most popular, and has become a Bluewater summer tradition," explained Ulcickas.
This is also the perfect time to dine on Bluewater's patio overlooking Newport Harbor. For more information, visit bluewatergrill.com.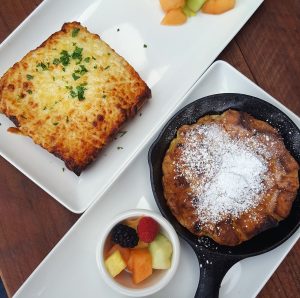 If It's French, It Must Be Moulin
Moulin has become a habit for us, especially Christopher, who often holds his Editor Hours there accompanied by his dog, Spencer (Moulin has a dog-friendly patio). He also meets with his staff there, grabs breakfast or lunch, or just lounges on the patio with a cup of coffee.
It's difficult not to order one of the many authentic Moulin dishes. We recently had breakfast there, and ordered our go-to delights: a Croque Monsieur ($10), translated into a classic grilled housemade ham & cheese sandwich, and a Pain Perdu ($9), or French toast with orange butter & fruits.
The last Sunday of every month, Moulin holds its monthly Cars & Café from 7 to 9 a.m. in the parking lot next to Moulin. Dozens of luxury automobiles (both antiques and exotics) from Bugattis to Citroëns are available to view. Guests can sip free coffee as they mingle with automobile owners, collectors, and enthusiasts. Moulin will be serving breakfast inside the restaurant and on the patio. Admission and café is free.
Moulin is located at 1000 N. Bristol St. Visit MoulinBistro.com for details.