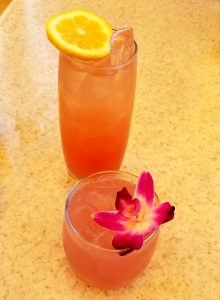 True Food Kitchen in Fashion Island has added several summer dishes to its already popular menu, so naturally I felt it compelled to go try them. I brought along fellow NB Indy writer and calendar editor Laura Wise with me so we could try several dishes and compare notes.
The new menu additions include Heirloom Tomato & Watermelon with coconut lime yogurt, basil, mint, and toasted pistachio ($11), Korean Noodle Salad with sweet potato glass noodle, bok choy, kale, cucumber kimchi, mango, bean sprout, and almond lime vinaigrette ($14.50), Summer Tacos (either grilled fish or grass-fed steak), tomatillo avocado salsa, pickled jicama slaw, coconut lime yogurt, and anasazi bean ($18), Responsibly Sourced Striped Bass with vegetables and grains $27), and Summer Berries with forbidden black rice, watermelon, macadamia nut, and coconut whipped cream ($7).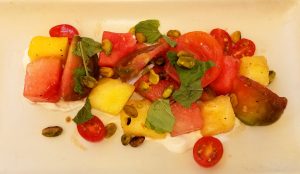 The tomato and watermelon is a refreshing summery dish—just be prepared for the mint flavor that almost takes center stage.
We also ordered the Korean noodle salad but added chicken (an extra $5).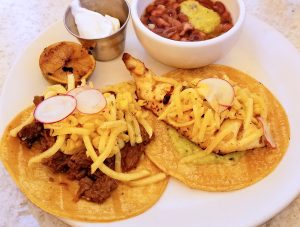 "The flavors made a delightfully tasty medley of sweet and sour with a little heat," noted Laura. "Add some chicken and it was filling enough to be a meal in itself."
I agreed with Laura, noting that the dish, like so many others on the menu, tasted fresh and healthy.
For entrees, we settled on the tacos (both fish and steak), and – straying away from typical summer dishes – the grass-fed burger with umami, onions, mushrooms, arugula, parmesan, and mayo on a flax seed bun ($17).
"The star of the meal was the grilled fish tacos with tomatillo, avocado, salsa, pickled jicama slaw, and coconut lime yogurt," said Laura. "The fish was perfectly grilled, hearty, and zesty."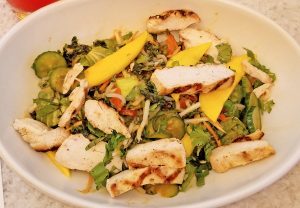 The steak was also good, but surprisingly spicy with more heat than we expected. Spice fans will no doubt gravitate to this dish.
We accompanied our food with Pop de Provence (lemon and lavender in bubbly water) and watermelon lemonade.
The summer menu items are available through early October. Visit TrueFoodKitchen.com for more information.