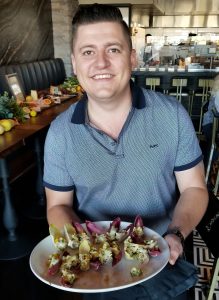 After experiencing a sensational dinner at Olea restaurant the week they opened in late November, I welcomed the opportunity to return to Olea earlier this month and enjoy a special media tasting of two signature cocktails and a host of menu items. 
Our tasting menu: Blue crab baked oysters with champagne tarragon butter, jumbo lump crab & sea salt roasted heirloom beets, terrine of duck liver with bacon and bourbon, herb roasted prime beef cheek stroganoff, pacific northwest filet mignon, skillet mac and cheese with four cheeses (Hook's two year cheddar, manchego, parmesan, and gruyere), and Belgian chocolate chunk and fromage blanc cookies.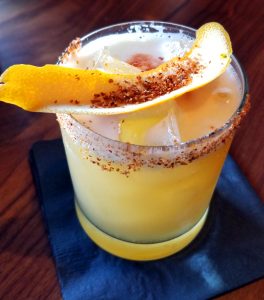 The creative cocktails included the Rich Girl (rose wine, New Amsterdam vodka, lime, yuzu, basil), and to celebrate the release of the latest "Star Wars" movie with a nod to creator George Lucas, a Jorge Lucas cocktail with maestro dorbel blanco tequila, mezcal, lime, orange juice, egg white, serrano, tajin and angostura bitters.
In sampling the cuisine, I remarked to a fellow food writer that "they only thing I didn't like was…nothing."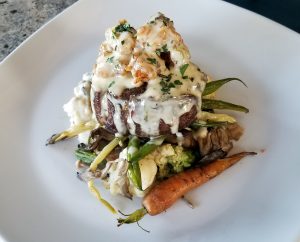 In other words, each dish was perfectly prepared, creative, pretty on the plate and playful on the palate.
Olea chef Jared Cook (who has a perfect last name) was born and raised in the Pacific Northwest, graduated from Western Culinary Institute in Portland, and then came to So Cal where he worked in restaurants such as French 75 in Laguna Beach and Chat Noir in Costa Mesa (two of my favorite restaurants that have since closed). He was promoted to Executive Chef at the Crow Bar and Kitchen before coming to Vine Restaurant in San Clemente, the first of three restaurants in the Olea family (the other is Ironwood in Laguna Hills).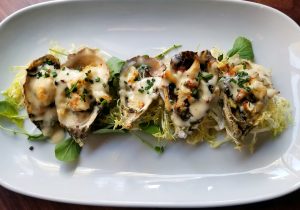 Jared has a passion in the garden and uses organic heirloom herbs, fruits, and vegetables. He has created his own garden onsite at Vine, and brought fresh produce for us to sample during the tasting.
The craft cocktails were fun (the Jorge Lucas is spicy but delicious), served at the bar that boasts Argentinian leather marble on the countertop.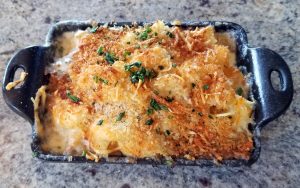 According to the owners, Olea has been busy from day one, and it's easy to see why: fantastic cuisine, an upbeat and classy atmosphere that feels like a neighborhood hangout (albeit a neighborhood in Newport), and first-rate service that makes the entire experience memorable.
Not surprisingly, the success of all three restaurants has owner Russ Bendel and his partners talking about seeking out a fourth location. I'm told that Chef Jared, who designed the Olea kitchen, has been creating menus for a Napa meets Mexico concept—an unusual idea, but if anyone can make that work, it's Chef Jared.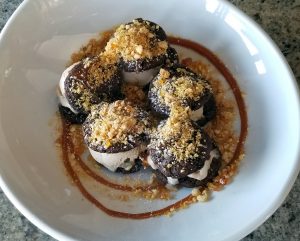 By the way, the mac and cheese is so addicting, my next visit to Olea will be to sit at the bar with a glass of wine, a skillet of mac and cheese, and a smile on my face.
Visit OleaNewportBeach.com.