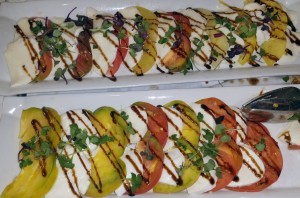 By Christopher Trela & Catherine Del Casale | NB Indy
 Let's do brunch!
Weekend brunches seem to be more popular than ever in Newport Beach, although it's not always easy to find a true buffet-style brunch, especially a classy one.
Fig & Olive in Fashion Island has solved that dilemma with their weekend Mediterranean Brunch Spread, served every Saturday and Sunday from 11 a.m. to 3 p.m.
For $27, diners can select from a variety of breads, salads, cheeses, charcuterie, bacon and sausage, and desserts. There's even an omelet station, and a roasted chicken carving station.
Catherine was out of town, so fellow Indy writer (and former chef and restaurateur) Shelly Zavala accompanied Christopher to Fig & Olive last weekend to check out the brunch.
We started with a mimosa ($10), although a variety of other brunch beverages are available, including a bloody Mary cart ($16)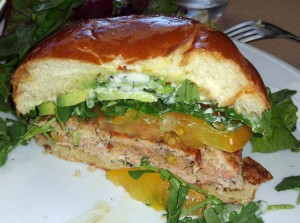 with the cocktail made tableside your way.
Shelly went with the brunch, while Christopher decided to go for an a la carte brunch and ordered the Riviera salmon burger ($14) with tomato, arugula, avocado, thyme brioche, shallots, olive oil, dill, and caper mayonnaise sauce. It comes with a salad, although you can add skinny fries for an additional $4 (we've had them, and they're really tasty).
Shelly's feedback on the brunch: "It's not extensive but really high quality, and it's amazing for the price," she said. "There are a variety of things you would not always find on the brunch, including unique salads, high quality smoked salmon, and not your typical desserts. And the omelet bar is a nice touch because you can take cheeses or charcuterie from the buffet and add them to your omelet."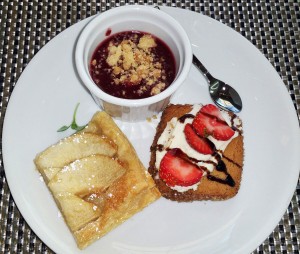 "The salmon burger was cooked perfectly, and I liked the brioche bun," noted Christopher. "It's a bit messy to eat with your hands, but I managed to consume every bite."
"This is a nice ambiance for brunch," added Shelly. "It's not your typical buffet where you feel rushed, and no long lines. And looking around, I can see they have a full restaurant, so they must be doing something right."
Families making reservations for the brunch can receive one complimentary kids' meal per each weekend buffet purchased.
For more information, visit FigandOlive.com.