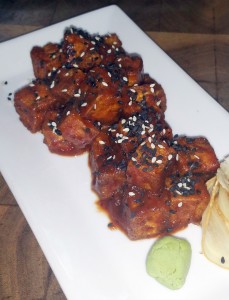 By Christopher Trela & Catherine Del Casale | NB Indy
Two entertaining coastal traditions you can count on every year: Pageant of the Masters and a summer musical from Laguna Playhouse (this year it's "Footloose").
We love dining out before seeing a show. Since both of these productions are in Laguna Beach (and next door to each other on Broadway/Laguna Canyon Road), we usually choose a nearby restaurant so we can walk to the show.
Of course, options abound in both Newport Beach and Laguna Beach, although since Laguna Playhouse has the earlier start time of 7:30 p.m. (as opposed to the Pageant's show time of 8:30 p.m.), a nearby restaurant is perhaps the best option.
We have a handful of restaurants to recommend, broken into three areas: Crystal Cove Shopping Center (the closest Newport Beach restaurants that are only a few minutes' drive from Laguna), downtown Laguna Beach, and coastal (Coast Highway) Laguna.
CRYSTAL COVE
We recently dined at Babette's, where we had previously loved the barbecued tofu so much that we ordered it again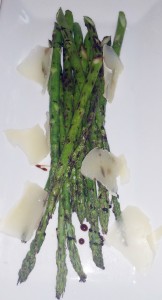 to see if it was as good as we remembered.
"I am a meat girl, always getting steak, but the tofu is amazing," raved Catherine. "The texture is not chewy or soft, and the barbecue sauce is so tasty. I also liked the asparagus, which has shaved parmesan. It was cooked perfectly, a little crisp and not too soggy or watery. And the French fries were good."
"You also love Tamarind for their Indian food, and it's a nice fit to the Pageant because they have a segment with Indian art and dancers," said Christopher.
"And don't forget Settebello and the pizza that comes out in 90 seconds," said Catherine. "They have that huge pizza oven. And I remember the appetizers, and the outdoor seating area."
"I'm a fan of Bluefin Sushi, where the food looks like works of art," said Christopher. "And Modo Mio is one of those underrated Italian restaurants that offers really good Italian food at really good prices."
Other restaurants in that shopping center include Bear Flag, Javier's, and Mastro's Ocean Club (the latter two are almost always packed and usually require reservations).
For info, visit DineNB.com.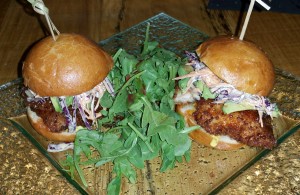 DOWNTOWN LAGUNA
We loved our recent experience dining at the new Central—Coastal Peruvian restaurant in the old Sundried Tomato Café space, but we have plenty of other Downtown Laguna faves, including Lumberyard, which among other American classics has fried zucchini (Catherine's favorite).
We also like Alessa, an Italian restaurant on Forest Avenue owned by Alessandro Pirozzi, who also owns Pirozzi in Corona del Mar.
And of course, there's Nirvana Grill, which in addition to its normal Contemporary California Cuisine menu has a separate gluten-free menu and vegan menu. We've tried dishes off all three menus and enjoyed every one.
Other we like: Three Seventy Common, Broadway by Amar, and 230 Forest.
COASTAL LAGUNA
There are more terrific restaurants located along Coast Highway in Laguna Beach. A few (Nick's of Laguna,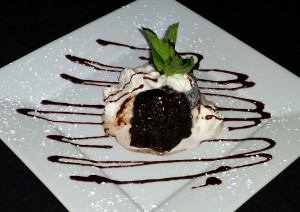 Watermarc) are just within walking distance of the Pageant and the Playhouse, but some (Big Fish Tavern, Sapphire Laguna, The Deck, etc) are easily accessible via the free summer shuttle system that runs up and down Coast Highway all the way to the Ritz Carlton and back, stopping across the street from the Pageant.
For Laguna Beach dining info, visit VisitLagunaBeach.com.
PAGEANT DINING
Another option—bring a picnic (with wine) to enjoy on the grounds of the Festival of Arts, which is where The Pageant is held. Plenty of tables and seating areas are available, and they often have live entertainment.
You can also enjoy one of the restaurant at the Festival grounds: Tivoli Terrace, a charming bistro that serves lunch and dinner during the summer (American cuisine, full bar and live entertainment nightly), and Gina's Alfresco, serving everything from slices of pizza and Italian flatbreads to salads and sandwiches.
Visit FOAPOM.com for details.