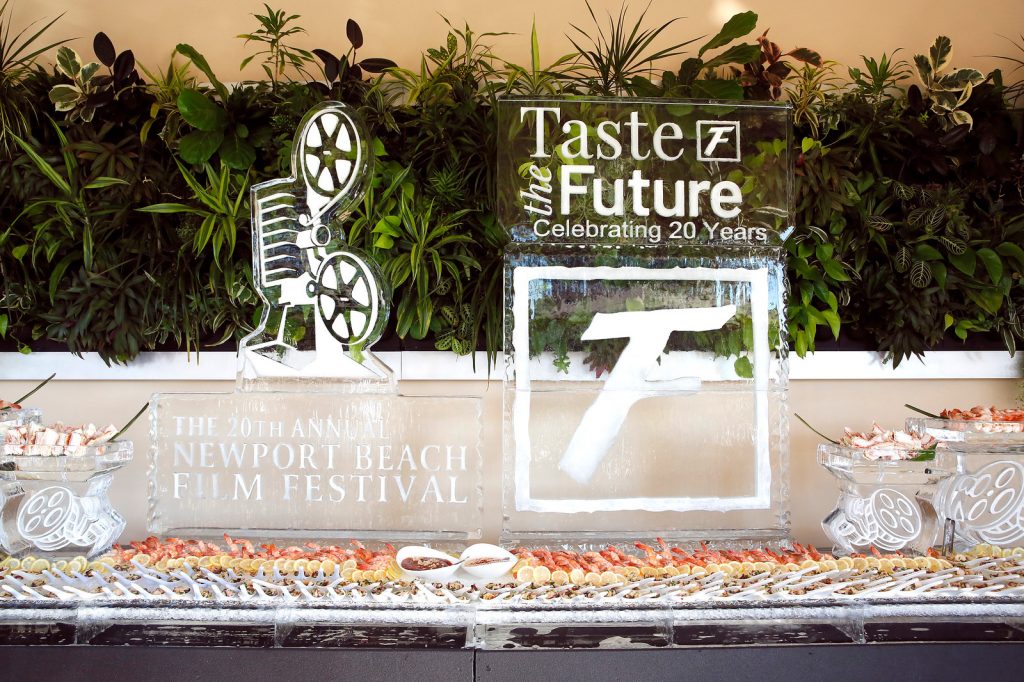 In December 1998, restaurateurs Paul Fleming and Bill Allen opened the first Fleming's Prime Steakhouse & Wine Bar at Fashion Island in Newport Beach. Two decades later, Fleming's now has 70 locations nationwide. 
Also in December of 1998, Gregg Schwenk and Todd Quartararo were making plans to lunch the inaugural Newport Beach Film Festival the following spring.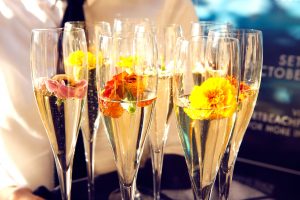 On October 17, the flagship Fleming's in Fashion Island hosted a VIP party on the restaurant's recently renovated patio to celebrate two decades of success and to honor the Newport Beach Film Festival's upcoming 20th annual event.
Fleming's operating partner, Sanjiv Gupta, welcomed Festival co-founders Schwenk and Quartararo and spoke in front of a pair of spectacular custom hand-carved ice sculptures featuring each organization's 20th anniversary logo.
Schwenk told the crowd of 75 guests about the Film Festival at Sea Caribbean cruise event plus special events in London and Sundance early next year prior to the 20th annual Film Festival launch in April.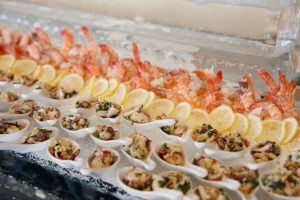 Guests were greeted with champagne and wines from Fleming's renowned cellar and enjoyed a display of jumbo shrimp and crab on ice, platters of charcuterie and cheese, and massive hand-carved prime tomahawk steaks, a Fleming's signature.
I nibbled on wonderful tray-passed appetizers and the seafood display, and chatted with Quartararo about the festival. They always have a spectacular opening night gala featuring dozens of local restaurants serving signature cuisine.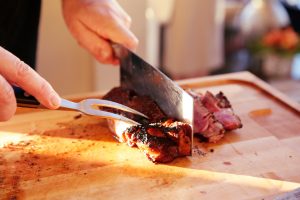 I also chatted with Stefanie Farnsworth Salem, founder and CEO of the Newport Beach Wine & Food Festival, which celebrated its 5th anniversary earlier this month. She said she's already at work on next year's festival
Seen in the crowd: Tanya Thomas, VP-general manager of Fashion Island; Gary Sherwin, president and CEO of Newport Beach & Company; Janice Arrington, Orange County Film Commissioner; Karma Automotive's Jim Taylor; and Maria Hall-Brown, executive producer for PBS SoCal.
By the way, Fleming's has launched its "Taste the Future" campaign which includes the recent remodel, lunch service, weekend brunch and special chef-driven creations.
Visit FlemingsSteakHouse.com.