By Christopher Trela and Catherine Del Casale | NB Indy
We recently reviewed a handful of our favorite local restaurants with Mother's Day menus. This week–more Mother's Day selections. After all, you can't have too many options when it comes to making sure mom is happy.
Take your mom to the beach for Mother's Day–and dine a few feet from the sand at The Beachcomber at Crystal Cove. The special three-course menu includes delicacies like beignets (one of our favorite treats), surf and turf crab cake eggs Benedict, Maine lobster linguini, and crab stuffed Scottish salmon. $49, includes endless champagne (although we suggest one of their signature bloody Mary's). Call (949) 376-6900 or visit TheBeachcomberCafe.com. 
BALBOA BAY RESORT
One of our favorite places to dine, Balboa Bay Resort is offering a fabulous Mother's Day brunch from 10 a.m. to 2 p.m. in the Grand Ballroom created by Executive Chef Josef Lageder. They've got a carving station, cheeses, salads, seafood, an array of breakfast items, and desserts, plus free-flowing champagne and live music. $77 for adults, $38.50 for kids 12 and under. Call (949) 630-4145 or visit BalboaBayResort.com.
   DIVBAR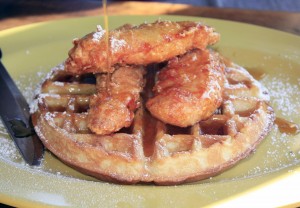 If your mom – and the rest of the family – has a hearty appetite, we recommend the DivBar weekend breakfast, served 9 am to noon. Their country skillets are baked from scratch in a stone oven and served in skillets. Mom can order a vegetarian with egg whites, while dad can indulge in the classic Dive skillet: eggs, smoked brisket, pulled pork, roasted tomatoes, and cheddar cheese. We also love their chicken and waffles, and house made biscuits. And if you have a boat, you can cruise to DivBar and tie up at their dock. Call (949) 675-7427 or visit divbar.com.
 HYATT REGENCY NEWPORT BEACH
Looking for a traditional Mother's Day brunch guaranteed to please everyone? Look no further than the Hyatt. Served from 10 a.m. to 2 p.m., this brunch includes a hot breakfast station, made to order omelets and eggs Benedict, a seafood station, a ravioli station (with lobster!), a dessert station with a chocolate fountain, and much more. Cost is $75 for adults, $37.50 for seniors, and $27.95 for kids. Call (949) 729-6162 or visit NewportBeach.Hyatt.com.
 THE CANNERY
How about as three course prix fixe brunch with views overlooking Newport Harbor? Served from 10 a.m. to 3 p.m., choose from starters such as smoked salmon tartin, wedge salad or clam chowder, and entrees such as roasted halibut, prime rib and eggs, and French toast. Complete the meal with vanilla panna cotta and poached strawberries. $40 per person. Call (949) 566-0060 or visit cannerynewport.com.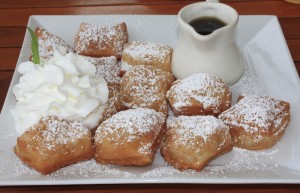 FLEMING'S
Served from 11:30 a.m. to 3 p.m., Fleming's three-course brunch offers a choice of lobster bisque, modern Caesar or seasonal fruits to start, followed by a choice of four entrees (including baked brioche French toast), plus a choice of three desserts. $36.95 per person. Call (949) 720-9633 or visit FlemingsSteakhouse.com.
 PINOT PROVENCE
Tucked away inside The Westin across from South Coast Plaza, Pinot Provence offers a $40 three-course prix fixe menu served 10 a.m. to 3 p.m. on Mother's Day that's perfect for anyone in the family. First course selections include snap pea salad, pork belly soft scramble and potato pancakes, while entrees range from pancake lasagna and ricotta rhubarb crepes to vanilla French toast and Scottish salmon. Call (714) 444-5900 or visit PinotProvence.com.
ISLAND HOTEL
Buffet brunch. Endless champagne. Live music. Sounds like a great way to treat mom on Mother's Day. Served 11 a.m. to 3 p.m. in the Cabana room and outdoor terrace. $95 for adults, $25 for children 12 and under. all (949) 760-4920 or visit IslandHotel.com.