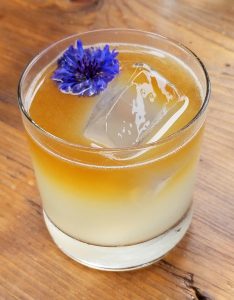 Chef-driven restaurants are steered by the seasons, although in California our growing seasons are skewed.
"The seasons are different here, but as long as it's at the farmer's market, it's okay," said Rich Mead, owner and executive chef of Farmhouse at Roger's Gardens.
Chef Mead buys most of his produce at the Santa Monica Farmer's Market. He fills his van and brings his treasures back to Farmhouse to see what he can create.
I was invited along with several fellow food writers to a media tasting of his new summer menu to experience those creations.
Chef Mead has owned several noted restaurants over the years, but he seems to really be enjoying Farmhouse, which has been busy from the day it opened nearly two years ago.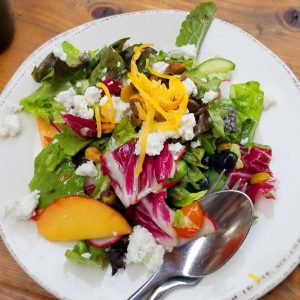 Our media tasting started with the Farmhouse Whim cocktail from mixologist extraordinaire Anthony: charcoal filtered white rum, fresh lime juice, lavender and basil tincture (made in house), topped off with 24-year-old rum and a bachelor button flower. A truly awesome cocktail. Among his others listed on the menu: What Seems To Be The Officer, Problem? with black truffle cognac tincture, Scandinavian rum, punt e mes, and scotch ($15).
We began our journey through the Farmhouse summer menu with the Farmhouse Market Salad: peaches, blueberries, Persian cucumbers, radish, sun gold tomatoes, pistachios, mixed lettuces, goat cheese, charred meyer lemon vinaigrette, and preserved meyer lemons ($11). A spectacular dish that practically screams summer.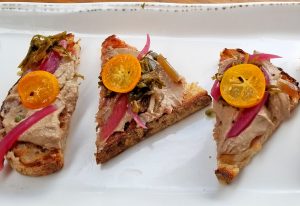 I loved the Autonomy Farms chicken liver pate ($15), with pickled green garlic, mustard greens and red onions, house made jam, grilled Rye Goods Co. bread.
Chef Mead said the pate is new. The chicken is pastured and comes from Bakersfield. He uses as much of the chicken as possible.
Warm days and evenings means salads are in demand. Chef Mead has several that captured my attention, including the grilled strawberry rhubarb glazed salmon salad ($26) with strawberries, sugar snap peas, roast leeks, quinoa, sun gold tomatoes, mixed lettuces, balsamic vinaigrette, candied pecans, and pickled rhubarb.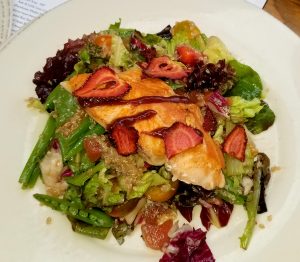 The grilled barbecue spice rubbed pork tenderloin and peach bourbon sauce ($29) with braised greens and cannelini beans, grilled corn and summer squash, corn bread stuffing, andouille sausage, Gorganzola and grilled peach chutney.
The panko, dijon and citrus crusted Icelandic cod ($33) with brown and wild rice with orange zest, pine nuts and currants, grilled asparagus, and passion fruit vinaigrette was a flavor party in my mouth, as was the grilled kumquat glazed swordfish ($34) with carrot puree, rapini, cipollini onions, pee wee potatoes, citrus relish, and fried arugula.
The Farmhouse vegetable bowl ($25) has grilled corn and summer squash, braised greens and white beans, caramelized cauliflower and chimichurri sauce with pureéd satsumaimo potatoes and cauliflower, green beans and cipollini onions, and grilled peach chutney. Wow.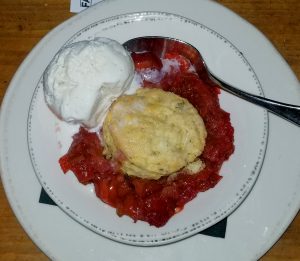 The sensational desserts of strawberry rhubarb cobbler with cornmeal thyme biscuit topping, strawberry orange sauce, and vanilla bean ice cream, and the toasted almond cake with strawberry jam, mixed berries, and sweet cream ($8 each) also paid homage to the season.
You can't ask for a better setting for a fresh, creative and seasonal menu.
Want to learn how to create seasonal small plates? Chef Mead is hosting a free demo this Sunday, July 29, from 10 to 11 a.m. at Roger's Gardens.
He'll show you how to elevate your meals with fresh, local ingredients, and you'll learn tips on how to cook like a professional chef. The first 100 attendees will receive a ticket for a seat in the amphitheater and a tasting. Visit RogersGardens.com and click on Seminars to RSVP.
Visit FarmhouseRG.com for more information on Farmhouse.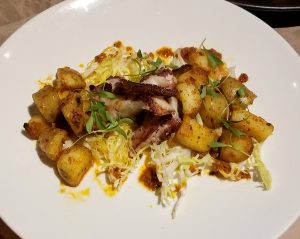 Five Crowns
Summer has arrived at Five Crowns with new seasonal dishes courtesy of Executive Chef Alejandra Padilla, who has put her unique stamp on the Five Crowns menu since taking over the kitchen earlier this year.
New small plates include a Beet & Tomato salad with fried burrata, cherry tomatoes, basil and aged balsamic, and main dishes such as Roasted Sea Bass with cucumber gazpacho sauce, crushed olives, tomato and croutons, and desserts such as the Peach Blueberry Cobbler with vanilla biscuit and sweet corn ice cream.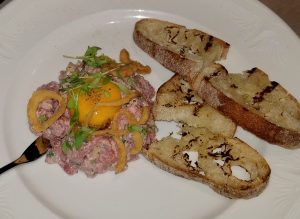 Yes, sweet corn.
"If I could put corn in everything, I would" laughed Chef Padilla when we discussed her menu last week. "I love to work it into an entrée. Lobster and corn are good together, and I recently ate squid ink pasta, so I put them together in a dish."
Her squid ink pasta with lobster, charred corn, Thai bird chili, basil, white wine, and linguini ($38) was the highlight of a menu tasting I did along with several fellow food writers earlier this month.
The pasta with squid ink was hearty yet light enough so it did not overpower the lobster and corn, which as Chef Padilla said, were brilliant together. The white wine sauce along with the basil made this a sensational summer dish.
"With summer I think of eating outside, nothing heavy, which is why a lot of ths food I'm featuring is lighter," she said. "We have more seafood like roasted sea bass, and I took one of the soups off the menu and replaced it with an Asian pear salad. We do have other options like our steaks and sides that are more filling, but even the steak tartare is lighter."
The steak tartare (a ribeye and filet combo) with ciabatta bread, crispy shallots, arugula, and truffle aioli ($16) was indeed lighter, and a big hit with our dining party.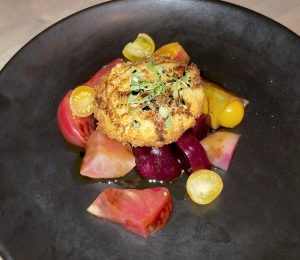 "I wanted to change the expectations and keep it light and simple in flavor," said Chef Padilla.
Other dishes we enjoyed: Crab Cake with Old Bay remoulade and celery radish salad ($20), Blackened Scallops with stone fruit chutney, broccolini, toasted marcona almonds, and prosciutto chip ($36), Crispy Jidori Chicken Breast
with house made chicken sausage, sweet potato puree, and honey truffle drizzle ($28), and a Grilled Smoked Octopus with roasted fingerling potatoes and chorizo vinaigrette ($14) that was tender and flavorful.
"Chorizo is one of my favorite tings to eat at home—my mom made tacos with chorizo," said Chef Padilla. "I wondered how it would taste with octopus. This dish has fresh grapefruit, and the acid helps break down the octopus, which comes from Spain and has marbling like a steak so there is more fat content."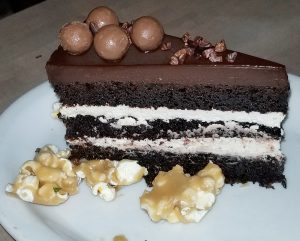 Desserts were also popular with our table. We fought over the Chocolate Black Out Cake with malted vanilla buttercream, toffee salted popcorn and coco nibs ($12), the Peach & Blueberry Cobbler with vanilla biscuit and sweet corn ice cream ($12), and the Apricot Sticky Toffee Pudding with roasted apricot, toffee sauce, and almond ice cream ($12).
The summer cocktail menu includes Vacay All Day with Flor de Cana rum, Brinley coconut rum, lime, passion fruit, spiced honey ($12) and Smells Like Rich Mahogany with Woodford Reserve rye, Averna amaro, dark creme de cacao, smoked wood chips ($18).
Call (949) 717-4322 or visit thefivecrowns.com.