By Christopher Trela & Catherine Del Casale | NB Indy
Did you vote yet?
Awards in two dozen categories will be presented to restaurants throughout the county at the fifth annual Golden Foodie Awards, to be held this fall at the Fairmont Newport Beach.
Nominations started last week. The public is welcome to go to the Golden Foodie website at GoldenFoodieAwards.com and nominate favorite restaurants in a variety of categories. There will be three weeks of voting, with seven to eight different categories each week.
Golden Foodie Awards are for Independent and/or Chef driven restaurants located in Orange County. Only one vote per IP address.
Week one, which ended last Sunday, has eight categories. We offered our suggestions (make that our favorites) in last week's column.
Week two voting starts Monday, August 8 and runs through August 14. Naturally, we have suggestions on who to nominate in the seven categories.
Best Food Influencer: We know most of the food writers in OC, so several names come to mind in this category. First is Nancy Luna (also known as Fast Food Maven), who writes for the OC Register and has a large social media following. She's always up on what's happening at local restaurants. OC Register food critic Brad Johnson is also certainly influential when it comes to dining reviews. But Anita Lau (also known as Mad Hungry Woman) is a popular food blogger and prolific Yelp reviewer, and seems to be at three restaurants at once.
Best Beer Selection: There are so many restaurants with multiple taps these days that it's difficult to stand apart from the crowd. However, Catherine likes Sessions on Balboa Peninsula for their variety of canned craft beers (nearly three dozen unique selections).
Best Burger: We had to think about this one, because unless we're at a burger joint, we seldom order a burger when we're out dining. Christopher still loves the massive beast of a burger at Arc Restaurant in Costa Mesa, and the Hopdoddy burgers in Fashion Island. But, if we can twist the category a little, Catherine votes for the ahi burger from Lighthouse on Balboa Peninsula.
Best Mediterranean Cuisine: Two choices immediately came to mind: Zov's Bistro (Newport, Irvine and Tustin), and Lucca in Irvine. Been to both, love them both, and we're fans of Zov's owner Zov Karamardian and Lucca owner Cathy Pavlos.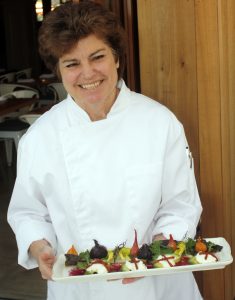 Best California Cuisine: According to the Golden Foodie website, California cuisine is "a style of cuisine marked by an interest in fusion cuisine that integrates many cooking styles and fresh local ingredients." With that in mind, we'd vote for Provenance, Chef Cathy Pavlos' other restaurant, which takes its cue from Napa Valley and incorporates fresh, local ingredients. Also on our short list is The Winery Newport, where chef Yvon Goetz is doing magical things in the kitchen.
Best Seafood: Newport Beach has plenty of great spots for seafood, including Fly-N-Fish Oyster Bar, The Cannery, and several others, but our favorite is still Bluewater Grill. They have a fabulous fish selection that can change daily depending on what comes into the restaurant from local fishing boats.
Best Service Award: According to the Golden Foodie website, "service can make the difference between a terrific night out and a terrible experience. Truly stellar service will make a restaurant unforgettable and have you clamoring to come back." For us, that starts with the valet, the greeting at the front desk, the expertise of the server, and the overall attitude of the staff. With that in mind, our first thought was The Winery Newport. "Between servers and sommeliers, the general manager, the hostess, and even the valet, from start to finish The Winery has the best service," noted Catherine. "Sometimes we've come out of The Winery and our car is there waiting for us." Other notable service-oriented restaurants we like include A Restaurant, Pelican Hill Resort, and Five Crowns.