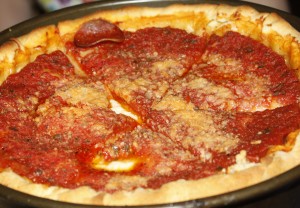 By Christopher Trela & Catherine Del Casale | NB Indy
 Taste of Balboa
For locals, the Newport to Ensenada International Yacht Race is the unofficial start to the boating season in Newport Beach.
For us, it means it's time to celebrate the race with the Balboa Village Fest and Taste of Balboa on Sunday, April 19, from 11 a.m. to 4 p.m. in Balboa Village.
The Taste of Balboa features a handful of local restaurants offering small (or sometimes large) bites of their signature dishes.
In addition to the food, there will be live music performed by famous U2 cover band, Hollywood U2 (we've seen them, and they're terrific!), hands-on activities for kids at ExplorOcean, chalk art, Newport to Ensenada yacht tours, and a formal ceremony unveiling a commissioned Newport to Ensenada painting.
But back to the food. Among the restaurants participating this year are Cruisers Pizza Bar Grill, Cucina Alessa, Harborside Restaurant, Mint Leaf Thai Cuisine, Newport Landing Restaurant, Ruby's Diner, Sessions West Coast Deli, and Slapfish.
We've been to all of them and truly look forward to sampling their dishes. Last year, Cruisers unveiled its deep dish Chicago pizza at Taste of Balboa several months before officially opening is doors last summer.
We dined at Sessions last week and were reminded just how great their sandwiches are, particularly the grilled cheese with roasted tomato soup (which is thick and rich). We also loved the homemade chips with shaved cheese and rosemary. We're looking forward to seeing what Sessions offers at Taste of Balboa.
Tastes range from $1 to $10. Visit BalboaVillage.com for more information.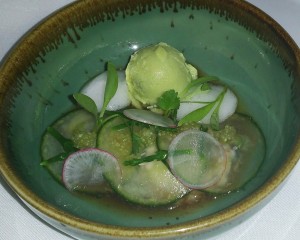 A Menu Fit for Guys and Dolls
It's been a while since the classic 1950s musical, "Guys and Dolls," has been staged locally, so we were looking forward to attending opening night of the Broadway touring production of "Guys and Dolls" at Segerstrom Center last Tuesday. And of course, we were also looking forward to tasting the themed "Guys and Dolls" menu created by Chef Ross Pangilinan at Leatherby's Café Rouge.
Once again, Chef Ross delivered a menu that was both fun and creative.
We started with a dish called "A Bushel and a Peck" (named after one of the musical's songs): West Coast oyster cocktail with spicy ponzu, citrus caviar, cucumber, sake, wasabi tobiko, and avocado sorbet. The flavors blended perfectly and the oysters were suitably chilled. Christopher was tempted to order an extra one, but we knew the entrée was on its way: the "Luck Be a Lady" dish of free range chicken "saltimbocca," prosciutto, sage, potato fonduta, broccoli rabe, and lemon chicken jus.
"Wow—the sage really stands out in a good way," stated Christopher after several bites. "It's not overpowering, and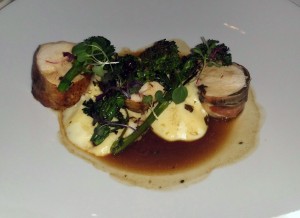 holds the various elements of the dish together. The chicken is tender, and I could eat a bowl of the potato fonduta. It also has a variety of textures that keep the dish interesting on the palate."
"The 'Havana' dessert was refreshing, light and sweet, and I didn't feel guilty in indulging in the whole thing," said Catherine. "The coconut rice pudding had a sugar brulée that gave the dish a little bit of a crunch to each bite, and was topped with exotic suave and tropical fruit."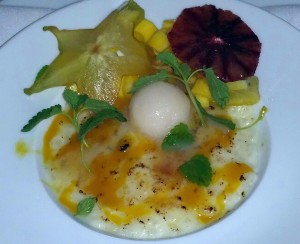 After dinner we strolled to Segerstrom Center to watch "Guys and Dolls."
"It was a fun and upbeat show that took you back to the past," said Catherine. "It was interesting to see the mentality of men and women in the early 1950s whether it was on the subject of gambling, religion or women's place in society."
"They don't make musicals like this anymore," agreed Christopher. "This is good old fashioned fun, with cute characters and classic songs that stick in your head."
For info on Leatherby's Café Rouge, visit PatinaGroup.com.
For information on "Guys and Dolls," visit SCFTA.org.
Fig and Olive Spring Tasting
Catherine recently attended a spring menu tasting at Fig & Olive in Fashion Island. Her recommendation: start with the tasting platter of three crostini ($12), and have the server cut them all in half so you and your dining partner can have a taste of each one.
"My favorite is the goat cheese, caramelized onion and chive, which has a nice combination of savory and sweet," said Catherine. "We also had a light zucchini carpaccio ($14) with has thinly slice zucchini topped with Picholine olive oil, lemon, pine nuts and shaved parmesan. Another must-have dish is the truffle mushroom croquette ($14): a croquette filled with Cremini mushrooms, parmesan béchamel and truffle oil. I could keep eating these all night."
For an entrée, Catherine selected rosemary lamb chops ($39), grilled with a bouquet of Herbs de Provence, goat cheese and chive gnocchi, toasted honey, and thyme eggplant with a rosemary garlic olive oil.
"The lamb comes out with the cover still on the dish and as the server places it in front of you and removes the top, the smoke rises up and you are able to eat with your eyes and nose before even tasting the dish," said Catherine. "The lamb was tender and sweet with the perfect amount of smoked rosemary flavor."
For more information, visit FigandOlive.com.