By Christopher Trela and Catherine Del Casale | NB Indy
 Viva le France!
That's what Catherine and I proclaimed after enjoying two fine French restaurant's: Brasserie Pascal in Fashion Island and The Golden Truffle on Newport Blvd. in Costa Mesa.
Both restaurants have more in common than just fabulous cuisine–they both have iconic chefs who have been part of the local dining scene for many years.
Chef Pascal Olhats ran Tradition by Pascal for nearly two decades before closing that location last year to focus on Brasserie Pascal, while mad scientist-chef Alan Greeley has been running The Golden Truffle since the mid 1980s.
Chef Pascal recently introduced new seasonal items that we needed to try, and we decided it was about time we paid Chef Greeley a visit and let him cook for us "off the menu."
 Brasserie Pascal
It's no secret that we enjoy the cuisine and the ambiance at Brasserie Pascal, so it's always a treat to be invited to sample new menu items.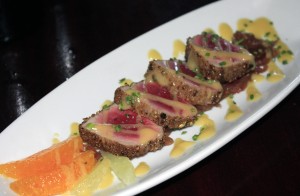 Chef Pascal has added a handful of items – mainly light and healthy – that he said were inspired by his visits to the south of France, which is a switch since Pascal often goes in the other direction with sinful cream sauces and buttery dishes.
The new dishes include Seasonal Heirloom Tomato Salad ($10) with Bucheron French goat cheese, spring onion, baby arugula, topped with basil chiffonade and mustard olive oil dressing; Organic Crudités Trio ($15) which includes green lentil salad, Moroccan spiced carrots and celery root slaw with lemon aioli; Rare Seared Ahi Tuna ($14) with coriander, black pepper, and fennel seed crust on onion marmalade bed with citrus vinaigrette; Poulet Provençal ($22) which takes a chicken breast and smothers it with black olives, roasted diced tomatoes and garlic confit, accompanied  by sautéed green beans; Grilled Halibut ($23) served over onions, fennel, and fingerling potatoes with tomato concassé; Grilled Lamb Chops ($28) marinated with herbs de Provence and garlic, served with grilled vegetables and spicy lamb merguez sausage; and Braised Rabbit ($30), cooked in white wine, preserved lemons, green olives and sage with saffron cous cous (a change from his traditional creamy mustard sauce).
Naturally, we wanted to try as many as possible, so Chef Pascal brought us an assortment of delectable delights, including puffed beignets (not on the regular menu).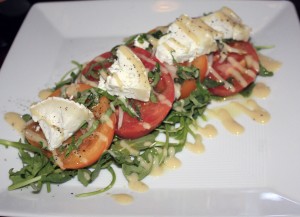 "I love the Ahi Tuna," declared Catherine. "I like the seasoned crust, which is complimented well by the sweet tanginess of the tangerines. I also enjoy the puff pastry appetizer–the side of mashed apples and the cheese in the pastry blend extremely well together."
"I'm loving the tomato salad–fantastic blend of flavors," I countered. "I'm also a fan of the lamb chops–they're perfectly seared and marinated."
We agreed that there was not a dish we didn't like. And, despite being full, we still ordered Pascal's signature chocolate soufflé for dessert.  
We also recommend trying one of the new summer cocktails–they have several "skinny" options that taste terrific despite the reduced guilt. 
For more information, visit BrasseriePascal.net or call (949) 640-2700.
Golden Truffle
We didn't know what to expect when we visited The Golden Truffle, but that's the point–when Chef Greeley is in the kitchen, expect the unexpected.
We were told to let Chef Greeley design a menu for us, so over the course of two hours we enjoyed a succession of dishes, each one more colorful and creative than the next.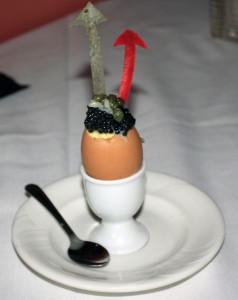 Catherine and I were blown away by the first dish: a delicate filled with a creamy whipped egg, topped with caviar and cleverly garnished with tortilla strips in the shape of arrows, thereby creating "deviled" eggs.
This was followed by an equally delicate abalone dish with truffles, then a bouillabaisse bursting with flavor, then a pasta dish, all presented by Chef Greeley with brief descriptions and stories that often veered from cuisine to music (Elton John was our background music the entire meal) and back again.
The meal defied description–in a good way. The combination of flavors and textures, and the creativity of the dishes, was sublime, and from a foodie's viewpoint, very fun.
The Golden Truffle does have a regular menu with items ranging from $5 to $32, but for a true gastronomic experience, put your palate in Chef Greeley's hands–you won't be disappointed.
For more information, visit GoldenTruffle.com or call (949) 645-9858.