By Christopher Trela & Catherine Del Casale
So many restaurants, so few female chefs.
We dine out several times a week, and realized that most of the meals we eat have been created by male chefs. However, there are a handful of wonderful women chefs town, and we recently caught up with three of our favorites: Chef Deborah Schneider of SOL Cocina, Chef Cathy Pavlos of Provenance, and Chef Jamie Gwen, who has her own syndicated radio show, "Food and Wine with Jamie Gwen," on KABC Talk Radio.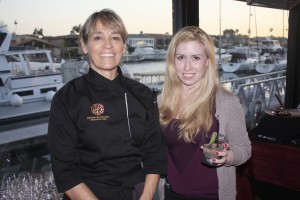 Deborah Schneider / Executive Chef & Partner, SOL Cocina
We've been fans of Chef Deb's Baja-style cuisine since she first opened SOL more than five years ago. She was influenced by countless surf trips down the coast of Baja, where she dined at small street stands and marveled at the fresh and flavorful foods being served. She translated that style of cooking to her restaurant, where she added bold, modern interpretations of traditional Coastal Mexican cuisine.
Chef Deb invited us to a Tour de SOL dinner to remind us of all the fun things she's been doing with her menu. Among the many dishes we tried were several of her signature tacos (including Christopher's favorite, the taco vampiros) and whole duck confit.
"I'm French trained, so it's a weird French-Mexican mash up," laughed Chef Deb. "Have the duck meat with the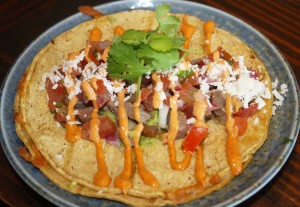 fruit sauce, then roll it up like a taco. I guarantee you've never had it before."
Chef Deb uses what she calls a "stealth health" approach to cooking, with seasonal, sustainable ingredients such as fresh vegetables, fruits, whole grains and sustainable proteins packed with vitamins, minerals and antioxidants. She can also accommodate a variety of dietary restrictions, including vegan, vegetarian and wheat-free lifestyles.
"Chef Deb doesn't only spend her time creating fabulous meals—she's also written several cookbooks to help others prepare their own authentic Mexican cuisine," said Catherine. "As a busy woman I really enjoy her cookbook "The Mexican Slow Cooker," as I utilized my crockpot and still feel like I did more than throw a bunch of ingredients into the pot and leave. I got to chop, sauté and prep, and then add ingredients to the crockpot for a couple hours and not have to stir or watch my stove."
For more information, visit solcocina.com.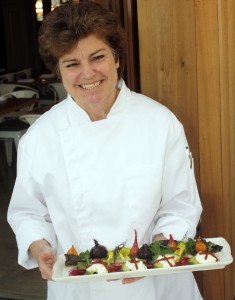 Chef Cathy Pavlos / Executive Chef and Owner, Provenance
After the success of her popular Irvine restaurant, Lucca, Chef Cathy, who lives in Corona del Mar, opened Provenance last March in Eastbluff. It's a Napa-influenced restaurant, with dishes prepared with ultra-fresh ingredients. How fresh? Chef Cathy has a garden growing on the restaurant's patio, where she daily picks her herbs and greens to use in her dishes, which are fun twists on classic American dishes.
"There's nothing else like Provenance, which is a blessing and a curse," Chef Cathy told us. "Most people come in and immediately love it, while some say we don't know what we want to be. I say we're a California concept, but people think that's meat and potatoes, which is not a California concept. Look around you—we have Asian influences, Latino influences, Mid-eastern influences. We use Mediterranean techniques with California flavors. I get guests from New York, San Francisco, Europe—they love our cuisine. They tell me this is fantastic, very Californian."
Chef Cathy said she's always working on developing her menu, including her cocktails, which often are made with just-picked herbs from her garden.
For more information, visit provenanceoc.com.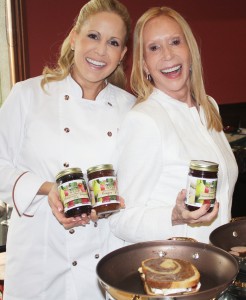 Chef Jamie Gwen / Celebrity Chef and Talk Show Host
Certified Sommelier, Lifestyle Expert and four-time cookbook author Jamie Gwen of Newport Coast has been creating delicious dishes and talking about food and wine on television, on the radio and in print coast-to-coast for more than a decade.
Her syndicated radio show, "Food and Wine with Jamie Gwen," is heard locally on 790 KABC Talk Radio, and she's just released a new version of her classic cookbook, "Good Food For Good Times 2."
Food Network fans know Chef Jamie from her appearances on "Cutthroat Kitchen."
"I loved my experience on 'Cutthroat Kitchen,' it amazed a lot of people because they didn't know I could cook. They know my radio show, but never saw me cook," said Chef Jamie when we met up with her for coffee recently.
"I love radio," she added. "There is something about being able to share your passion with an audience that loves food. My show has become more lifestyle oriented. I'm covering food, travel, wellness, and exploring a little deeper the facets of food, and being progressive in keeping my listeners up to date on trends in the culinary world."
Chef Jamie said that one of the newest trends is compost cooking.
"It's similar to "nose-to-tail" eating, where you eat the entire animal. With compost cooking, you peel a tangerine, keep the peel, dry it, and grind it to make a powder to use and infuse your dishes. Or instead of throwing away the mushroom stem, you sear them with fresh herbs for a nice starter dish, or throw them into a salad."
Chef Jamie said she cooks breakfast, lunch and dinner almost every day, and almost always has something in the oven. As busy as she is with her many projects, she said it's always been a goal to open a restaurant.
"I want a small, intimate restaurant with an ever-changing menu," stated Chef Jamie. "I get bored with the same dish. After I've had it once, I need something new."
Even her cookbook contains new recipes, and is available on her website at chefjamie.com.