There will be some drama in pajamas on stage at Newport Harbor High School next week when students perform the classic Broadway musical, "The Pajama Game," by Jerry Ross and Richard Adler.
"(Audience members) will laugh a lot and maybe walk out singing a song," said director Roberta Kay.
The play surrounds workers in a pajama factory in the 1950s, who are fighting for a seven and a half cent raise. Babe William, played by senior Hannah Whitfield, leads the Grievance Committee at the Sleep-Tite Pajama Factory as she falls in love with the new superintendent, Sid Sorokin, played by senior Josh Eakin.
"She's a strong, sassy woman," Whitfield said of her character, Babe.
Kind of like Whitfield.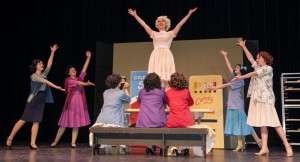 "I like to be a leader, and boss people around," she said with a laugh. "And I'm sassy."
"The management and the union are going head to head," Kay said, "but they (Babe and Sid) end up falling in love, so there are a lot of complications… It all works out in the end, but in the meantime there's a lot of singing and dancing and fun stuff."
It's a light-hearted comedy enjoyable for all ages, Whitfield said.
"People will enjoy the playfulness of it," she added. "And the music is super fun."
Whitfield has been performing since she was about 10; this is her last show on the NHHS stage.
"It's emotional," she said, adding that it will probably really hit her on closing night. "It's my last big hurrah."
The cast of 32 students have been rehearsing three times a week for several months, Kay said. They don't start doing full rehearsals until the week before the show, during "tech week."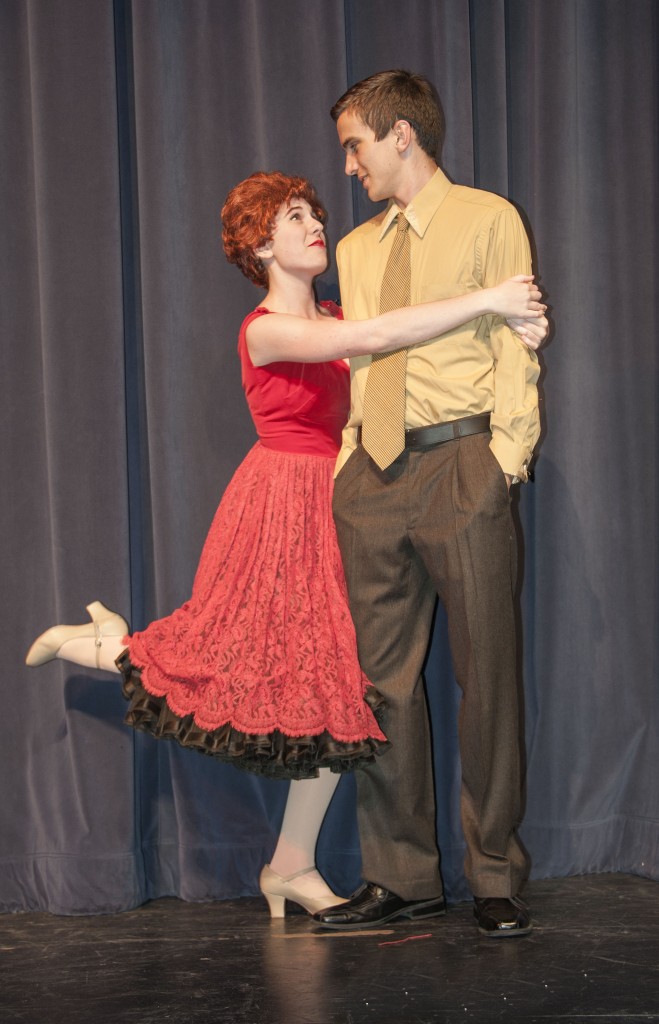 About a dozen students also run the tech and sound for the production, said Melissa Abrams, secretary of foundation, whose daughter, Alex, a freshman, is in the show.
"It's a lot of commitment," she said. They have to know dialog, singing and dancing, as well as some prop and tech work. "It's very involved (for the students)."
The students are out in the hallway doing their homework as they wait for their cues.
The production also wouldn't be possible without the help of many people, including Joe Robinson, the staff liaison, and Carrie Stephens, parent production coordinator.
It costs about $25,000 to put on one show, to rent costumes, pay royalties, hire professional musicians – if needed – to add in with the student band, props and other costs.
"We raise money on our own," Kay said, through the foundation and through student fundraisers.
It would e great if the community could come out and support the students, she said, while enjoying a great musical.
"It's a universal story that anybody and everybody can enjoy," Kay said.
Performances are at 7 p.m. on May 9, 10, and 11 and a special matinee at 2 p.m. on May 11, at Robert Wentz Theatre at Newport Harbor High School, 600 Irvine Ave. Newport Beach. Tickets are $15 for adults and $10 for children.
For more information and tickets, visit nhhsdrama.com.