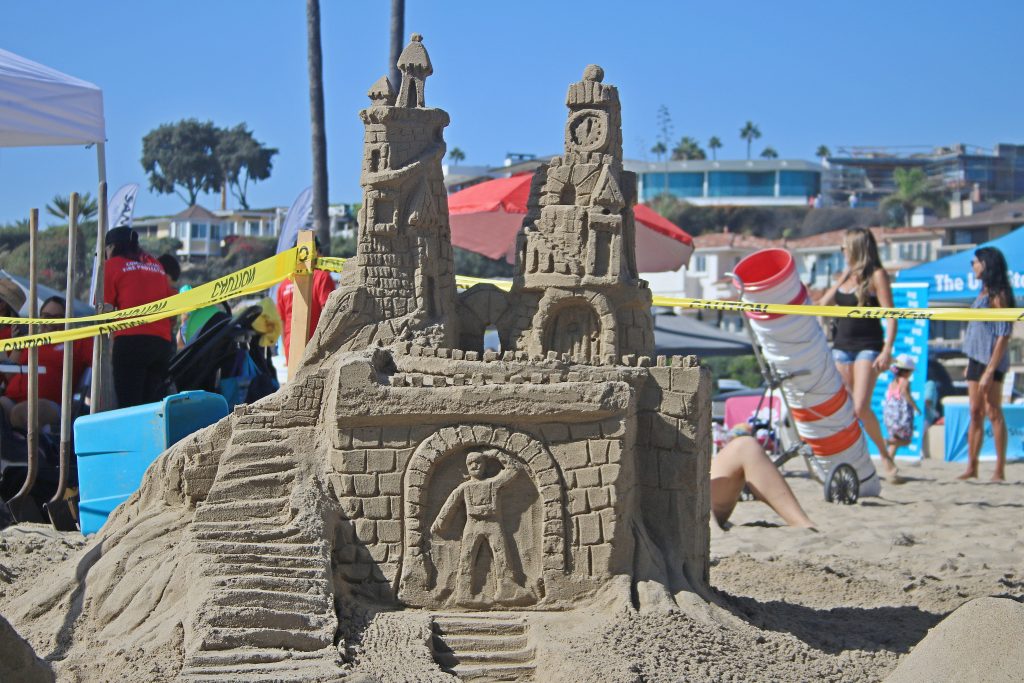 A giant octopus playing catch, some oversized ice cream cones with scoops of sports balls, and several detailed and grand castles, appeared out of the sand this weekend at a local beach.
Thousands of people flocked to Newport Beach to watch the sand transform during the 57th Annual Sandcastle Contest, held Sunday at Corona del Mar State Beach. The event was presented by the Commodores Club of the Newport Beach Chamber of Commerce.
This year's theme was "Have a Ball!"
The Commodores Award for Overall Best Creation went to the IB Possee Sandcarvers for their sculpture of a gigantic cat playing with a ball of yarn and a "Fumble!" sign.
The Sandcrabs team won the People's Choice Award for Best Creation with their sandy depiction of "Cinderella's Ball," complete with the princess herself sitting outside and a detailed castle, including a clock tower. Her missing sand slipper sat at the base of a long staircase.
Team OCASA earned the award for Best Display of Theme with sand sculptures of ice cream cones with scoops of Pokemon, baseball, basketball, and soccer balls on top. Some sandy signage invited spectators to "Pick Your Flavor!"
The Most Humorous Creation award went to Team Dixie for their sand recreation of their team's namesake, Dixie the dog, who was on hand for the festivities.
Team CHALK won first place in the junior division for their sphere-focused castle.
In the Most Unique Sandcastle category, The Sandcrabs earned the top spot, team Sand & Deliver came in second, and Long Beach Ballers placed third.
In the Most Unique Sandsculpture category, team Doggie Walk Bags won first place for their creation of a large octopus holding a different sports ball in each tentacle. Some sandy signage asked the public "Wanna Play Catch?"
Sandcrabs Too came in second for Most Unique Sandsculpture, and the Commercial Fire Protection team placed third.
For more information, visit newportbeach.com/gallery/57th-annual-sandcastle-contest/