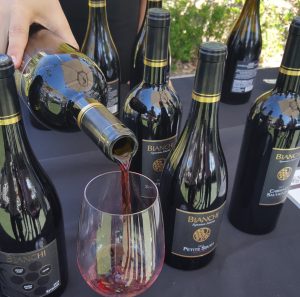 Catherine may hail from St. Helena in Napa Valley, but Christopher has her weaned off the big Napa cabs and hooked on even bigger Paso Robles Zinfandels.
Actually, Paso has more than 200 wineries making all sorts of wines, from familiar varietals like chardonnay and cabs to sturdy syrahs and mourvedres—and of course, zinfandel, which is what Paso has become known for (we go to the Paso Zin Festival every year).
We only make it to Paso one or twice a year, so we jumped at the opportunity to experience the Paso Robles Grand Tasting Tour last month at the Marriott Hotel in Newport Center.
Nearly three dozen Paso wineries poured wine for a VIP and media tasting in the afternoon, and again in the evening for the general public.
The event gave us a chance to try both familiar and new wines, and to talk to the winemakers, including several who are based in Newport Beach.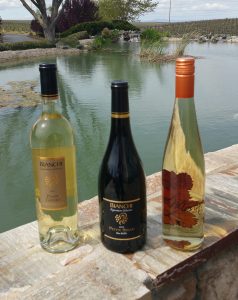 Bianchi Winery has a beautiful tasting room in Paso Robles, but their corporate office is on Coast Highway in Newport Beach. Beau Bianchi was on hand pouring several varietals at the Grand Tour event, including Syranot—a fun blend of Petite Sirah, Pinot Noir and Syrah.
We asked him what was new at Bianchi.
"We have made some changes," said Beau. "We have a new winemaker, Chris Stanton, who is completely different than the one we had before, who got us some good recognition but was more of a lab guy. Chris is more hands on, he's in the cellar every day, touching and feeling and nurturing the wine. He comes from Blackjack Winery and has a lot of Robert Parker-rated wines, so we're looking forward to what he can do for us. And the winery has never looked so good, it's great having him around."
Beau said that Bianchi also has new bottle labels, and several new blends including a GSM and a Rose.
"The rose is a recent addition," he noted. "We did one last year that was a blend, this one is 100 percent Cinsault. We wanted a light pale salmon color. It has really worked well for us. It's mostly sold only in the tasting room, and it's had a really good response."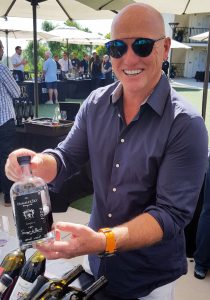 Another local winery owner is Doug Hauck, Newport Beach dentist by day and owner of Hammersky Vineyards on the weekends. He was there pouring four wines, including a new one called Straight de Barrel that was in a distinctly un-wine bottle.
"This is a new bottle," he confirmed. "I wanted a thick dense wine, unfiltered. I never see anything like that on restaurant wine lists, so I decided to put my cabernet unfiltered into a clear bottle. I put the wine into a bourbon barrel for three weeks, and then into a clear glass bottle. I walked into Mastro's with a bottle and they told me you can't bring spirits in here, I said it's wine, so they sent the sommelier out, then they sent the chef out. It's created a bit of a buzz. The price point is $118. I have sold out six rounds, about a thousand cases. I am making more, the fact that it was in a bourbon barrel means I can reproduce the flavor profile over and over."
The tasting has promoted Christopher to make a quick trip to Paso Robles this weekend. He'll be visiting Bianchi and Hammersky, and of course Tobin James Cellars, among others. Look for his Paso report soon.
For more information:
Bianchi Winery: BianchiWine.com 
Hammersky Vineyards: Hammersky.com
Paso Robles wines: PasoWine.com