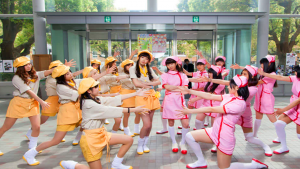 Deftly nuanced and charged with emotional intensity, the six films showcased in Newport Beach Film Festival's "Dance in Your Shorts" program reverberate with powerful life force.
From the surreal elegance of Genevieve Clay-Smith's "Heartbreak & Beauty" to the mime-like poignancy of Wendy Seyb's "How You Look At It," each selection proves thought-provoking and memorable.
Co-presented by NBFF and its community partner, Santa Ana's The Wooden Floor, "Dance in Your Shorts" will screen Thursday, April 28 at The Triangle in Costa Mesa.
The evening offers a unique opportunity to view both the drama and humor of our human experience as told through movement that ranges from classical ballet to contemporary to gestural.
"Different expressions of art complement each other," explains the Festival's Director of Short Film Programming, Dennis Baker, on inspiration for the dance-themed screening. A long-time supporter of The Wooden Floor, whose innovative use of dance, academic and family programs to empower low-income youth made them a perfect partner for "Dance with Your Shorts," the Corona Del Mar resident remains unabashedly passionate about the arts.
"A single painting on a wall has impact. A painting curated with other paintings has more impact. Ambiance including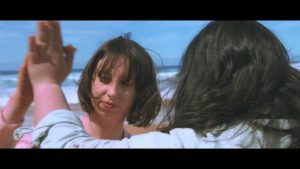 light, music, etc. play into the impact of that painting," he continues during a recent email interview. "'Dance for Camera,' as some call it, or movement for camera, is not the documentation of a dance but incorporates the dance movement into the story. This provides a great combination of movement, often music, and the narrative all captured in the envelope of the movie."
Overall, "Dance with Your Shorts" offers an intriguing array of movement and directorial styles and stories. In addition to Clay-Smith's Heartbreak & Beauty, a poignant visual collage of our interconnectedness as expressed by people with intellectual disabilities, and Seyb's delightful take on the unexpected in the ordinariness of an everyday life, "How You Look At It," the program includes: "Ballon," an intense wake-up call for a drug- and party- addicted ballerina, directed by Alexis O. Korycinski; Ken Ochiai's candy-hued "Juliet Juliet- The Sound of Love Musical," a fun frolic through high school rivalry; a different look at high school acceptance in "Swirl" by Lance McDaniel; and "Where We Begin," a moving, reflective drama of courageous life lit by its strong, graceful heroine, written and directed by Mitsuyo Miyazaki.
"The moviemaker's tools and skills can create an experience that would be difficult or impossible to capture in a live performance," concludes Baker. "Dance for Camera and the use of dance movement in movies provide a further integration of various art forms giving us, the audience, one more way to enjoy and appreciate art."
"Dance in Your Shorts" screens on Thursday, April 28 at 6 p.m. at The Triangle, 1870 Harbor Blvd, Costa Mesa. Tickets are $15. For more information go to newportbeachfilmfest.com .